iPhone 9 / iPhone SE 2020: Price, rumors, and everything we know so far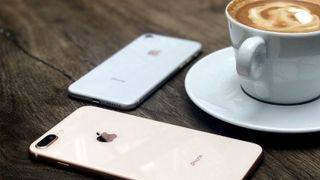 (Image credit: Rene Ritchie / iMore)
Apple is rumored to launch a new low-cost iPhone, possibly within the next couple of weeks. What, you may be wondering, is all the hubbub about? What is this new iPhone all about? Why should you care? Is it going to be called the iPhone 9, iPhone SE (2020) or something else entirely? Well, grab a cuppa and sit back while we give you the lowdown on Apple's as-yet-unannounced low-cost iPhone.
Apple Analyst Rene Ritchie has been keeping track of the rumors and official information about the new low-cost iPhone and has a fantastic video to explain what we can expect.
Is it iPhone 9 or iPhone SE 2?
Good question. We don't know. Apple could end up calling it iPhone turtle shell for all we know. We speculate on a name in part because it's fun and in part because it helps us organize in our own brains what each iPhone in Apple's lineup represents.
The rumor of it being called an iPhone SE 2 actually started years ago. Back then, we'd been holding out hope for a new version of the four-inch form factor. That sweet beautiful iPhone SE design (can you hear my bias?). Within the past year, however, we'd been hearing strong rumors about this so-called iPhone SE 2 and its design, which is decidedly not that of the iPhone SE. It's more akin to an iPhone 8 design. Why was it initially being called iPhone SE 2? It's likely that the rumors coming from the supply chain were referring to a "low-cost" iPhone. What's the last, truly low-cost iPhone Apple launched? The iPhone SE.
We previously put our vote into the iPhone 9 camp, however, assuming that Apple would not actually reuse the SE nomenclature for a 2020 model.
Why iPhone 9 and not iPhone 11s or iPhone 12, you ask? The idea comes from the current iPhone lineup at Apple.
There is the iPhone 11 line; that's the base-model iPhone and the two pro model iPhones (one with a larger screen).
There is the iPhone XR, which is last year's iPhone still available for sale for $599. Apple will often keep around last year's model phone to give people variety. I'm betting that Apple will discontinue the iPhone XR by this fall, however.
And then there's the iPhone 8, which starts at just $449. It is this part of the lineup that we believe Apple is trying to keep alive. The idea being that Apple could just continue selling the same design as the iPhone 8 (which goes all the way back to the iPhone 6). It's got a Home button, it's thicker than the X - 11 model iPhone, and it's much less expensive. It is logical to predict that Apple would follow the numbering scheme and make the next iPhone with this design the iPhone 9.
That being said, however, on Apple's own website within the past week (as of this writing), There were two notable mentions of an iPhone SE. One of them, as discovered by Jon Prosser, shows AppleCare+ for the iPhone SE. In the United States, you can't get Apple Care+ from Apple for the iPhone SE. though some people were saying that it's still available new in India. Through some non-scientific sleuthing, I could not find an official link to buying Apple Care+ from Apple for an iPhone SE, new or old. I also discovered an odd-looking Apple.com link that had no page information. The link included the following: applecare-plus-for-iphone-se. Of course, that could be related to an old link that no longer works.
A second and more notable SE-related SNAFU found on Apple's website referred to a Belkin screen protector that was listed for iPhone SE/7/8. There is no circumstance under which the original iPhone SE would have the same size screen as an iPhone 7 or an iPhone 8.
Because of these two mistakes found on Apple's website, we are currently under the impression that the new low-cost iPhone will be, in fact, called "iPhone SE" and similar to how the Mac lineup is identified by a year instead of a version number, it's likely that it will be the iPhone SE (2020) for identification purposes. This leaves the "iPhone SE" title free to be used at any time and for any style of iPhone Apple chooses.
Though, I'm still secretly hoping this was all a ruse and the four-inch iPhone will be the only phone ever to have the SE moniker.
Like I said at the start, however, Apple could end up naming it something completely different. So take this all with a grain of salt.
When does the iPhone 9/ iPhone SE 2020 come out?
We don't know yet, and frankly won't know until Apple announces it, but we're hearing rumors that it'll be announced on April 14 or 15 and launch on April 22. We previously predicted a March 31 launch, but a lot has changed in the past couple of months. With the Coronavirus outbreak, there is a chance that supplies may be affected.
It's not unusual for Apple to out new products across a couple of weeks. Apple has done this a number of times, including last spring when it launched new AirPods, a new iPad mini, and a refreshed iPod touch. In last year's case, there actually was a March event, but Apple didn't touch hardware at that event because it was focused on services.
Apple has already launched the iPad Pro (2020) and MacBook Air (2020). If all goes according to rumored plans, we may see the iPhone SE 2020/ iPhone 9 and the rumored AirTags next week.
What size will it be?
If you're hoping that this new low-cost iPhone is going to be "small" (AKA: sized like an iPhone SE), please put your hopes back in your pocket. The rumor is that the iPhone SE 2020/ iPhone 9 will be a 4.7-inch iPhone, which, yes, has a smaller display size than the iPhone 11, iPhone 11 Pro, and iPhone 11 Pro Max but that's only because Apple measures the screens diagonally (and doesn't take into account the bezels).
The iPhone 9 will measure something almost identical to the iPhone 8, which also has a 4.7-inch display.
Here are the case dimensions of all the iPhones in Apple's current lineup, for reference:
iPhone 8 (same size as the rumored iPhone SE 2020) - 5.45 by 2.65 inches
iPhone 8 Plus - 6.24 by 3.07 inches
iPhone XR - 5.94 by 2.98 inches
iPhone 11 - 5.94 by 2.98 inches
iPhone 11 Pro - 5.67 by 2.81 inches
iPhone 11 Pro Max - 6.22 by 3.06 inches
Although the iPhone 8's display measures 4.7-inches, you can see that it's very similar in width and height to the iPhone 11 Pro. Yes, it's smaller, but it's not a small iPhone by any stretch of the imagination.
What are its features?
This is where we get into speculation and conjecture. While we're hearing strong rumors (and even pictures) of what the iPhone SE 2020 will look like, what it will feature is a bit more fluid.
Here's what Apple analyst Rene Ritchie hopes the iPhone SE 2020 will sport.
It's, of course, expected to have a Home button, but not Face ID. It will not likely come with 5G, but may have WiFi 6 support and include Apple's latest ultra low-band radio chip, the U1, which could work with the unreleased Apple Tags.
This all sounds like a whole lot to fit into a low-cost iPhone, so it may not come with all of these features, but it will definitely be a huge upgrade from the iPhone 8, which is starting to show its age.
What colors will it come in?
Apple has really taken color in a new direction over the past few years. The iPhone XR sports six different colors and the iPhone 11 comes in six of its own colors. The iPhone 11 Pro and Pro Max come in four different colors. If you take out the space gray/black and silver/white, which is available across all the iPhone lineup, there are eight different colors to choose from.
But how will that play out with the iPhone SE 2020? The iPhone 8 only comes in silver, gold, and space gray. Will the iPhone SE 2020 take a page from the iPhone 11 lineup and come in six brightly-colored, frosted-back colors?
Apple has done a fantastic job with colors on the iPhone 11, so it's easy to imagine the new iPhone lineup looking similar. However, Apple is probably hoping to have a distinction between its iPhone 11 lineup and its iPhone SE 2020 lineup.
We've seen supposed actual pictures of a red iPhone SE 2020, so we can predict we'll see that one, but I'm betting that the only other colors it will come in are white, black, and gold.
How much will it cost?
The point of this particular iPhone is its position as an entry-level iPhone for newcomers and fans on a budget. For that reason, it can't cost more than $500, and that's coming in a little pricey. A lot depends on what kind of up-to-date features Apple puts into the iPhone SE 2020. If the chassis stays the same, but the guts get updated (new processor chip, better battery, etc.) we're going to see it come in at around $400 to $450. The iPhone 8 currently starts at $450, but Apple wants this to have no barrier to purchase. The original iPhone SE launched at $399 and that's what we're betting Apple will do for the iPhone 9/ iPhone SE 2020, as well.
Any more questions?
Are there any more things you want to know about the still-rumored iPhone 9/ iPhone SE 2020? Ask us in the comments below and we'll speculate like bosses.
Updated April 2020: Updated to reflect the Apple website leaks of the iPhone SE name.
Master your iPhone in minutes
iMore offers spot-on advice and guidance from our team of experts, with decades of Apple device experience to lean on. Learn more with iMore!
Lory is a renaissance woman, writing news, reviews, and how-to guides for iMore. She also fancies herself a bit of a rock star in her town and spends too much time reading comic books. If she's not typing away at her keyboard, you can probably find her at Disneyland or watching Star Wars (or both).