How to replace your iPhone's dock connector: The ultimate guide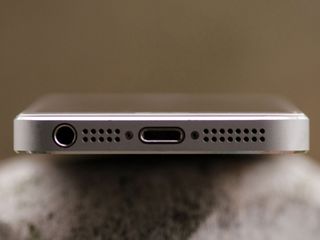 There are lots of things that can go wrong with the dock connector in your iPhone. Bad chargers can cause pins to break off, water or moisture can leave your iPhone unable to charge, among many other issues that could arise. No matter what the issue is, replacing the dock connector assembly should fix the problem. A DIY iPhone repair will also cost you far less than the price of a new iPhone. So if you think it's worth a shot, follow along and we'll walk you through fixing your dock connector step by step!
How to replace the dock connector in an iPhone 5s
The iPhone 5s introduced Touch ID to the iPhone and therefore changed the dock assembly, but only slightly. A dock replacement in an iPhone 5s is no more difficult than its predecessors and can still be done in under an hour. If your iPhone 5s isn't charging, you're experiencing issues with the headphone jack, or your computer won't recognize your iPhone, you most likely need a dock replacement.
How to replace the dock connector in an iPhone 5c
The iPhone 5c is very much like the iPhone 5 in terms of specifications and performance. Internally however there are a few difference when it comes to DIY repair. That being said, a dock replacement isn't horribly difficult and only requires about an hour of your time, maybe less if you're DIY inclined. It'll cost you less than $40 all in and can solve issues such as your iPhone not charging, headphone jack not working, or your computer not recognizing your iPhone 5c. Obviously the latter you'll want to rule out software by performing a restore. If it still doesn't work, we can walk you through every single step of replacing the dock component on your own.
How to replace the dock connector in an iPhone 5
The iPhone 5 brought with it the first radical change to the way we charge our iPhones. It dropped the standard 30-pin dock that Apple had been using for many years in iPhones, iPads, and classic iPods. The Lightning dock brought with it a charger that could be inserted either way making it more convenient. It also has less moving parts and pins in the actual assembly. Unfortunately, that doesn't mean debris buildup can't cause corrosion or other damage. If your iPhone 5 won't recognize a charger at all and you've tried numerous cables and outlets, it may be time to replace the Lightning dock.
How to replace the dock connector in an iPhone 4S
The dock connector in the iPhone 4S is actually not that hard to replace. While we haven't seen many defects with the iPhone 4S dock connector related to actual charging functionality, we have seen sound issues arise that can range from system sounds not working but music will actually play when in the music app. There can also be several variants of sound issues involved. The issue isn't actually the loud speaker in our experience, but the dock connector assembly.
Whether you've got sound issues related to the dock connector or something else such as charging issues or broken pins, a new dock connector replacement will solve all of the above.
How to replace the dock connector in an AT&T/GSM iPhone 4
The iPhone 4 dock connector replacement part is very similar to it's iPhone 4S sibling. The repair is actually performed very similarly. Issues with the iPhone 4 dock connector can range from not being able to charge to moisture and liquid damage, to not registering to your computer, and more. Many users have also reported that after so much time has passed, the dock connector becomes loose and when plugging in a cable, you'll have to wiggle it around in order for it to register a charge. A replacement will take care of all of this.
While the iPhone 4S may have more of a reputation for sound issues caused by a faulty or defective dock connector assembly, the iPhone 4 isn't completely immune either so before you assume it's the loud speaker, make sure it isn't the dock connector either.
How to replace the dock connector in a Verizon or Sprint iPhone 4
Much like the GSM/AT&T iPhone 4, the same issues can arise with the Verizon or Sprint variant. Even though you're experiencing the same issues, the CDMA and GSM iPhone 4's do have internal differences. Not only that, the part is completely different when it comes to the dock connector assembly.
Issues can range from the inability to charge to your computer or other external device not recognizing your iPhone 4. We don't see nearly as many sound issues related to the dock connector in the CDMA model, but it can happen.
How to replace the dock connector in an iPhone 3G or iPhone 3GS
The iPhone 3G and iPhone 3GS have been around for several years now but it doesn't mean they aren't still perfectly good devices. Symptoms of a bad dock connector in the iPhone 3G or iPhone 3GS can range from the inability to take a charge to pins being broken off causing issues with sound output or device recognition on a computer.
It's also good to make sure that the battery isn't the issue. Considering the iPhone 3G and iPhone 3GS have been around for so long, a battery replacement at this point probably isn't a bad idea as well. Even if you replace both the battery and the dock connector at the same time, it'll still cost you far less than a new iPhone.
More DIY help and resources
Whether you just aren't sure if your dock connector is the issue or you run into issus during the course of a repair, we've got lots of resources that can help answer your questions. Our jailbreak, unlock, DIY, and mod forums are a great place to start. If you still can't find the answers you're looking for or would like to make a suggestion on another DIY repair we don't currently have a guide for, you can always email us as well!
See also:
Originally published, June 2014. Updated, March 2014
Master your iPhone in minutes
iMore offers spot-on advice and guidance from our team of experts, with decades of Apple device experience to lean on. Learn more with iMore!
iMore senior editor from 2011 to 2015.