How to replace your iPhone battery: The ultimate guide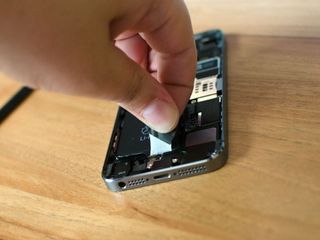 If you've got an iPhone that's getting on in years, your battery isn't going to hold a charge like it once did. Apple is currently offering a $29 battery replacement program for aging batteries found in the iPhone 6s, SE, or 7, but many of its stores are backlogged on repair requests; you may have to wait up to two months to get your phone's battery replaced.
Luckily, undergoing an iPhone battery replacement is one of the easiest iPhone repairs you can do for most older models. As long as you've got a little bit of patience, we can help you bring new life to your old iPhone!
PSA: Use the right batteries when attempting a replacement repair: When replacing a battery in your iPhone, or any electronic device for that matter, it's very important you use high quality or OEM batteries. While using aftermarket components may not be unsafe in some circumstances, a battery is a huge exception. We recommend only using reputable suppliers for battery replacements, like iMore's partner iFixYouri.
How to replace the iPhone 6s battery
No lithium-ion battery lasts forever: As your iPhone ages, declines in battery life can cause unexpected shutdowns or render your device too slow to function. While Apple now has a number of ways you can address this problem including a new Battery Health section in Settings, if your battery has dropped below peak capacity, it's worth considering a replacement.
How to replace the iPhone 6s battery
How to replace the iPhone 6 battery
Running into #iPhoneSlow? While you can now control how Apple throttles your aging battery, including the new Battery Health section in Settings, it might be time to consider a replacement if your iPhone's no longer charging and working like it used to.
How to replace the iPhone 6 battery
How to replace the iPhone 5s battery
Having battery woes with your iPhone 5s? Never fear: A battery replacement isn't that hard and won't cost you all that much. First, make sure the battery is the problem: If you've already tried a restore and still seem to have poor battery life or are experiencing other symptoms of a bad battery such as overheating, random shutdowns, or a battery icon that just won't charge, we can help walk you through a replacement step by step!
How to replace the iPhone 5s battery
How to replace the iPhone 5c battery
While the iPhone 5c is pretty much an iPhone 5 in a plastic shell, its battery replacement differs slightly, largely due to the change in the adhesive between the two. Instead of having a pull tab or just being able to pry, you'll need to remove and replace the battery adhesive as well as the battery. As far as symptoms, a bad battery in an iPhone 5c can produce overheating issues, sporadic shutdowns, and dismal battery life. Regardless what issue you're experiencing, we can walk you through from start to finish!
How to replace the iPhone 5c battery
How to replace the iPhone 5 battery
The iPhone 5 features a larger battery than iPhones before it, but the repair process is just as simple. If you've walked through our troubleshooting steps and you're still seeing issues with your iPhone, we can walk you through each and every step of replacing your battery.
How to replace the iPhone 5 battery
How to replace the iPhone 4S battery
Apple's iPhone 4S is getting on in years, with most launch batteries likely nearing their expiration date. If you notice your battery deteriorating or no longer holding the charge it once did, a battery replacement for the iPhone 4S consists of 4 screws, one clip, a few tools, and about 15 minutes of your time. Hit the link below to check out our quick guide to replacing the battery in your iPhone 4S.
How to replace the iPhone 4S battery
How to replace the iPhone 4 battery
While the GSM and CDMA version of the iPhone 4 are different in many repair aspects, they're actually almost the same when it comes to a battery replacement. Luckily, both battery swaps are very easy to perform. If you're up to the task, hit the guide below and we'll walk you through every step of the way.
How to replace the iPhone 4 battery
How to replace the iPhone 3G or 3GS battery
The iPhone 3G and iPhone 3GS may be well past "new," but they're far from junk: If you still rely on an older iPhone as a standby device, iPod replacement, or children's device, a battery replacement can bring new life to an otherwise aging device. If you're willing to take the time, it's a super cheap repair to perform. Here's how to go about it!
How to replace the iPhone 3G or 3GS battery
More DIY guides and help
Still need help or didn't find what you were looking for? Be sure to check out our other DIY guides and our iMore forums for help and answers to commonly asked DIY questions, or reach out to our partners in all things DIY, iFixYouri.
Get the best of iMore in in your inbox, every day!
Serenity was formerly the Managing Editor at iMore, and now works for Apple. She's been talking, writing about, and tinkering with Apple products since she was old enough to double-click. In her spare time, she sketches, sings, and in her secret superhero life, plays roller derby. Follow her on Twitter @settern.
Any other reputed sellers out there who ship international? I tried contacting eTech Parts but they do not ship to India. Thanks!

Thanks for this. It's more than a year that I'd bought an iPhone 5, and I'm having the kind of problems you describe here :( Just in time Allyson. Thanks :)

Great guide! Where are the instructions for the iPhone 5s? Sent from the iMore App

Those will come too. Stuff like this wouldn't apply yet due to warranty. ;) Sent from the iMore App

Are there any higher power replacement batteries out there than the original battery? Ones that would offer more runtime? (I have an iPhone 5).

Sure there are. I don't typically recommend them as they aren't OEM. The safest route is to use OEM.

Good article. My IPhone 5 qualified for the replacement battery program. Took it to my local Apple store. The necessary diagnostics were run and failed. New battery replaced and diagnostics failed again. Instead of shipping my phone out I got a new replacement. Sent from the iMore App

Can you recommend other suppliers? eTech shipping charges are nearly as much as the parts when purchasing 1-2 parts. Amazon has lots of vendors, and (since it's Amazon) MUCH better shipping rates. If they claim "OEM", can it be trusted? Thanks.

I only recommend what I've personally had experience with. I use eTech because they have very low failure rates, quality parts, and stellar customer service. I'd rather pay more for that than save a few bucks and potentially damage a device. I'm sure there are others that are ok but there are lots that aren't. I just won't recommend anything I don't have experience with personally. Sent from the iMore App

How do you know you're getting an OEM battery if youre buying it from ebay or something. I mean yeah they may say it is OEM. safest thing to do is take it to Apple and have them replace it. If you have a iPhone 5 then search "Apple battery replacement program" and the first link will tell you whether you can get a free battery or not. Sent from the iMore App

Replace Your iPhone Battery today located in pembroke pines www.officialrepairguys.com

You can get original iPhone battery from www.hcqs.com.cn.

Thank you for this guide - the guide to closing it all up was a nice touch. I replaced my son's iSight camera last night. I had a minor accident when I managed to dump all of the screws onto the floor halfway in but thanks to you I recovered!
Thank you for signing up to iMore. You will receive a verification email shortly.
There was a problem. Please refresh the page and try again.