More than half of Canadian iPhone owners still use a 5s or earlier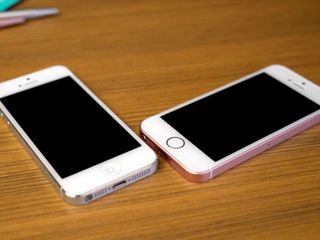 Even by Apple's standards, which insists on a tick-tock design cycle, the release of the iPhone SE is a strange occurrence. But when you drill down to it, Apple's actions this past week make a lot of sense.
Not only is it advantageous to Apple from a cost perspective, allowing the company to reuse existing manufacturing processes and components from multiple product lines, but the iPhone SE's familiar size is comforting to millions of existing iPhone customers who prefer smaller screens.
In fact, according to IDC Canada, a Toronto-based research firm that covers the mobile industry, over half of Canadian iPhone users are still using the iPhone 5s or earlier. "There is lots of interest in older, more affordable devices," says Krista Collins, IDC Canada's Research Manager for Mobility & Consumer. As recently as Q4 of 2015, the iPhone 5s was one of the best-selling smartphones in the country, Collins explains, citing Canadian consumers' desire to spend as little as possible upfront when purchasing a phone.
The Canadian smartphone market is shifting, affected by a confluence of factors, including the weak Dollar, pushing handset prices higher, as well as lower urgency for newer products, as a maturing market ensures devices last longer — often longer today, in the time of two-year contracts, than they did when phones were typically paid off over three years.
"The iPhone SE fills a need in the market," Collins continues. "It gets people into the Apple ecosystem," where they are more likely to stay once embedded. Indeed, according to a recent IDC report, Canadians are more likely to stick with iOS once they've purchased an iPhone than Samsung or LG users on Android. "Once people commit to an ecosystem, they are less likely to move away from it," she says.
Size is also a factor in this regard. While Android manufacturers such as Sony have been able to fit larger screens into devices roughly the same size as the iPhone SE, Apple is the only manufacturer actively seeking those customers. Tim Cook, Apple's CEO that many thousands of people specifically asked for an update to the iPhone 5s, and more than 30 million 4-inch iPhones were sold in 2015 alone. While that makes up only 13 percent of the over 230 million iPhones sold in the year, Apple is looking beyond sales: it is looking at the enormous install base of iPhone 4s, 5 and 5s users still managing their days on devices up to five years old.
Thirteen percent of a company's device revenue isn't much — unless that revenue totals hundreds of millions of devices and hundreds of billions of dollars.
In Canada specifically, where smartphones live and die by the subsidies offered by carriers, the iPhone SE's $99 upfront cost is considerably more palatable than the $399 needed for a base level iPhone 6s, with which the SE shares more than a little in common. As we've spoken about before, the weak Canadian Dollar has impacted more than just the price of service, and affordable handsets with the latest features are increasingly rare.
Master your iPhone in minutes
iMore offers spot-on advice and guidance from our team of experts, with decades of Apple device experience to lean on. Learn more with iMore!
Daniel Bader is a Senior Editor at iMore, offering his Canadian analysis on Apple and its awesome products. In addition to writing and producing, Daniel regularly appears on Canadian networks CBC and CTV as a technology analyst.