iPhone 15 speakers may have a brand-new problem but don't worry yet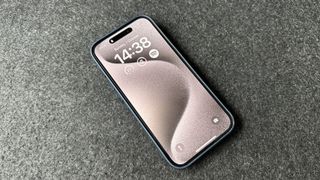 (Image credit: Gerald Lynch / Future)
Though the iPhone 15 is the best iPhone to date, 'crackly' speakers are just one of many problems users have reported since its launch. This appears to be a problem in all versions of the phone but the story may be a bit more complicated than things first appear.
As reported by a handful of users on Reddit, and TikToker Milesabovetech, iPhone 15s, when played at above 80% volume with certain sounds, have a 'crackly' effect, reminiscent of water in the speaker. This is present in all four of the iPhone 15 models. The specific sounds or noises have not been cited in any claims so far so I could not verify this with my iPhone 15 Pro Max.
In response to a TikTok user saying "is it me or has the iPhone 15 been the worst iPhone experience ever?", Milesabovetech said "The phone is perfectly fine, the only issue I have is this! Durability isn't an issue and heat is being updated and fixed."
First month jitters - iMore's take
The first month of a big product launch like the iPhone 15 will always come with reports like these. First, a launch as big as this will have more eyes on it so stories of problems will get a bit more traction. Though the overheating and crackly speaker stories do appear to be true, we don't know why just yet or how severe they are.
Having had the phone since launch, I haven't had any issues with the sound or overheating, outside of my 15 Pro Max getting a bit hot after downloading all my data when first booting it up.
Secondly, getting new tech into the hands of millions will result in testing cases that an internal team is just not able to replicate. Issues will appear for some, and Apple will look to fix any problems as soon as possible. The overheating problem is an example of this.
Just last week, Apple claimed that the overheating issues were due to a software problem, and the hardware itself was not at fault. This does point to a worrying trend of new adopters feeling like beta testers for what will be a great smartphone further into its product lifecycle, but it certainly isn't new in tech.
Hopefully, the speaker problem is also a software issue, but it's worth being cautious about your brand-new purchase until we have more clarity on the situation.
Master your iPhone in minutes
iMore offers spot-on advice and guidance from our team of experts, with decades of Apple device experience to lean on. Learn more with iMore!
James is a staff writer and general Jack of all trades at iMore. With news, features, reviews, and guides under his belt, he has always liked Apple for its unique branding and distinctive style. Originally buying a Macbook for music and video production, he has since gone on to join the Apple ecosystem with as many devices as he can fit on his person.
With a degree in Law and Media and being a little too young to move onto the next step of his law career, James started writing from his bedroom about games, movies, tech, and anything else he could think of. Within months, this turned into a fully-fledged career as a freelance journalist. Before joining iMore, he was a staff writer at Gfinity and saw himself published at sites like TechRadar, NME, and Eurogamer.
As his extensive portfolio implies, James was predominantly a games journalist before joining iMore and brings with him a unique perspective on Apple itself. When not working, he is trying to catch up with the movies and albums of the year, as well as finally finishing the Yakuza series. If you like Midwest emo music or pretentious indie games that will make you cry, he'll talk your ear off.
I just had this happen the other day on my iPhone 15 Pro. I thought it might have just been a one off. It hasn't happened again.

Reply