How a MagSafe battery pack for my iPhone helped my eight-hour flight
MagSafe is one of Apple's best ideas in years.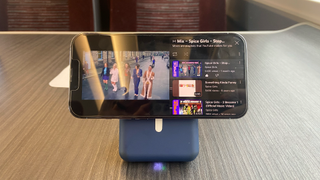 (Image credit: iMore)
Recently, I went on vacation with my wife to New York, and of course in these modern times, one of the first things you pack, is a power bank for your phone, tablet, and gaming handheld to keep everything charged up.
Usually, I'd carry a huge power bank the size of a Steam Deck, with loads of USB ports so I wouldn't have to worry about charging all our devices and their differing connection standards. But once I upgraded to the iPhone 13 Pro in 2021, discovering MagSafe led me to buy a bunch of accessories for it.
From having a charger on my desk in the office and a holder so I can use its camera for the Continuity feature in macOS, to a holder in our car, it was a much better way of taking care of the iPhone without needing it to be clamped or plugged into something.
However, I recently bought a MagSafe Battery Pack which also acts as a stand. and while I would previously use an iPad to watch TV Shows and Movies on the plane or train, this is one time when I kept it in my bag, and used my iPhone to do this instead, thanks to this MagSafe accessory. From this moment on, it became one of the best accessories I've bought in recent years.
It floats!
Yiisonger's 10,000mAh is a MagSafe portable charger that you can buy for $39.99 / £34.99 from Amazon in a variety of colors – to match my Sierra Blue iPhone 13 Pro, I picked blue.
It has a USB C port to keep it juiced up, and there's even an extra USB-A port should another one of my devices need some extra battery charge. Pressing a button on the left will start charging the iPhone, but it will do it automatically anyway if you snap a MagSafe-compatible iPhone to the stand You can get one and a half charges from 100%, so you can get a lot out of it in one go if needed.
It folds!
But what I really love about this, is that you can fold out a part of it from the back, making the portable charger stand up. So if you have something nearby, such as a shelf if you're shaving, or a table, you can simply place it there, have your iPhone snap to it in a portrait or landscape view, and watch a YouTube video.
When we were on the train to the Airport, my iPad was packed away in another bag down the carriage, so instead, I loaded up YouTube, placed it on the MagSafe charger, and watched some videos.
It was ideal, and as the battery was hovering around 40%, it was charging the iPhone at the same time. The real test, though, was on the plane.
We were late to check in for the flight, so we managed to get some seats in the middle of the plane, which meant I was cramped in the middle, so having a 12.9-inch iPad Pro sitting on the folded-out tray was going to be a challenge.
It turned out it was - it barely fit, and there was no privacy, so I had the constant paranoia that someone was going to be watching with me.
Fortunately, I had downloaded a bunch of videos from YouTube, as being subscribed to its Premium service allows me to do that, so I was ready for this eight-hour plane journey. I packed the iPad away, and not only did I have some space and privacy back, but I could also have a drink sitting beside the iPhone as I watched many gaming retrospectives.
MagSafe-ing it up
It's amazing how something so simple can improve upon so many situations for when you need your iPhone to be placed in certain ways. It's scenarios like these that have convinced me that going for the bigger iPhone 15 Ultra this fall is only going to improve using this MagSafe charger more thanks to its bigger screen. It'll be like having an iPad mini, but with the 120Hz ProMotion display and 5G when needed.
While my wife currently has an iPhone 11 that doesn't have MagSafe, she's already said that she's interested in buying the same charger when it's time to upgrade, as it'll help when she's on the train for visits to the office for her job.
The beauty though, is that we're only three years into MagSafe being a thing. We could soon see other accessory makers, or Yiisonger again, bring out more powerful battery packs for future iPhones, or different MagSafe accessories that you didn't think you needed before.
So for me, I'm MagSafe all the way - and I wish my wallet all the luck in the world once more of these ingenious accessories are brought out to make these situations even easier for me.
Get more iMore in your inbox!
Our news, reviews, opinions, and easy to follow guides can turn any iPhone owner into an Apple aficionado
Daryl is iMore's Features Editor, overseeing long-form and in-depth articles and op-eds. Daryl loves using his experience as both a journalist and Apple fan to tell stories about Apple's products and its community, from the apps we use everyday to the products that have been long forgotten in the Cupertino archives.
Previously Software & Downloads Writer at TechRadar, and Deputy Editor at StealthOptional, he's also written a book, 'The Making of Tomb Raider', which tells the story of the beginnings of Lara Croft and the series' early development. He's also written for many other publications including WIRED, MacFormat, Bloody Disgusting, VGC, GamesRadar, Nintendo Life, VRV Blog, The Loop Magazine, SUPER JUMP, Gizmodo, Film Stories, TopTenReviews, Miketendo64 and Daily Star.