iPhone camera blinking? Here's how to fix it!
Blinking and flickering like a 90s rave.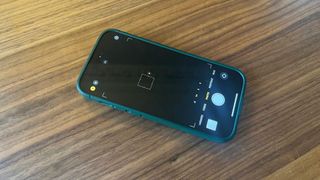 (Image credit: iMore)
Is your iPhone camera blinking or flickering when you try to take a photo? There could be many reasons why this is the case, but we're going to try and get to the bottom of this annoying issue so you can take amazing photos on your iPhone 14 Pro without worrying about annoying blinking.
Users with some of the best iPhones on the market, the iPhone 13 and iPhone 14 series, report regular flickering and blinking on the iPhone's camera, regardless of whether you've updated to the latest version of iOS 16.
With this in mind, we'll look at what might be causing the camera issues and offer guidance on how to fix your iPhone's camera.
What's causing the blinking on your iPhone's camera?
There have been reports of iPhone 13 and iPhone 14 users seeing blinking and flickering when trying to use their smartphone's camera. It could be happening at random, although it's likely that if there is no physical damage to your device, something in the way the camera works could be causing the issue.
One of the main potential causes of blinking on an iPhone camera could be the Macro Mode on these newer devices that switch between lenses automatically as you get closer to a subject.
Another potential cause could be exposure issues with bright lighting when taking photos. As your camera tries to maintain automatic exposure and struggles to find the right balance leading to perceived flashing and blinking in your viewfinder.
Disable Macro Mode
If you notice the blinking and flickering when your iPhone gets close to an object, it could be the iPhone changing from its Wide to Ultra Wide lens causing the issue. It's easy to turn off automatic Macro Mode. Here's how:
Open Settings and Tap Camera
Tap Macro Control and turn it off
Return to the camera app and see if this has fixed the blinking. If not, it could be an exposure issue.
How to change the exposure on your iPhone's camera
1. In the Camera app, tap the white arrow in the top middle of your screen
2. A range of settings will appear under your viewfinder. Tap the circle with a + and - to open exposure settings
3. Slide your finger to change exposure until the image seems clearer and the bright lights are subdued
Changing the exposure settings could fix the temporary blinking and flickering in the Camera app on your iPhone. If the issue persists, however, it might be a hardware issue requiring further troubleshooting.
Apple Support
Before you contact Apple Support, you can restart your device to try for an easy fix. But if the issue persists, schedule an appointment with Apple at your nearest Store to run diagnostics on your camera module.
Blinking and flickering on an iPhone can be incredibly frustrating. The faster you determine what's causing the issue, the quicker you can get back to taking beautiful photos on one of the best smartphone cameras on the market.
Get more iMore in your inbox!
Our news, reviews, opinions, and easy to follow guides can turn any iPhone owner into an Apple aficionado
John-Anthony Disotto is the How To Editor of iMore, ensuring you can get the most from your Apple products and helping fix things when your technology isn't behaving itself.

Living in Scotland, where he worked for Apple as a technician focused on iOS and iPhone repairs at the Genius Bar, John-Anthony has used the Apple ecosystem for over a decade and prides himself in his ability to complete his Apple Watch activity rings.

John-Anthony has previously worked in editorial for collectable TCG websites and graduated from The University of Strathclyde where he won the Scottish Student Journalism Award for Website of the Year as Editor-in-Chief of his university paper. He is also an avid film geek, having previously written film reviews and received the Edinburgh International Film Festival Student Critics award in 2019.

John-Anthony also loves to tinker with other non-Apple technology and enjoys playing around with game emulation and Linux on his Steam Deck.
In his spare time, John-Anthony can be found watching any sport under the sun from football to darts, taking the term "Lego house" far too literally as he runs out of space to display any more plastic bricks, or chilling on the couch with his French Bulldog, Kermit.