Izneo for Nintendo Switch: Everything you need to know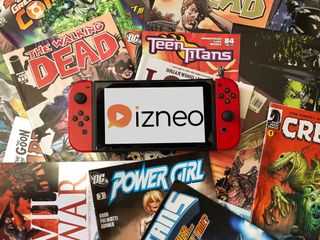 InkyPen may have been the first company to lay claim to bringing comics to the Nintendo Switch, but it seems that it's now a two player game. Izneo will be launching on the Nintendo Switch in the very same month that the competing app Inky Pen will.
Izneo has been around the block a few times and already cut its teeth with apps on other platforms. Let's take a look at what Izneo will be bringing to the Switch!
What books can I read on Izneo?
Not unlike the other app coming soon to your Switch Izneo seems to be focusing on smaller publishers. If you are wanting to read titles from huge publishers like Marvel, DC, and Image you will have to wait for another app to hit the Switch or for licensing deals to be struck.
Izneo does, however, have a pretty impressive library of publishers and titles. You can expect to see titles from publishers like Dark Horse, IDW, Top Cow, and a whole host of smaller European publishers. Another addition which many Switch users will find appealing is the access to manga titles from studios like TokyoPop.
In addition, Izneo seems to be focusing on collections, trade paperbacks, and graphic novels. For those who would rather read a whole storyline rather than single issues, this could be perfect.
How much will it cost?
It looks like there will be a few options when it comes to purchasing content on Izneo. If you want, for varying prices, you can buy individual books. Just want to buy the first volume of Tank Girl? You can have all 150 pages of it for $8. If you would rather have everything, you can pay for a monthly subscription which will give you access to everything your eyes can consume for one low price. I think this is a great move. Having options available to the consumer makes for a better more flexible experience which you can adjust to suit your own needs.
Other things
There are a few other things that I find appealing about the Izneo app. First of all, you can download all your books and read them offline when and wherever you want. This is great news as you don't have to be stuck without something to read just because you don't have an internet connection on the plane.
The other thing I really like is that Izneo is cross-platform. Because they have apps available for a multitude of platforms this means that you can buy a book and start reading it on your Switch. Then you can move over to your phone, open the app, and finish it there.
Comic books on the Switch seems like a grand experiment and I am excited to see how it turns out.
Are you interested in reading comics on your Switch?
Let us know!
Get more iMore in your inbox!
Our news, reviews, opinions, and easy to follow guides can turn any iPhone owner into an Apple aficionado