Daily Tip: How to Jailbreak iOS 4.3.3 via JailbreakMe (including iPad 2)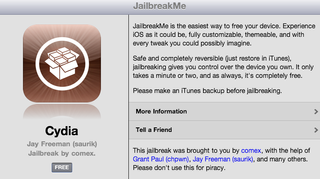 Wondering how to jailbreak using the just-released JailbreakMe.com exploit? It is probably the easiest jailbreak yet, and we will walk you through it step by step after the break.
There is no need to use your computer; it is all done on your iOS device. We would recommend that you fully backup your device using iTunes prior to any jailbreak. This is always a good thing to do, just in case something should go wrong.
JailbreakMe compatibility
iPad 2: iOS 4.3.3
iPad: iOS 4.3 to 4.3.3
iPhone 4: iOS 4.3 to 4.3.3 (Verizon 4.2.6 to 4.2.8)
iPhone 3GS: iOS 4.3 to 4.3.3
iPod touch 4: iOS 4.3 to 4.3.3
iPod touch 3: iOS 4.3 to 4.3.3
JailbreakMe step by step
Make sure your device is running iOS 4.3 to 4.3.3 or 4.2.6 to 4.2.8 for the Verizon iPhone. The iPad 2 must be running the latest iOS 4.3.3 software.
Back up your device again using iTunes.
Once you have backed up your device, open Safari on your iOS device and go to www.jailbreakme.com//
4. Once the page has opened, you should see the following screen
(opens in new tab)
5. Click on the "FREE" button under the Cydia icon, this will then change to "INSTALL".
(opens in new tab)
6. Click on "INSTALL" button and it will dump you back to the home screen.
(opens in new tab)
7. You should now see the Cydia brown icon installing on your home screen.Once complete, open Cydia by tapping on the icon on your home screen
(opens in new tab)
8. Select one of the three user options, normally User. Hit done, which will appear in the top right of the box when you have selected Who Are You.
(opens in new tab)
9. That's it, you're done! You should now see the Cydia home screen on your device. It is now jailbroken and you have full access to all the Cydia jailbreak goodness!
If you do have questions or issues, feel free to visit our Jailbreak Forums for help and tips.
UK editor at iMore, mobile technology lover and air conditioning design engineer.
Do I understand right that the iPad2 is still secure when locked... unlike all other previous iOS devices?

I like how they made this jailbreak look like you're downloading an app from the app store. Nice.

A BIG thank you to the jailbreak community, the dev teams and most especially @comex, for his undying dedication to put the ball back in Apple's court! :D

yup. i wish he made the jailbreak for 4.3.3 and below. :(

It worked for my Verizon 4.2.8

I am running 4.3 on my iPad 2 (Never updated) and its working surprisingly smoothly. Will finally Update my iPhone to 4.3.3 (Currently 4.2.1 : /) when I get home. Hopefully Apple won't release 4.3.4 anytime today at least.

It worked on my Verizon 4.2.7 perfectly!

Tried this, it worked GREAT - in just a few seconds, i had a jailbroken iphone with my favorite apps downloaded. My phone even seemed smoother - for about an hour. Opened up biteSMS, the screen froze and looked like red parchment, then my phone shut down. It was stuck on the apple logo screen for a few minutes, then finally turned back on - in "it Safe Mode". Tried to restart, and it completely froze on the logo screen. I had no choice but to put my phone in DFU mode and am currently restoring through itunes. I'm not totally sure what went wrong, but now I"m wondering - should I try the jailbreak again, or just leave it pure? I love the jailbreak, I just don't want to have to do this again. Opinions on whether it was the jailbreak itself or the biteSMS app? (That was the only jailbreak app I had downloaded so far, other than Cydia itself, of course). (OHHH - and yes, I am on the 4.3.3 software)

Sounds a lot like daily operation for my idevice without a jailbreak... >.>
You don't know until you try. If you're willing to put in the time to reset the device if it happens again I'd say give ti another try.

Did the exact thing to me JB I am currently doing a restore

I had this problem too with a VZ iPhone. I have never had this issue with a jailbreak before.

Did anyone else try it again to see if it worked? And if you did, did you try bite again to see if that was it? Bite is one of the main reasons I JB, especially with iOS 5 coming up, so I wasn't going to mess with trying it again if bite was the problem. Thanks! =)

It's called google and research my friend!

I thought it was called "the forums".

The compatibility list says that iPhones/iTouchs can be between 4.3 and 4.3.3 (4.2.6 and 4.2.8 for Verizon).

The site itself says not to or just this article? The writers here kind of muddle details sometimes.

The author's link and details were bad. As for the site, I wasn't able to find where it said NOT to upgrade to 4.3.3.

What the hell?! I thought this was for 4.3.3... My iPad 2 is on 4.3.3 and it worked fine. So I updated my iPhone 4 to 4.3.3 and now it doesn't work and takes me to a page that says don't upgrade? WTF?

Shouldnt they just have waited for september when IOS5 comes out now were gonna have wait even longer for jailbreakme 4 when apple has another bug

Apple probably already fixed the exploit...

that link only work from an iOS device to jailbreakit, not to acces from a computer.

AFTER DOWNLOADING THIS JAILBREAK ANY APP I TRY TO OPEN WONT OPEN AND THEN IT REBOOTS. HOW DO I FIX THIS?

I had the same exact problem but I had just restarted my iPhone after uninstalling mobile notifier.

tried it 2x, and i am fairly certain that its the bite!

I am getting an "invalid checksum" error on IP2 with 4.3.3

After reading everyone's comments I'm a little more nervous about jbing.

I've never jailbroken before, but I thought I'd give it a go. It was really easy and I thank the folks who worked so hard to get this done. I'm not sure if I'll leave it jailbroken though.

Wow!! So Easy Guys! Awesome :) Thanks.

Okay so this is the first time I've jailbroken my device and it worked. Now what should I put on it to make it cool? Haha.

Where can i get installous?

You can get it from cydia!

I have tried on my new iPad2 and iphone4 - all works fine.
however, i can not copy and save all jailbroken apps form the iDevice to my PC using via iFunbox as I used to do with the other jalibreak method. Anyone know?

i had the same problem, how do you even reset the phone though???

try getting it to dfu mode with greenpois0n then restore it through itunes

has any1 tried and had it work on an ipod touch 4th gen with 4.3.3? im a lil bit nervous 2 try after reading some comments

I have, it works like a charm.

was just watching Cydia Install about halfway through the blue progress bar it the icon dissapears!? did apple patch the explot already? July 8th 2011?

I tried twice on my iPhone 4 4.3.3 both times after about 10 minutes it got stuck in an endless boot screen...

totally worked on my ipod touch 4g ios 4.3 ish, the newest one, took 30 seconds, easy, awesome, amazingly smooth.

I currently have my touch 4g 4.2.1 os and greenp0ison jailbroken. Just wondering what effects this will have if I update to 4.3.3 then jailbreak it with new jb. Will I lose and/all previously installed apps etc, and also what will happen to installous, loader etc that is currently on from 4.2.1 JB. thanx for any info ppl can offer.

Need help, jailbreak worked finally. I downloaded Bitesms as always, but everytime I go to use it, my phone freezes to the apple logo and I have to restore the phone to get it to work again. I've jailbroken before and never had this problem. I have an iphone 4.

My iPhone has been at the main Apple loading screen for about 10 minutes. I don't think it is going to turn back on. Can anyone help me or give me any tips?

Search DFU mode or force restore.
But once you get back to the connect to itunes, try turning it off.
Or whil holding the power and home button let go when it restarts.

how to download jailbreak?

my iPad 2 is on 4.3.2 at the moment. Is there a way to upgrade to 4.3.3 (as opposed to the 4.3.4 which is already out) so I can jailbreak it?

is there one for ipod touch 2.5?

Still my favourite ever method of Jailbreaking! It feels like you paid for it! LOL

If got error while installing Cydia almost completed, what should I do if still error at 2nd times again??what's wrong?

Will Jailbreakme.com work on a Ipad 1 with Ios 4.3?

Fucker... read the first few lines of the post!!!
JailbreakMe compatibility
iPad 2: iOS 4.3.3
iPad: iOS 4.3 to 4.3.3
iPhone 4: iOS 4.3 to 4.3.3 (Verizon 4.2.6 to 4.2.8)
iPhone 3GS: iOS 4.3 to 4.3.3
iPod touch 4: iOS 4.3 to 4.3.3
iPod touch 3: iOS 4.3 to 4.3.3
WTF is wrong with you ppl?!

i did go step by step to jail break my ipad 2 ,everything go right .My question is when i do the installious 4 it is not comply.