How to jailbreak iOS 6 beta 2 with redsn0w 0.9.13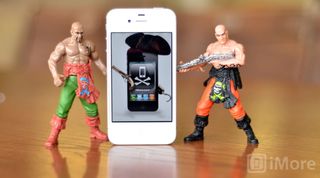 Apple has released iOS 6 beta 2, and so redsn0w has been updated to version 0.9.13 dev 2, with support for many bugs and crashes. If you're a jailbreak developer it's probably a good idea to start updating your apps and tweaks as soon as possible to add iOS 6 compatibility. Follow along for a complete walkthrough.
Disclaimer: This release of redsn0w is meant to be a developer release and not a general release to the public. Just as you should expect bugs in a beta version of iOS, you should also expect them in beta jailbreak tools. This release does not install Cydia and is meant only for developers. If you aren't a developer, we advise you stay away.
How to jailbreak iOS 6 beta 2
Download redsn0w 0.9.13 dev 2 from our downloads section.
Save the iOS 6 beta 1 firmware file (IPSW) from Apple's developer portal

(opens in new tab)

somewhere on your computer that's easy to find.
Put your iPhone, iPad, or iPod touch into DFU mode. If you don't know how to do this, you can check out our guide on how to put your device in DFU mode before continuing but we are assuming most jailbreak developers should be comfortable with DFU mode by now.
Now open redsn0w and click Extras
Now click the button that says Select IPSW. Navigate to the IPSW for iOS 6 beta 1 that you saved in step 2.
Once you've selected the iOS 6 beta 1 firmware file go back to the main screen of redsn0w and click Jailbreak.
Now make sure Install SSH is checked and continue.
How to perform a tethered boot
Your jailbreak will be tethered so once the jailbreak process is complete you'll need to perform a tethered boot with redsn0w.
Place your iPhone, iPad, or iPod touch back into DFU mode.
From the main screen of redsn0w select Extras again and then Select IPSW one more time.
Navigate to the iOS 6 beta 1 file again but this time select Just Boot from the Extras menu.
Once your iPhone, iPad, or iPod touch finishes booting up you will be jailbroken on iOS 6 beta 2. Keep in mind this does not install Cydia. You can use the SSH method to install and test your apps and tweaks. You can also use this method to install Cydia if you'd like. But again, we advise only jailbreak developers use this version of redsn0w and the general public wait for an official release after iOS 6 drops this Fall.
Additional resources:
How to manually update to iOS 6 beta 2 over the air
Get the best of iMore in your inbox, every day!
iMore senior editor from 2011 to 2015.
So these beta jailbreaks coming out so quickly should be a good sign for an early release of iOS 6 jailbreak...right?

No not really because it would be a tethered jailbreak for only iPhone 4 and earlier. 4S and whatever the next iPhone are will still not have a jailbreak for awhile because lime rain won't work on those devices but it is persistent regardless of iOS version on iPhone 4 and earlier

This is about how to jb beta 2, but all the how to step references are to beta 1.

Not supported on iPads I guess. I tried and it said my IPSW is not supported.

Is anyone running into an issue were when you try to manually select the ipsw it says "that version is not by this version of redsn0w"? I am running the most current version of redsn0w as well.
Any ideas on what the issue might be?