Kyle Lambert made his illustration career on the iPad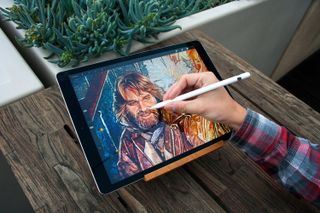 Poor iPad. After a promising start back in 2010, Apple's tablet computer has suffered lagging sales and oft-mixed messaging over its true purpose: Was it a consumption device? Mac killer? Art tablet?
These days, despite the fact that the iPad technically outsells the Mac (13.1 million in the last quarter compared to 5.4 million Macs), it's looked at by many as the red-headed stepchild of Apple's tech family. But I don't see it like that.
The iPad, to me, represents a computer that you can make into almost anything. Its mercurial nature isn't an enigma, it's an advantage: It can be a drawing tablet to those who need it; a Mac killer for the people who no longer need the features of a full-fledged computer; a consumption device whenever the need arises.
Off this hypothesis, I asked a simple question to you, our readers: How do you use your iPad for work? The results were, quite frankly, astounding. I've received emails from artists, lawyers, PhDs studying cuneiform, IT professionals, screenwriters, marine scientists — the list goes on and on.
These people aren't just casual iPad users. They're iPad pros. And I'm delighted to be able to tell some of their stories here. Every Friday, we'll be interviewing a different pro user, telling their iPad story, and peeking into their workflows. My hope is that it gives the world a different spin on the iPad narrative so prevalent in modern society.
To start this series off, I chatted with my friend, illustrator, and longtime iPad advocate Kyle Lambert. I first met Kyle back in 2011 at Macworld Expo — he had made waves as one of the first artists to fully embrace finger-painting on the original iPad, creating portraits of Rihanna, Obama, and Beyoncé among others.
We've corresponded throughout the years as digital art on the iPad has progressed and developed, and I thought it only natural that he be my first subject for this column — just over six years after our first ever iPad art interview.
In some ways, this feels like the proper successor to the chat we did talking about art on the iPad. Back then, the iPad had just come out, and you'd made a splash finger-painting with apps like Brushes, but you were still working a full-time job elsewhere. How have things changed?
When we did that talk, I had just launched myself as a freelance artist, and had been enjoying the idea of using the iPad to create painting videos.
This was back in 2010 with the first-edition iPad, so the capabilities of the platform were somewhat limited — but you could see the potential of having a mobile art studio, even then.
In our talk, we dreamed of how the device would become more powerful, and the apps would reach a level of sophistication we were used to using on our Macs. I think over the past five years we have seen that happen, and it's amazing to see.
How has the iPad Pro and Apple Pencil changed and improved your workflow?
Back then, I was using my finger to paint with, which took a lot of perseverance. The apps were [also] somewhat limited in the file sizes that they could handle. For this reason, the only way I could use the iPad for professional work was as a sketchbook for beginning ideas. I used to export my sketches to Photoshop, and upscale them to start adding detail.
The iPad Pro and Apple Pencil combination has changed everything about this: There is no need to struggle with my finger to draw; the stylus is 100% accurate, 100% of the time. It adds features such as pressure sensitivity and tilt, which artists have been used to on their desktop tablets for years.
The extra horsepower that the iPad Pro brings also allows developers to make their apps more capable: I do all of my artwork with Procreate, an app focused on professional quality digital painting; this allows me to do — in some cases — my whole project on the iPad.
One more recent high-profile project was your Stranger Things poster for Netflix. Can you share a bit about your workflow for that, and the response?
I was initially contacted by a design company on behalf of Netflix to produce a poster illustration for an upcoming TV series. I had no idea how big [Stranger Things] was going to be at this point, but it sounded cool.
I had just bought myself the 12.9-inch iPad Pro, and had been really impressed at how natural drawing was with the Apple Pencil. I decided this project would be a good test for a new workflow, so I started designing the poster in Procreate.
Once we had settled on which characters and environments to include, I used the included pencil brushes in Procreate to do a detailed outline sketch. On a separate layer, I added black and white shading to establish the tonal values for the piece. I did one final pass on a third layer to add color values.
Because of the amount of layers and the necessary size of the final art, I then had to export the art into Photoshop to prepare the file in a way that was necessary for their designers. When I needed to add more detail and polish to a section, however, I re-imported layers back into Procreate to work on them.
I knew you started your pro sketches on the iPad, but I don't think I realized just how much work you do with it these days. Has it changed how you view your Mac, and portability in general?
Definitely. During this project, I learned that the iPad didn't just equal what I was able to do on my Mac — it improved my workflow, too. The natural drawing style that I was able to achieve with the Apple Pencil was key to achieving the illustration style I wanted. Although I wasn't able to complete the whole piece on the device, it played a key role in its creation.
I have used the iPad Pro on all of my projects this past year. Some just for developing composition ideas; others, such as my poster for The Thing, I did entirely on the iPad.
I can now work wherever I am, in a way that actually contributes in a meaningful way to my professional work. The iPad Pro also acts as a really great portable portfolio — one that I've used often when meeting [potential clients] for the first time.
Tell me more about the iPad as portfolio: What are the advantages and disadvantages here over a traditional paper portfolio?
Once again, it comes down to the fact that I have it with me, and I can have everything I've ever done on there, with work-in-progress images and timelapse videos, as well.
Those videos are a great feature of the iPad apps I've used: The videos that I created [from my drawings] were, in my opinion, more interesting than the finished paintings. Typically, when you go into a gallery and see a painting hung on the wall, you don't get a sense of the process — this was very new.
The videos were a lot of fun to create and got a lot of people interested in digital painting — the photorealistic painting I did of Morgan Freeman [in 2013] currently has over 15 million views on YouTube.
The videos are sometimes something that a client asks for and sometimes I will show a client at the end how it was produced, step by step. I am interested to try Procreate's new streaming feature which allows for live broadcasting of your process.
What does your digital art studio look like right now?
I use the 12.9-inch iPad Pro and Apple Pencil with the Apple Smart Cover in Charcoal Grey; my studio setup centers around my 5K iMac which I connect to an external 4K display by BenQ (PD3200U) that I have rotated in portrait mode for working on my poster art. I use a Wacom Cintiq Companion as my Mac's graphics tablet, but don't really use it as a Cintiq very often.
I currently do a lot of the color work on my Mac because I find that it's important to be able to see the artwork in its entirety at this stage without my hands being on the screen.
I've also recently started using a Yohann stand when I use the iPad in my studio. It's adjustable for drawing in different scenarios, and makes it easier to hold for the long hours I work. It's also a good place to keep my iPad and Pencil when I'm not using them.
Given the lengthy hours required in artistic endeavors, how do you find the Apple Pencil and iPad Pro for usability over traditional oil painting? Do you have routines to keep your hands, eyes, and body from getting angry with you after long digital drawing sessions?
The good thing about working on the iPad is that it's easy to pick up and work in a different place. I can work at my desk, on my sofa, in bed, or on location. With my iMac and Wacom setup, I can only work in one place: I get very into my work, so ergonomics and overall heath are something I need to be careful with.
The main issue I have working on the iPad is that I look down into my lap, which can affect my neck over long periods. The Yohann stand appears to be helping with that, and I'm doing my best to tear myself away for short breaks.
What are you working on right now?
I have lots of illustrated posters in progress and lined up [in the future], including projects for upcoming movies and shows, and licensed prints for well-loved films.
I'm also hoping to release a few limited-edition prints this year and potentially an iPad art tutorial series.
What are your hopes for the iPad as we head into 2017 and beyond?
I think everything is heading in the right direction. It won't be long before the iPad Pro can process files at the size that I sometimes have to work with, and there are potential features in Procreate that I am excited to see coming in future updates.
I'd love to see a more elegant charging solution for the Apple Pencil in the next version; other than that, I'm happy with how the device fits into my workflow. I enjoy experimenting with new ways to improve the work I do — who knows what the next big thing will be that comes along and changes everything again.
You can find out more information about Kyle Lambert at www.kylelambert.com, on Twitter @kylelambert, and Instagram @kylelambertartist. I hoped you enjoyed this edition of iPad Pros! Stay tuned next Friday for another fascinating iPad story.
Master your iPhone in minutes
iMore offers spot-on advice and guidance from our team of experts, with decades of Apple device experience to lean on. Learn more with iMore!
Serenity was formerly the Managing Editor at iMore, and now works for Apple. She's been talking, writing about, and tinkering with Apple products since she was old enough to double-click. In her spare time, she sketches, sings, and in her secret superhero life, plays roller derby. Follow her on Twitter @settern.