The future of Apple Retail begins now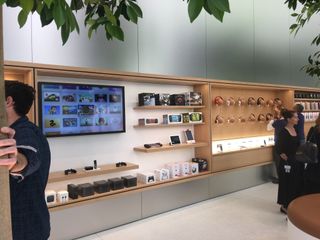 April 25, 2017: Apple Union Square is about to go... everywhere.
Apple has announced its taking the concepts and community-first approach first showcased at Union Square and aggressively pushing them across many other major Apple Stores.
From Apple (opens in new tab):
It's not just the programming but the design of the stores that's evolving as well.
[CBS This Morning[(http://www.cbsnews.com/news/angela-ahrendts-apple-svp-of-retail-redesign-today-at-apple/?linkId=36872029):
If you've visited Union Square, it's easy to get excited about this news. It's the same concept that's always driven Apple's retail stores, but re-imagined for a more modern, community-driven world.
See below for what Union Square looks like — it might be a store near you next!
A couple of days ago Apple gave us a preview of the company's new Union Square store. Apple Store Union Square represents more than just a new flagship, though. It's a re-imagining, from core-concept to physical expression, of where Apple sees the future of retail.
Re-imaging Apple Retail could be terrifying. We're talking about some of the most beloved and successful stores in history, serving tens of millions of customers and handling billions of dollars of transactions. Few companies would risk messing with a formula working that well. But, as we saw during the preview, it's clear that exactly what Angel Ahrendts, Jony Ive, and Apple have done.
Inside out
On the outside, there's no mistaking this Apple Store as anything other than next-generation. Just like with the MacBook, gone is the old glowing Apple logo and in its place is polished stainless steel set right into the side. It matches recent iPhones and iPads too, right down the the space gray finish.
On the other side is a massive door, more than 40-feet massive, that can open up the store almost entirely to the street. There are smaller doors on either side for when weather or other conditions dictate. But, when Apple wants it to, the Union Square Store can become an actual, open, physical part of union square. The sheer scale and affect is beyond impressive.
Outside in
On the inside, a lot more has changed. Apple Online, updated last year, can now handle most purchases for most people faster and more conveniently than going out to a brick-and-mortar store. Apple online support, which includes a brand-new Twitter presence, can now likewise handle most simple customer problems at the speed of the internet. That both liberates and challenges Apple Retail to think different and re-justify its existence.
And the strategy Apple's taken is all centered around a single concept: community.
It would have been easy to tweak and iterate. To make the screens bigger and the bars ever-so-slightly curved. Apple didn't go for easy, though. They burned what was down and used the concept of community to build it back up. That meant the screen went 6K but the bar... well, the bar went away.
After months and months of planning and testing, Apple has ultimately fielded five new features in Union Square.
The Forum
That 6K display I just mentioned is the centerpiece of Apple's new Forum. Rather than an updated version of the theaters that some older flagship locations offered, the Forum offers flexible box and ball seating rather than rigid rows. That way experts can come in one at a time or many at a time and address audiences singly and in small groups. Even more importantly, rather than lecture or present, they can really interact, standing not in front of but among everyone else.
"Today at Apple", the program for the Forum, will feature artists and technologists, and sessions of kids and adults, students and teachers, gamers and developers.
All told, Apple has devoted 20% of its space to educational rather than retail pursuits. That's astounding.
Genius Grove
Bars are noisy, elbow-y affairs. No longer content with what that invokes, Apple has re-imagined the genius area as a grove. Instead of at the back, it's now up front and center, open and with expansive tables, surrounded by trees. Since the simple stuff is being taken care of online now, geniuses can focus on fixing hardware issues with customers instead of across from them.
The Plaza
While much of the Apple Store involves bringing the outside in, with rich woods and trees, and a deeply organic feel, the Plaza brings the Apple Store out. Open 24/7, it features seating for a couple of hundred people and, yes, free Wi-Fi for all.
Centerpieces include a garden wall and a statue, and events will include live music. When you consider those two massive 40-foot+ doors can open the area up almost entirely, it makes the Apple Store very literally part of the block and of the neighborhood.
The Boardroom
Partnerships with IBM and SAP have helped Apple better address the needs of Enterprise and big business. With the Boardroom, the Apple Store hopes to bring together small business and entrepreneurs. Business Team members can offer advice and training, but the Board Room can also provide a place for people to come together, network, and learn from each other.
The Avenue
Here's where the Apple Store remembers that it's a store. Mostly. Instead of cramped shelves with a bewildering array of products, Apple has built a wide "Avenue" with boutique-like "windows" focused on specific activities like music, creativity, apps, and photography.
Creative Pros are stationed among the trees to help customers touch, try on, and learn about everything from lens attachments to headphones to droids and drones—30% of which can only be found at the Apple Store.
The reaction
Apple doesn't design museum pieces. They design objects that are meant to be used. The store is the same way. The new features, in whole and in part, will eventually roll out to other stores. Right now, though, they're still unproven. Some of them have been tested in new stores in New York, in Belgium, and on Apple's own campus at Infinite Loop.
But now they're all coming together and the true test begins. The first time I saw Union Square it was empty save for media, members of the retail and design teams, and veteran staff. The second time it was flooded with hundreds of customers eager to be among the first to experience it.
Over the course of the next year, though, millions more will experience Union Square and Apple will get a chance to see how the company's vision holds up to reality. Both Apple and its customers will learn a lot from each other.
Rethinking Apple Retail from the ground up was risky. Messing with success always is. It's also the only way to continue that success into the future.
With the new Union Square store, Angela Ahrendts, Jony Ive, and Apple are playing the long game. They're investing in the brand and in education. They hoping, once again, if the company takes care of the top line, the bottom line will take care of itself. That if the experience is great, visitors won't just turn into customers, but into lifelong customers.
Get the best of iMore in in your inbox, every day!
Rene Ritchie is one of the most respected Apple analysts in the business, reaching a combined audience of over 40 million readers a month. His YouTube channel, Vector, has over 90 thousand subscribers and 14 million views and his podcasts, including Debug, have been downloaded over 20 million times. He also regularly co-hosts MacBreak Weekly for the TWiT network and co-hosted CES Live! and Talk Mobile. Based in Montreal, Rene is a former director of product marketing, web developer, and graphic designer. He's authored several books and appeared on numerous television and radio segments to discuss Apple and the technology industry. When not working, he likes to cook, grapple, and spend time with his friends and family.
It's another Apple store - there are hundreds of them. They've got some plants and uncomfortable stools to sit on. Big deal! Angela Ahrendts has about as much in common with the customers who come through as Donald Trump does with those who live in a trailer park. People standing in line for this? Ugh!

I walked over to the store. Very nice actaully. It might be hard for you to understand this, but there are TONS of people who like stuff like this.

Soeasy, calm down. This is just another keyboard warrior. No sweat. Nice layout of the store.

Hugs Sad Boy TechBell... Hugs!!! There are more of us loving and enjoying life than there are of you hating on life and incredible new adventures and ides.

People this is the next big thing for apple while Google, Microsoft, Facebook and others are mining data and in turn giving great AI services for the future. Not sure how Apple is going to tackle this next big wave with privacy as top feature. Interesting to see what Apple does at WWDC.

Completely agree. Google is about to eat Apple for lunch with AI services. Look how pitiful Siri is. Siri doesn't even have all the features it had before Apple bought it. I'm all for privacy and Apple not selling you info but they better put down the Kool Aid glasses and start looking around at the computation. Sent from the iMore App

I'd rather have privacy than have my data siphoned, mined, and analyzed by the likes of Google. Google already knows too much about me, I don't want them to know even more.

Blows my mind how sad people's lives are. It's a store. Really no better than any of the others except the chairs suck.

That's quite a collection of hipsters Posted from my Nexus 6P

I guess hipsters think that using paper is killing a tree, yet they enjoy sitting on wood. LOL

Shame those nice looking headphone mounts are wasted on crappy loudness-war-rapper brand headphones.

Looks great! Perfect for the SF weather.

The idea seems cool, it would be nice to check it out in person sometime, especially the Plaza.

Wow. So many haters commenting. Saying that it's no different immediately disqualifies the credibility of your comment. How can a 40+ foot door be no different? Genius support more personal outside where it's quieter. Large forum focusing on education. Something tells me the haters aren't actually reading. Just clicking to hate. If you really wanted to criticize this post is comment on the video that went along with it. Sent from the iMore App

Oh **** there's a 40 ft door????? My bad. That IS innovative! Kudos Apple!!!
Let's go and sit on milk crates together and get educated!

Whoever said innovative? I was talking about the fact that people are saying it's the same Apple Store. Sent from the iMore App

I went in my local Apple Store the other day and to be honest it was hideous, noisy over-crowded ****. I don't know how anyone can make a decision about purchasing a product in that environment. This new approach can only be a good thing but it's not going to work everywhere - my local store is at the back of a covered mall.

You censor the word h e l l ??? Wtf?

I'll be in SF in the next couple weeks (staying at a hotel in Union Square), so I will check out this new store. Happily, the store nearest to me is nothing like this. Not crowded, easy to park right in front, and they usually have everything in stock since they are probably one of the lower volume stores. I found many of the new nylon Apple Watch bands at my store sitting on the shelf, where the bigger stores were out. :)

I know that I should be more concerned with the interior changes because they will eventually come to my local stores (and they do look pretty good), but I'm more interested in the exterior. I love the way that Apple makes its flagship stores look so impressive in such a variety of ways (in this case with the enormous doors).

Apple needs to worry more about fixing iOS than fancying up their retailer stores Sent from the iMore App

iOS, OSX, watchOS, iTunes, iCloud.... basically the whole lot, I say. Unfortunately, Jony Ive seems to disagree and is turning them into the next LVMH group in the process.

I wonder if they are going to do the same at the Regent Street Store in London, thats been under wraps for quite some time.

Consequently, I prefer the Covent Garden Store to any other I've seen.

I've been to the Covent Garden Apple Store, it's fantastic. My sister got her 6s Plus from the Covent Garden Store. Sent from the iMore App

Looks like the Shenzhen Apple Store where I used to sit under a tree when I had more time in my life. http://www.szcchina.com/blog/the-shenzhen-apple-store.html

I can't imagine that all stores are going to get this kind of treatment. I know my two local stores won't get it, they're just too small for this kind of stuff; they just don't have enough space. They'd have to move to a much bigger space.

Now if there was just an Apple Store closer than SIX hours away from me...

Apple fans paid high price for the Apple products. That's why the made the profits...........

If Apple fans are still buying the products, they must like them. Even if they haven't explored much outside of Apple, brand loyalty which has developed from using products that work well is something that plays a big role here

Great marketing, ok products. Wins everytime. Posted via the iMore App for Android

Not interested in any of that malarkey. They should focus on opening more stores in towns like mine where I have to drive almost 2 hours to get to one. Although I never typically purchase anything from the physical stores; always online.

So why would they build a store if you aren't going to go?

If there was one in my city I would probably go. But as I said, I currently have to drive around 2 hours to get to one and that's not worth it for me

We would almost be better off if we didn't have one, at least for the disabled community. Our store is not only so small that they have made so much room for people waiting for the Genius Bar that there isn't even any room for stuff that isn't made by apple, sound docks, speakers, the things that people would want to try out in the store, and also things that visually impaired people would want to see and hear before buying, because a picture on the box just doesn't do anybody any good if you can't see what it is. There are tables just set up for people who are waiting for the Genius Bar and everything else is set off to the sides, or the tables at the front of the store with the featured products. Our store has barely enough room to walk around, much less teach anybody anything, because you can't even hear yourself think. Furthermore, whenever they change from heat to air or air to heat when the seasons change, it smells like urine. That part is a problem with the shopping center where it is, not necessarily Apple. The shopping center was also supposed to secure a bus route, but the nearest bus stop is about 2 miles away. This means, for those of us who can't drive, especially where I live, it's a two hour bus ride there and a 2 mile walk, and that's not counting the .6 mile walk from my house to the bus stop. Our Apple store was put at the furthest, most southern point of town that it could possibly have been put at, when it should have been put in a more centrally located place. It also needs to be bigger. I think my closet is about half the size of it. OK that's an exaggeration, but maybe ten of my closet, because it's a huge closet. I haven't been to the new store in San Francisco, but I have been to the old one, and that one was awesome! I heard that the new one is even better, and I'm dying to go!

Hopefully the redesign will mean that less space is given to the Apple Watch. The counters for it occupy at least a fifth of the floor space of my local fruity store and there's rarely any interest in them, with folks more likely to be crowded around a MacBook, ipad or iPhone.

Brilliant.
Again, Apple leads in UX. Challenge for competitors to match this.

It's where Apple invests a very large portion of their money and research. There's a reason people buy iPads for their parents/grandparents, because to them it doesn't feel like a complicated computer, it feels like a device they can understand which allows them to do what they need to do very easily and quickly.

Beautiful store and worth a visit just to view the architectural elements which are second to none. Absolute perfection. As for selling I'm not so enthusiastic. After a dozen visits I still wish there was a different product mix and layout. The store is huge but only one LG UltraFine Display and two 15" MacBook Pros with touchbars. All the peripherals and accessories are along one wall which is always too crowded for easy access, especially the headphones. While there are an abundance of employees to help, it still takes 5 days to get an appointment.

I've already seen this treatment in the Menlo Park Mall Store in Edison, NJ. They moved to a space 3 times the size of the previous store and it mirrors the Union Square store. Pretty nice and not over-crowded anymore!
Thank you for signing up to iMore. You will receive a verification email shortly.
There was a problem. Please refresh the page and try again.