Luke's lean list of what to expect from WWDC 2021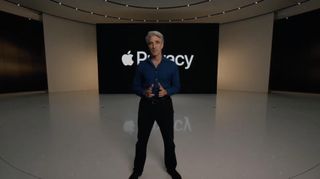 (Image credit: Apple)
With WWDC 2021 coming up in a matter of weeks, I have been racking my brain about what I think Tim Cook and company will strut out onto the virtual stage and announce — I've come up a little blank. We know that WWDC focuses on software — although hardware does make an appearance from time to time — so obviously, one can expect to hear all about the newest versions of iOS, iPadOS, watchOS, tvOS, and macOS, but rumors and details about what those updates might be have been pretty scarce this year.
With all that said, I wouldn't classify my expectations for WWDC 2021 as low but rather as lean. Sure, Luke's lean list makes a great title, and the alliteration makes me smile (I am a writer, after all), but it also rings true. I expect WWDC to be a bit lean this year, with a few "star" features and many minor updates that will give developers new tools to use in apps and software, but maybe not as exciting for the average consumer. Here's Luke's lean list of what to expect from WWDC 2021.
iOS 15
Last year's iOS 14 was a pretty significant update to the iPhone's software. It added Widgets, the App Library, a compact Siri UI, the Translate app, and App Clips were all introduced in iOS 14. It gave consumers and developers a ton of new tools to dive into and play around with, so what's in store this year?
It's been reported that notifications will be getting a "significant" upgrade in iOS 15, including the ability to change the behavior of notifications depending on what you're doing. I think this will probably be the biggest front-facing feature in iOS 15.
The ability to change your notification settings by bringing up a menu to tell your phone you're working, driving, sleeping, or something else will be far more useful than just choosing Do Not Disturb to cover all situations. When you're working, there may be some notifications you want to hear and see — your boss messaging you on Slack, perhaps? But, you might not need to know what memes your friends are sending in the group chat in the middle of the workday.
On top of that, I expect many minor updates to the core apps on iOS like Maps, Siri, Messages, etc. What those changes will be, I'm not too sure.
iPadOS 15
I think iPadOS 15 has the potential to make the biggest splash at WWDC 2021, mainly because the iPad Pro (2021) is so dang powerful that iPadOS 15 could really make some cool changes to make use of that power.
The new notifications from iOS 15 would likely also be included in iPadOS 15, and it seems like the iPad may finally get access to using widgets across the entire Home screen. It was weird that iPad OS 14 limited widgets to the "Today" view, unlike the iPhone. There has been the suggestion that Apple wasn't necessarily happy with the way that widgets looked on the iPad, due to even the smallest widget looking fairly large due to the much larger screen, but it certainly plausible that after a year of tinkering, they have figured out a way to do it. It would be cool if you could customize the size of the widgets to your liking, but I wouldn't hold my breath for that feature.
I had mentioned before that iPadOS 15 could be the key to unlocking the potential in the iPad 2021, but the news has been quiet on what iPadOS 15 might bring to the table to make my prediction true. We know multitasking is a huge pain point for people on the iPad Pro, and now would certainly be the best to make it better since the M1 chip should have more than enough juice to revamp a lot of the software. I don't know what's exactly in store, but I'm expecting big things for iPadOS 15.
watchOS 8
You can always count on more watch faces when watchOS gets an update, and I expect the same will hold for watchOS 8, but in terms of major features, I'm a little fuzzy on what may be in store for the Apple Watch.
I think the biggest feature I find plausible to be included is some stress monitoring app or capability. With Fitbit and other wearables now offering stress monitoring, it only makes sense for Apple to jump on board the trend. There are a few ways I could see Apple implementing something like this. Personally, I would like to see a revamp of the Breathe app into a more robust mental health-focused app. Heck, I could even see Apple offering a guided mediation service, like Headspace or Calm, in the future. I doubt that would be in watchOS 8, but perhaps watchOS 9 will have Mental Health+? I guess I'll have to hold on to that idea for another year.
tvOS 15
Perhaps, I'm a little cynical when I say this, but I expect the tvOS section to go by pretty quickly. I feel like the launch of the Apple TV 4K (2021) was pretty quick and didn't offer anything terribly exciting. The new color calibration was certainly nice, but nothing super ground-breaking, and I expect the same for tvOS 15.
I will say this, I could be very wrong. The Apple TV has been on a pretty old chip for a while, and now that the new Apple TV 4K is packing the A12 Bionic, Apple may have huge plans for a redesign of the tvOS. It certainly couldn't hurt the sales of the newest Apple TV 4K, especially if Apple is hoping to get people to upgrade from the old Apple TV 4K.
macOS
Once again, I expect macOS to be lacking any absolutely "huge" new features, as last year's macOS Big Sur was a pretty big update. Of course, I'm sure there will be new features, but details, rumors, and speculation on what those might be are pretty sparse, so I'm drawing a big blank on what could happen for the Mac at WWDC 2021.
It's entirely possible that a notification update (like I expect to see on iOS) could be coming to the macOS. The trailer and press image Apple used for the WWDC 2021 shows a Memoji looking at an open MacBook with the date Jun 7 on the calendar app reflected their glasses. The app has 21 notifications in the image. Likely just a reference to the date, June 7, 2021, but perhaps it's a tiny hint.
What do you expect from WWDC 2021?
Are you excited for WWDC 2021? Let us know what you expect next month in the comments down below.
Get more iMore in your inbox!
Our news, reviews, opinions, and easy to follow guides can turn any iPhone owner into an Apple aficionado
Luke Filipowicz has been a writer at iMore, covering Apple for nearly a decade now. He writes a lot about Apple Watch and iPad but covers the iPhone and Mac as well. He often describes himself as an "Apple user on a budget" and firmly believes that great technology can be affordable if you know where to look. Luke also heads up the iMore Show — a weekly podcast focusing on Apple news, rumors, and products but likes to have some fun along the way.
Luke knows he spends more time on Twitter than he probably should, so feel free to follow him or give him a shout on social media @LukeFilipowicz.
If the best Apple does is bring better widgets to iPadOs 15, the new iPad Pro 2021 is going to choke past the initial enthusiast orders. If they didn't want the demand for MacOS apps on the iPad to go through the roof, they should have used an A14X and been done with it. Strapping in the real M1 has raised expectations exponentially, and there better be another surprise moment (like last year with the M1) where Federighi "admits" the MacOS demos at the start of the keynote were all done on a 12.9" iPP 2021 in its new "docked mode" with 6k display, keyboard, and mouse.

That would be cool. I definitely agree that putting the M1 in the iPad Pro has raised expectations. Apple has been pretty adamant in the past about keep macOS and iPadOS separate things, so it will be interesting to see how they choose to go forward. They have the tools, and the demand might finally be high enough for them to go all-in on a macOS iPad. Only time will tell.

I'd love to hear about new M-series chips with more (hopefully, a *lot* more) RAM onboard. I'd love to get some clues as to what the plans are for the Mac Pro, and to what degree it can be modularized in the new world of Apple Silicon. I know tech writers have no interest in the Mac Pro, to them, it's a niche product; the proportionate number of users is quite low, so tech writers proportion of interest in writing about is exactly in line with that proportion. Which is a shame, because it's by far the most interesting product Apple makes. By Far. Hands Down. I think 2019 Mac Pro owners are probably in equal parts excited apprehension and existential dread, waiting to see what happens in this area; will the next iteration render our 5-figure investments obsolete (probably, that's kind of the name of the game, actually), or does Apple have some upgrade path for 2019 Mac Pro users that makes some sort of sense? What's the new rumored Apple silicon based 'Mini' mac pro look like and do? To what degree is it still 'modular' (probably not very much, I'm guessing)? Lastly, there's obviously a tension between the SOC appliance-like nature of the M1 and the expandability and modularity of the Mac Pro. Quite obviously, the 'appliance-ification' of the system that the M1 SOC represents is resonant with the company's DNA; with the stamp Jobs left on the company, vs. the company's early hacker/tweaker/hobbyist roots a la the Apple IIx family, and of course, the various incarnations of card-slot-equipped Mac Pro cheesegraters themselves. The 2019 Mac Pro was like water given to a drowning person, to those of us that needed it. So, what's going to happen? Is Apple going to give in to its Jobsian impulse to make a powerful appliance, or is it going to find a way to leverage the power of Apple silicon with the desire (and genuine need, for some users) to be able to expand the device with commodity standard card slots? I do wonder how much of the M1's stellar performance is due to its tight integration with the onboard SOC RAM, and that argues against a future Apple Silicon Mac Pro having commodity ECC RAM chips in it. It doesn't necessarily preclude card slots, though. I'd welcome a device with slots and 128 GB of unexpandable RAM, if that's the tradeoff we have to make. All of the above, to those few of us who care about it, is a LOT more interesting than what colors the new Macbooks are going to come in, or whether a 29 inch iMac is in the works, or if a cheaper display will become available (yawn). But I get that you have to write for the masses too, advertising pays the bills, and all that. Most people don't share these passions. If asked to predict, I'd wager we won't see anything on the Mac Pro front until 2022; probably the next target is getting 32 GB laptops with Apple silicon (I doubt we'll see 64 GB laptops immediately, which is 2 steps forward, 1 step back. Please, doubters, don't tell me I don't need and can't use 64 GB - you know not of what you speak, with respect). And lastly, like Luke, I'm hoping for (not necessarily expecting, but hoping) great things on the iPadOS 15 front. Better multitasking, easier for mere mortals to figure out, AND Xcode support so you can do real work on the iPad Pro, you know....use the one application that actually matters (ok, that's hyperbole, I get it.....Photoshop and Final Cut matter too....a little bit).

Good thoughts all, but I bet you are right that the real Mac Pro is the LAST Apple silicon system up to bat in 2022 - let's hope it is a solid clean up hitter, and not the pitcher... You're also right about a 32gb MBP 16" for 2021; maybe they'll be nice and give you a 4TB SSD option for just $1200 OVER the 2TB device price. In fact, watch out they don't bundle 2TB and 4TB SSD's exclusively with 32GB RAM for an insane premium... On the iPad Pro front, I have come to the sad realization that they are likely to release Final Cut, Logic, and Xcode with iPadOS 15 and call it a day - they will feel they are already straying too close to MacOS territory at that (but I would still kill, and pay a premium, for true multi-tasking and "real" windowed apps when docked with that monitor, keyboard, and mouse...