Mac mini vs. iMac vs. iMac Pro vs. Mac Pro: Which Apple desktops should you get?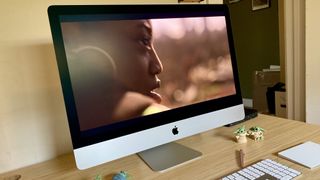 (Image credit: iMore)
Apple has many options available if you want a Mac, especially when it comes to Apple desktops. You have the gold-standard iMac, the new Mac mini with Apple's M1 system-on-a-chip (SoC), the powerful iMac Pro, and the industry-leading Mac Pro. But which of these Apple desktops is for you? Don't worry; we're here to break it all down for you.
The Mac mini
The Mac mini has always been the least expensive Apple desktop offering, especially this year with the $100 price cut from previous iterations. But the reason that the Mac mini is so cheap compared to the other desktop options is because you only get the brains — you have to provide your own monitor, keyboard, mouse.
This year, the Mac mini got a significant refresh with Apple's M1 system-on-a-chip (SoC). The new M1 SoC has an eight-core CPU, with four cores dedicated to top-of-the-line performance and the other four cores geared for power efficiency. Additionally, the M1 SoC also has an eight-core GPU, 8GB of RAM that can be configured to 16GB, and Apple's T2 security chip. The Mac mini starts off with 256GB of SSD storage, but you can configure that up to 2TB.
Because the new Mac mini has the M1 chip, it is three times faster than the previous Intel-based Mac mini, and you get six times faster graphics performance. Compared to a similarly priced PC, the M1 Mac mini will be about five times faster. The new Neural Engine and Machine Learning can also perform up to 15x faster than the previous Mac mini models.
With the power of the M1, the Mac mini is easily the best Mac desktop that you can get right now, but you will need to have your own monitor, keyboard, mouse, and any other peripherals that you need. Apple did keep one Intel-based Mac mini around if you still need an Intel-based machine, and while the M1 outclasses it, having the option is nice.
Mac mini is a popular choice because a lot of people use it as a server, and you may often see many Mac minis connected together in server farms. But it has also risen to popularity in recent years as an affordable Mac desktop, as long as you already have the other peripherals that you need. The Mac mini still has a variety of ports, so all of your devices should be covered – it has two Thunderbolt/USB 4 ports, two USB-A ports, an HDMI 2.0 port, Ethernet, and a 3.5mm headphone jack.
This year, Apple also reduced the Mac mini's price by $100, bringing it down to a starting price of $699. Considering that this is currently the only desktop offering with the Apple M1 SoC, this is the cheapest way to experience the M1 for yourself, though the cost can rise depending on the configurations you choose. Just keep in mind that you will need to get a display, as well as a keyboard and mouse, which can add to the overall cost.
Mac mini (2020): Release date, price, and everything you need to know
Small but mighty
Most affordable way to experience M1

The Mac mini is small, but it's an incredibly powerful machine thanks to the new Apple M1 SoC. Just remember to bring your own peripherals.
The iMac
The iMac is Apple's all-in-one computer — literally. The iMac's processor, GPU, and other internals are hidden behind its display, giving it a remarkably thin (5mm at its edge) appearance for having so much tucked inside. It also comes with a Bluetooth-connected Magic Keyboard and Magic Mouse 2 (though you can swap to the Magic Trackpad 2 if you choose) to let you start working right out of the box.
The iMac comes in two sizes and three models:
the 21.5-inch with 1920 x 1080 sRGB display (primarily for education)
the 21.5-inch with 4096 x 2304 Retina 4K P3 color display
the 27-inch with 5120 x 2880 Retina 5K P3 display
All sizes and resolutions support millions of colors; additionally, the 4K and 5K Retina display even support a billion colors, and both of these have a 500 nits brightness rating.
Pricing starts at just $1,099 for the base model, though costs can exceed $8,800 if you go for a fully-loaded 27-inch 5K model. Each model of iMac differs slightly in processor power, memory, and speed:
The HD-resolution iMac sports a 2.3GHz dual-core i5 processor, with 8GB (upgradeable to 16) of memory and a 256GB SSD (upgradeable to a 1TB Fusion Drive).
The 21.5-inch 4K model starts at a 3.6Ghz quad-core i3 (upgradeable to a 3.2Ghz six-core i7), with 8GB (upgradeable to 32GB) of memory and a 256GB SSD (upgradeable to a 1TB Fusion Drive or 512GB-1TB SSD).
The 27-inch 5K model starts at a 3.1Ghz six-core 10th-generation Core i5 (upgradeable to a 3.6Ghz 10-core 10th-generation Core i9), with 8GB (up to 128GB) of memory and a 256GB SSD (upgradeable to an 8TB SSD).
Additionally, their graphics cards differ:
The base model ships with an integrated Intel Iris Plus Graphics 640 card.
The 21.5-inch 4K model ships with either a Radeon Pro 555X card with 2GB video memory or a Radeon Pro 560X with 4GB video memory, but you can configure it up to a Radeon Pro Vega 20 with 4GB.
The 27-inch 5K model ships with a Radeon Pro 5300 card with 4GB of GDDR6 video memory standard; additionally, on the highest-tier model, you have the Radeon Pro 5500 XT standard or the option of the Radeon Pro 5700, both with 8GB video memory, for $300 more. Or you could get the Radeon Pro 5700 XT, with 16GB of GDDR6 video memory, for $500 more.
The iMac is truly Apple's Swiss army knife of computers: With an all-in-one shell, it can fit in almost any environment where users don't already have external peripherals.
The base model is great for educators and household tasks, while the 4K model provides an excellent mid-size screen and horsepower for basic video editing, day-to-day work, and gaming. If your needs exceed these tasks, the 5K iMac provides a huge jump up in parallel processing power and graphics, offering VR-ready performance and room to process video, photography, and basic software development.
But even the 5K model may not be enough for you: If you work in an industry that requires heavy-duty rendering power and simultaneous processing, you may want to set your sights on the iMac Pro or Mac Pro.
All-in-on powerhouse
All-in-one for everyone.

Apple's all-in-one desktop is available in several different options that'll make it the perfect desktop computer for your needs. Do you need a lot of storage? What about memory or graphics? You can configure an iMac to be just the machine you need it to, all with a big, beautiful 21.5- or 27-inch display.
The iMac Pro
If the iMac is a Swiss army knife, the iMac Pro is a high-end chef's instrument. It serves one primary purpose: To utterly destroy any and all multithreaded tasks and rendering thrown its way.
The iMac Pro is not a computer for your average user. Though its space gray sheen may attract those who otherwise don't need the machine, its $4999 starting price tag should ward off most idle interest.
That price is out of the ordinary for an iMac, and for good reason: This iMac is packed full of hardware to make video editing, photography, VFX, software development, gaming, and base VR development as easy as possible.
Depending on your needs (and budget), the iMac Pro offers three processor configurations:
A 3.0Ghz (Turbo Boost up to 4.5Ghz) 10-core Intel Xeon W (the optimal middle ground for both single and multithreaded processes)
A 2.5Ghz (Turbo Boost up to 4.3Ghz) 14-core Intel Xeon W (super-charged version of the 10-core)
A 2.3Ghz (Turbo Boost up to 4.3Ghz) 18-core Intel Xeon W (the best machine for multithreaded processes)
There are also two distinct graphics platforms built into the machine:
The Radeon Pro Vega 56 with 8GB of HBM2 memory (great for software development)
The Radeon Pro Vega 64 with 16GB of HBM2 memory (great for VR and VR development, and other graphics-intensive processes)
The Radeon Pro Vega 64X with 16GB of HBM2 memory
It's also worth noting that you'll be able to hook up multiple external GPUs to the iMac Pro if you so choose, which means doubling (or tripling) your graphics processing power.
You can also get a truly ridiculous amount of on-board memory and solid-state storage: Memory ranges from 32GB to 256GB, and you can pay an additional $1,000 to upgrade your 1TB hard drive to 4TB. These configurations are installed when you purchase the machine and can only be changed by Apple itself or its authorized service providers.
Who should get the iMac Pro? Those who truly need it: Graphics pros, video editors, VR gamers who want a higher-end Mac than the highest-end iMac without having to pay for an external GPU, software developers, and the like.
You shouldn't get an iMac Pro if you're just coveting the space gray color or the prospect of that raw power — chances are, unless you work in an industry that requires its processing power, you won't nearly put it through its paces.
You also shouldn't get an iMac Pro if you're coveting a non-all-in-one solution. While the iMac Pro can hook up to multiple external displays, RAID systems, and eGPUs, it ultimately relies on external accessories to augment its performance; if you want a computer that you can upgrade yourself, you might want to consider the upcoming Mac Pro instead.
The pro all-in-one
An all-in-one for demanding professionals.

Powered by Intel Xeon W processors with up to 18 cores, up to 4TB of storage, and 256GB of DDR4 ECC memory, the iMac Pro truly is a pro-focused, all-in-one monster or a machine, ready for any task you'd care to throw at it. Radeon Pro graphics make Metal operations faster than ever, while its unique dual-vent cooling system keeps temperatures down to allow the iMac Pro to handle a much higher load than is possible in the standard iMac.
The Mac Pro
Let's start here: The current Mac Pro line is not for everyone, and it never has been.
Apple introduced a new Mac Pro in 2019, and it's really a niche machine aimed at professional video editing, graphic design, music, 3D animation, and virtual reality development. This is not a Mac for people looking to edit photos or enthusiasts trying to get the most power out of the Mac that they can. This is purpose-built for high-end, professional production.
Replacing the previous Mac Pro's cylindrical "trash can" is an aluminum box. An evolution of what was affectionately called the "cheese grater" design of older Mac Pros, this new casing comes in two parts. The metal frame that stands on your desk and holds the internals of the Mac Pro itself, as well as the aluminum outer shell. The shell, which is held in place by a locking handle mechanism, can be quickly removed so that you can inspect, modify, and clean your Mac Pro with ease.
Inside the Mac Pro, Apple is once again using Intel's Xeon processors. Starting with the 8-core Intel Xeon W, you can configure your Mac Pro with your choice of a 12-, 16-, 24-, or 28-core CPU, depending on your needs. The computer supports up to 1.5TB (yes, terabytes) of DDR4 error-correcting code (ECC) memory spread out over 12 user-accessible slots. It features eight PCIe expansion slots, some of which can also serve to hold Apple's new, custom Mac Pro Expansion (MPX) modules. You can use any of the slots to hold conventional graphics cards as well. The MPX bays feature an x16 gen 3 PCIe slot for graphics bandwidth, as well as an x8 gen 3 slot for Thunderbolt.
The MPX modules are custom Apple graphics modules meant for high-end video, 3D animation, and VR production. Built with AMD graphics processors, an MPX module can hold up to two of them at a time for maximum performance. Currently, MPX modules come in three flavors: AMD Radeon Pro 580X, Radeon Pro Vega II, or Radeon Pro Vega II Duo, which comes with two Vega II GPUs. The Mac Pro is designed to hold up to two of these MPX modules at once. Apple has also created the Afterburner card, an accelerator card specifically designed to dramatically increase the ProRes and ProRes RAW codecs' performance in Final Cut, QuickTime Player, and supported third-party apps.
When it comes to storage, the Mac Pro will only be available with solid-state drives. You can get it with up to 8TB of storage onboard, though it was originally announced with 4TB. You can, of course, also expand it externally through its Thunderbolt 3 ports.
If the iMac Pro doesn't appeal to you and you absolutely need a new pro-level Mac, you might want to consider this Mac Pro.
Unlimited power
Redefining the professional workstation.

At long last, Apple has introduced a new Mac Pro. Expensive, expansive, and powerful, the new Mac Pro can take on any task you decide to put it to. Meant for high-end music, video, and animation production, the Mac Pro can feature a processor with up to 28 cores and up to 1.5TB of memory. With dual AMD graphics processors, the custom MPX graphics modules can handle high-bandwidth video loads for the most demanding productions.
Still thinking about your next Apple desktop?
If you're still unsure which Apple desktop is right for you, get some advice from the iMore community in the Mac desktop forums. Our readers can be fantastic sounding boards for your thought process and offer suggestions to help tip you in the right direction.
Updated December 2020: Updated with information about the Mac mini with M1.
Serenity Caldwell contributed to an earlier version of this article.
Master your iPhone in minutes
iMore offers spot-on advice and guidance from our team of experts, with decades of Apple device experience to lean on. Learn more with iMore!
Christine Romero-Chan was formerly a Senior Editor for iMore. She has been writing about technology, specifically Apple, for over a decade at a variety of websites. She is currently part of the Digital Trends team, and has been using Apple's smartphone since the original iPhone back in 2007. While her main speciality is the iPhone, she also covers Apple Watch, iPad, and Mac when needed.

When she isn't writing about Apple, Christine can often be found at Disneyland in Anaheim, California, as she is a passholder and obsessed with all things Disney, especially Star Wars. Christine also enjoys coffee, food, photography, mechanical keyboards, and spending as much time with her new daughter as possible.