Mac revenue exceeds iPad revenue for the first time since 2011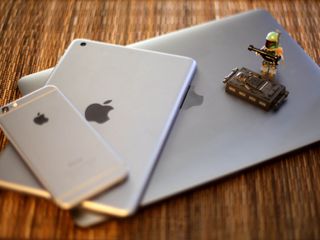 Despite a contracting worldwide PC market, Apple managed to buck the trend — once again — by selling more Macs than it ever has during its second quarter: More than 4.5 million Macs in total. What's more, Macs beat iPads in terms of revenue. What's going on?
Apple offered its second quarter 2015 earnings numbers on Monday, reporting $58 billion in revenue for the period and a quarterly net profit of $13.6 billion. About $5.6 billion of that revenue alone came from Mac sales.
It's an interesting turnabout: The iPad, whose sales have been flagging for a while now, generated only about $5.4 billion in revenue. That's the first time the Mac has outsold the iPad since about 2011.
Mac sales in China have been off the charts. Tim Cook characterized Chinese Mac sales as "unbelievable" during a Q&A with analysts on Monday afternoon — up 31 percent year over year. Sales of all Apple products and software is exploding in China, however. Cook thinks this has everything to do with China's burgeoning middle class and their growing attraction for premium brands like Apple.
Even in China, though, people are staying away from PCs in droves. Market research firm IDC reports that PC sales in China are expected to shrink 5 percent this year (compared to 7 percent worldwide), so Apple's bucking the trend both there and in other regions.
A lot of it has to do with the "halo effect." People buy Apple products like the iPhone and like them. And people are buying tens of millions of iPhones each quarter. That, in turn, helps those same customers view the company's other offerings more favorably. When they're in the market for a tablet or a computer, they check out Apple.
Suddenly someone who, a year ago, might not have spent $1,000 on a laptop computer is more inclined to do it. That's reinforced when they learn of some of the benefits of Mac ownership: Less opportunities for malware infections, for example, no pre-installed bloatware or adware. Better integration of operating system, application software and hardware, all from the same company. An easy way to buy software for the Mac, connected to the same credentials they're already familiar with from the iOS App Store. Seamless integration with other Apple products.
Apple says that the quarterly Mac sales were buoyed by strong response to the MacBook Air and MacBook Pro. Both those products were refreshed in March and began shipping immediately, so Apple had at about three weeks of sales to work with to help pad their Mac sales numbers a bit.
It's worth noting that Apple sold a lot of Macs without flooding the retail channel with inventory. Apple CFO Luca Maestri reported that Apple exited the March quarter with about 4-5 weeks' worth of Mac inventory, close to where it started.
That's important: That phenomenon has occurred with the iPad, and the results haven't been good for Apple. Such an artificial buoying of channel inventory might have given Apple the appearance of inflated Mac sales, but it would have hit Apple in the next quarter like a bad hangover.
It's also important to note that the new MacBook didn't ship during the recently-reported quarter. The dazzling, slim MacBook didn't start shipping until April, in fact. Even now, supply on the new computer is very constrained. The new MacBook incorporates some hardware innovations that make it a bit more difficult for Apple's manufacturing partners to produce in the same volume as its other, more tested and refined designs. Mac customers interested in getting the new MacBook have been asked to order it online and have it shipped to them, instead of walking into a store and buying one off the shelf, as they can with every other Mac model.
Cook said Apple's "very happy with the response we're getting from customers" who have the new MacBook. "We believe — and I think most everyone agrees — this is the future of the notebook," he added.
Obviously the new MacBook isn't for everyone — some customers are put-off by the comparatively lightweight processor and graphics, for example, compared to the beefier Retina MacBook Pro. But Apple's appealing to an entirely different audience with the MacBook, and it remains to be seen how widespread or how long-term its popularity will be.
Apple has previously suggested that supply issues for the new MacBook are temporary, and should be corrected by June. Not coincidentally, I'm sure, that's the end of the current quarter. So hopefully by the time the next quarterly report is issued — mid-July — we'll have a better idea of how Apple's newest Mac laptop is helping the company's bottom line.
Master your iPhone in minutes
iMore offers spot-on advice and guidance from our team of experts, with decades of Apple device experience to lean on. Learn more with iMore!