Master the Apple TV keyboard with these three tricks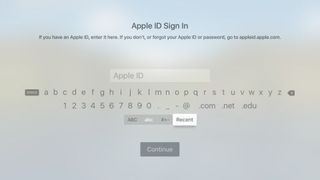 The Siri Remote is notably faster than its predecessors at text entry, but you're still dealing with the swipe-and-click-to-select process when it comes to entering letters and switching from uppercase to lowercase keyboards. And since Bluetooth keyboards don't currently seem to be supported, you're going to be doing a lot of swipe-and-click-to-select-ing.
Meet the Apple TV keyboard
If you're using an English keyboard, you'll see up to five different keyboard options: "abc", "ABC", "#+-", "123", and "Recent". The first two are the lowercase and uppercase variations of the alphabet with a basic numberpad; the "#+-" keyboard contains symbols and numbers; "123" contains solely numbers; and "Recent" saves recently entered phrases.
Third-party apps can incorporate any and all these options depending on the type of text entry required.
How to quickly re-enter your email address
If you want to avoid repeatedly typing your email address or the same search query on the Apple TV, use the Recent keyboard: It saves any email addresses, account names, or search terms you've entered recently.
How to add accented characters and uppercase letters
If you want the text-entry process to go just a bit quicker, here's a nifty little shortcut: Tap and hold on any lower-case key to reveal its uppercase version, along with any accented variations. This way, you don't have to repeatedly switch between the Uppercase, Lowercase, and Symbol keyboards.
Use the Play/Pause button to switch case
Want to type an uppercase letter when you're on the lowercase keyboard, or vice versa? Use the Play/Pause button to quickly switch between cases.
Any other fun keyboard tricks you've discovered?
Let us know in the comments.
Get the best of iMore in your inbox, every day!
Serenity was formerly the Managing Editor at iMore, and now works for Apple. She's been talking, writing about, and tinkering with Apple products since she was old enough to double-click. In her spare time, she sketches, sings, and in her secret superhero life, plays roller derby. Follow her on Twitter @settern.
I was hoping to use the "Remote" app from Apple, however, I can't get the new Apple TV to show up. 3rd gen units are there, but the new one isn't. Anyone else having these issues?

Remote.app isn't yet compatible with the new Apple TV, so your forced to do these keyboard tricks.

Which is why I haven't ran out and and updated my old apple tv yet. I'll wait til things look a bit better especially apps.

I called Apple support about this issue. The lady from Apple said the new Apple TV is not supported by the Remote App at this time, and I told her it was like typing on a 1984 video game. She chuckled and asked me to write that on an Apple Suggestion website. I was frustrated and almost returned it, but then downloaded a few games, and my family had one of the most memorable game nights ever. The system is cool, but typing stinks on it. Tim Cook, please make this experience easier.

Yes, for the keyboard don't forget you can just tap on the sides of the touchpad to go left/right/up/down one letter at a time. This alleviates having to swipe by precise amounts when you just need to nudge.

To switch btween upper case and lower case click the play/pause button.

The X button on a controller also works for that.

When your entering characters with the strip-keyboard (or the Home Screen, AppStore, etc) -- doing a quick long swipe will move you one side to the other, 2 of these swipes will get you all the way over. Once I got the hang of it, I'm finding I like this method of onscreen character entry a lot better than Roku or FireTV.

Found it doesn't support Bluetooth Keyboards either. I have a Logitech I used with my old ATV2, but doesn't even see it with ATV4

Absolutely terrible. No BT keyboard support? Are fking kidding? Lame Apple, lame. Stop focusing on pay to listen radio stations and pink hardware and get to work on your damn software!! BT is supported, it should have supported their own new "thin" keyboards on day one. What are you doing Apple? Sloppy, very sloppy. The Great Apple Slide continues...

Like all good digital citizens, I use complex passwords on any account that requires it: that includes my iCloud account. It also has two-factor authorisation turned on. With my ATV 3 that was OK. With the ATV4 its a show stopper. There's no way that I can enter a 24 character password using that stupid on-screen keyboard every time I wish to add a new app. So, I won't be adding apps, which makes the 4 no better than the 3. It's going back tomorrow.