Mega Man X Legacy Collection for Nintendo Switch: Everything you need to know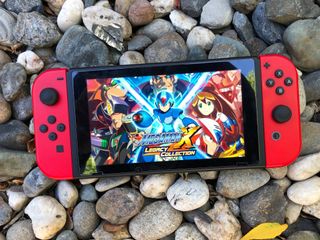 The Mega Man X Legacy collections are now available on Nintendo Switch, but what's all the hubbub about?
For years now, film fans have been fortunate enough to have publishers like Criterion around. These publishers develop special edition releases of much-beloved films that are chock full of the sort of extras that fans of cinema love. Unfortunately, releases of this sort are few and far between in the world of video games. Despite the fact that there is a multitude of well-loved and respected video game titles, they just don't seem to get the comprehensive rereleases that so many films do.
Fortunately, these two new Mega Man X collections are tantamount to the video game version of a Criterion special edition. The Mega Man Legacy Collection 1 & 2 faithfully ports some of the very best Mega Man titles in the series and also gives you a veritable laundry list of fun and interesting extras.
Is it worth your time, money, and storage space to pick up a copy? These collections pack a lot of bang for the buck. Let's take a look at everything you get for the price of admission.
The games
In these collections, you will get some of the most faithful ports of these games since the days that they were released to their respective consoles. I spent a lot of time playing Mega Man X and I'm happy to say that it feels just as tight and fun as it should. It's really awesome to have the opportunity to play what is arguably one of the very best titles in the franchise on a portable system like the Switch.
There are a few filters that can be applied to the game which will provide graphical smoothing in order to give the games a more modern look. However, purists will find that you can play the games with the original resolution and aspect ratio, just as was intended. The only complaint I have is minor and more hardware related than anything. I found that playing with the Joy-Cons could be a little frustrating at times due to button size and layout. However, this is an extremely minor quibble and nothing a Pro Controller can't fix.
The Extras
Capcom did a wonderful job jamming added value into these collections and fans will have a fantastic time perusing all the extra content provided. I was also incredibly pleased to find that all the extra content is available as soon as you fire up the game. That means no unlocking or playing through games in order to enjoy the massive library of extras.
There is so much extra stuff that it's difficult to recount it all to you here. In the Museum section, you'll find a huge gallery of art assets for each game. There's a music player which affords you the opportunity to play the blazing tracks that helped make these games so exciting. You can also view a robust gallery of Mega Man products that have been released over the years. If you're interested in watching all the English and Japanese game trailers that have been released over the years, that's also available. There is simply tons great additional goodies on display here and it just makes these releases even better.
New play modes
Finally, Capcom added even more value by giving us a few new ways to engage with these games. If you occasionally have a difficult time playing and just don't have the patience to master them, you could always switch over to Rookie Hunter mode. This mode will make things significantly easier by reducing the damage you take in multiple ways. This is perfect for someone who might be new to the franchise or young kiddies who aren't quite ready for the full challenge.
If making things easier is the opposite of what you want, you could always dive into X Challenge Mode. This mode will see you facing off with two bosses at once. It's a challenging and interesting way to engage with the Mega Man bosses that many of us are so familiar with.
After spending a few hours with these collections I have to say that I'm very pleased with what they have offered fans. We get the games we have always loved, presented as they were intended and we also get a whole boatload of extras that make this feel like a lovingly crafted collection. I would hope that other legacy developers take a look and this release and put together similar collections. I mean, why don't we have the same sort of thing for Mario?
Get your very own copy of the Mega Man X Legacy collections at Amazon for only $40
Are you Mega excited?
Did you get your copy of the Mega Man X collections? What do you think?
Get more iMore in your inbox!
Our news, reviews, opinions, and easy to follow guides can turn any iPhone owner into an Apple aficionado