The minds behind Apple Music talk redesign, music industry and more in new interview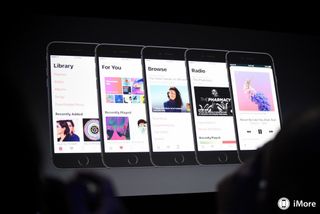 Following the big announcement at WWDC 2016 that Apple Music is due for a redesign, the heads behind the service sat down in an new interview to discuss the platform as a whole. Speaking with Billboard, Apple's Eddy Cue, Jimmy Iovine, Trent Reznor and Robert Kondrk spoke at length about Apple Music, Apple's relationship with the music industry, and more.
One of the biggest topics tackled was the potential for a streaming-only future. Cue addressed this concern, noting that music downloads aren't going away any time soon, and sales have actually been boosted by the availability of streaming thus far.
Cue and Iovine also touched on Beats 1 when prompted about its absence in the keynote. The redesign is meant to make interacting with Beats 1 much bette, Cue says, while Iovine notes that Beats 1 will also be venturing into video content. Robert Kondrk also took a moment to explain how the Beats 1 intersects with Apple's music ecosystem as a whole:
For much more, be sure to check out the full interview from Billboard. And for more from WWDC 2016, you can follow all of our coverage through the links below.
○ Everything about WWDC 2020
○ WWDC 2020 remote lineup
○ Download the Apple Developer app (opens in new tab)
○ iOS/iPadOS 14
○ macOS 10.16
○ watchOS 7
○ tvOS 14
○ Discussion forums

Get the best of iMore in in your inbox, every day!
That recent article about being able to delete stock Apple stuff from iOS 10 listed Music as one of the removable apps. I sure hope it's true.

Yes it is. I am running iOS 10 developer beta. So now you can live happily ever after.

Apple's music system is a complete freakin' mess!

still looks cluttered. "recently added" is taking up half the screen and recently added music has never been something important to me. I know what i added and i just go to it. It wasn't broke in ios 7. They shouldn't have tried to fix it. I wish there was that interface in an app for the power users of local content. Streaming only just isn't an option. My lte just isn't consistent enough. Plus i'm near the ocean and mountains and i hit lots of dead spots. I've switched several of my podcasts in downcast to stream only and i very often it freezes as i lose connection to the cell network. And i'm not normally stationary on wifi. But when i leave my house if i have time i download the longer pods set to stream. And the main ones i always listen to i have set to automatic download.

What a mess. I've almost completely wiped my iTunes library because it has simply ceased the ability to be organized. Even after carefully checking and renaming each "Get Info" slot and option, I still get multiple listings of the same artist, tracks out of order, etc. I now anticipate these conferences wondering what in the coming months I'll have to turn off in settings, opt out of, downgrade, and carefully avoid, so my content is safe, and messy features aren't at work garbling my Mac, iPhone, iPod, and iPad experience. In iOS 10, there are some deviations from the unified look, and I've noticed it big time in Music and News. While I surprisingly like the separate feel, it's just not very well done. Not SMART. No longer JUST WORKS. It's a clunky disaster. I wonder what kind of user is at home in the environment they've created on iTunes and Music/Apple Music. If I had to take a guess, it seems to be passive music listeners, who want to "put something on" in one click. One of my major gripes is having to turn on iTunes Match for iCloud to UN-INTELLIGENTLY start eating and regurgitating my music library so that I am able to save offline the Apple Music content that I pay for monthly. LAUGH OUT LOUD. Here's an excerpt from an Apple Insider article... "Be warned, though, that trying to turn on iCloud Music Library can potentially delete locally-created playlists and their associated files — from both iOS devices and a desktop iTunes library. Proceed with extreme caution and make sure a backup is in place." Yup, it is no place for music lovers.

Looks like a Microsoft app with the large font. Reminds me of zune

Big bold title with listed and non-icon menu, reminds me of windowsphone7 Sent from the iMore App

Beats 1 is fu*king a*s. Give us some god*amn metal, rock n roll, punk rock shows! I hate that everything is geared towards hip hop/rap/pop. I get that not everyone is a metalhead but christ not everyone likes crappy drake. FFS.

Most important is to make Apple Music a separate app where I should be able to simply update Apple Music app instead of updating the whole freakin OS. This has not been addressed yet. Sent from the iMore App
Thank you for signing up to iMore. You will receive a verification email shortly.
There was a problem. Please refresh the page and try again.