MixRadio leaves beta, brings the noise to the iPhone for the first time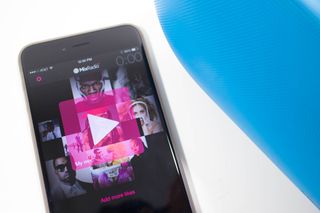 The expansion away from Windows Phone comes as MixRadio recently left Microsoft ownership and was acquired by LINE, perhaps best known for its cross-platform messaging app.
So what is MixRadio? If you're not familiar, it's a music streaming service that focuses on serving up suggested music that it thinks you'll like, rather than just finding albums and specific songs. Create a mix from artists you like or choose from one of thousands of curated mixes, then stream away or take four of them offline.
The app itself hasn't changed much during the beta process over the past couple of months, and so what you're getting in the finished version is very much like in our early look video above. Some bugs have been squashed, some features have been tweaked, and ultimately what you're getting now is a polished product.
As of right now MixRadio is operating a free, ad-supported service only. Subscriptions to get rid of the ads and allow more offline mixes will be coming hopefully later this year through a separate announcement. There's still work to do on accounts and monetizing the service since the transition from Microsoft.
And since MixRadio is available at present in 31 countries, there's plenty of chance for folks to try it out. If you've never used it before, definitely give it a shot. We're big fans of it in these parts.
MixRadio for iPhone will be live in the App Store from today, May 19. If you're a fan, been using the beta or going to take it for a spin for the first time, be sure to let us know how you like it in the comments below!
MixRadio launches the world's most personal and easy-to-use music streaming service on all major mobile platforms
(13:00 EST, New York) MixRadio, the personalized music streaming service, is today launching its acclaimed product to a huge new global audience by expanding across Android and IOS platforms and announcing a new partnership with HTC.
Previously owned by Microsoft and Nokia and available only on Windows Phone, MixRadio's recent acquisition by one of the world's fastest growing mobile messaging service, LINE, means the service is now unleashed on Android and IOS platforms. The co-marketing opportunities with LINE presented to MixRadio through the partnership will help drive international growth.
MixRadio CEO Jyrki Rosenberg comments: "We're excited to be bringing our personalized and easy-to-use music streaming service to a huge new audience. For many people this will be the first time they have been able to experience MixRadio; we're confident they will love the simplicity of the experience and the quality of the personalization we deliver. We cut out the clutter between the listener and the music they love, helping them enjoy, discover and rediscover great music.
We are already available in 31 countries and have been developing and improving our personalized music offering over many years, meaning we combine the benefits of having a heritage in the space with the excitement of launching a new product. We will also continue to deliver a great service to existing users on Windows Phone."
Today also brings the announcement of a major new co-marketing partnership with HTC. MixRadio will exclusively provide music updates for HTC's BlinkFeed, providing personalized music news tailored to the users' music tastes. Phil Blair, President of HTC EMEA from HTC comments: "HTC is a pioneer in providing top quality audio experiences via mobile. We were the first smartphone company to combine dual stereo speakers, a finely tuned sound profile and Dolby decoding technology to deliver an end-to-end multi-channel audio solution, HTC BoomSound. The MixRadio partnership is the latest example of HTC investing in delivering rich audio experiences, helping us bring completely personal and relevant music news to our users, so they never miss out on the latest releases and mixes of the music they love."
MixRadio has enjoyed consistently high consumer satisfaction scores and positive media reviews. It has developed its own personalization engine and analyzed billions of data points from listeners around the world, allowing it to deliver an unparalleled personalization experience. The one touch 'MyMix' feature brings a highly tailored stream of music that learns the music listeners like, to bring them more music they love from a catalogue of millions of tracks.
MixRadio also offers thousands of curated mixes created by a global team of music experts, and by international stars. As a mobile first music service, MixRadio understands the importance of off lining mixes. Unlike many free music streaming services, MixRadio lets users listen to offline mixes on the move.
MixRadio will maintain and develop existing partnerships with adidas, powering the music for the adidas MiCoach Smart Run watch, and Harman Kardon, being fully integrated into the Harman Kardon Omni speakers offering a seamless personalized home audio experience.
You can download MixRadio now at http://mixrad.li/DownloadMixRadio
Get the best of iMore in your inbox, every day!
Oh yes yes!! I just love MixRadio on my Lumia, glad to get it to iPhone too! Sent from the iMore App

Their electronica selection kind of sucks though.

Does anyone know if this is part of music freedom. On one part of tmobile it says yes and in another it's not included. Sent from the iMore App

The possibilty to have 4 offline playlists/mixes via MixRadio (although with advertisement banners and max 6 skips per mix per hour) is unique for a free streaming music service i think. Also i have only seen the advertisement banner but not yet any audio or video advertisements which is great (which Jango Radio has). I sure hope that Rdio or MixRadio will soon start to offer a subscription service in the Netherlands where you can stream/listen music without advertisements (audio, banner) and have unlimited skips for a great price in my opinion (which is 4 or 5 euro per month). Recently also Rdio Select (3,99 dollar a month) started in some countries. I sure hope that the Rdio Select will soon also become available in e.g. the Netherlands because it also has the option to listen to music on your smartphone without advertisements and even 25 offline tracks. Unfortunately other alternative music subscriptions services (without advertisments and access on a smartphone) are also not yet available in my country: Rhapsody unRadio 4,99 dollar
Pandora One 4,99 dollar
Slacker Radio Plus 3,99 dollar