Is Monster Hunter Rise for Nintendo Switch part of the main series?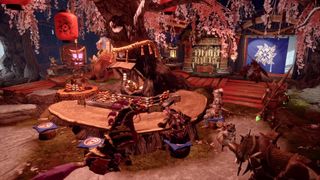 (Image credit: Capcom)
Is Monster Hunter Rise for Nintendo Switch part of the main series?
Best answer: Yes. The developers had confirmed Monster Hunter Rise was the next entry in the main series when they revealed it back on September 17, 2020.
Rise up to face hordes of monsters
On September 17, 2020, Capcom hosted a digital event called 'Monster Hunter Direct' where they announced two new games in the long-running Monster Hunter franchise, Monster Hunter Stories 2: Wings of Ruin and Monster Hunter Rise. Both of which will be released for the Nintendo Switch.
The Monster Hunter series are action games where you explore fantastical locales to hunt down terrifying monsters. After killing a monster, you use its body parts to forge mighty weapons and armor to help you fight larger monsters. In particular, Monster Hunter Rise will have you defend the peaceful village known as Kamura from a horde of monsters looking to tear it down.
Now is Monster Hunter Rise a part of the main series? Yes. During the Monster Hunter Direct, they have confirmed Monster Hunter Rise is the next main installment in the Monster Hunter series. Whereas the other game that was announced, Monster Hunter Stories 2: Wings of Ruin, is a sequel to the turn-based JRPG spinoff title, Monster Hunter Stories.
It may look confusing at first since Monster Hunter Rise doesn't have a number on it to indicate if it's a sequel or not. That's going to take some explanation because this franchise has some odd naming choices.
Monster Hunter naming convention
For the longest time, the mainline series had a number at the end of each title. Some of the mainline games would later get an 'Ultimate' edition (or 'G' edition in Japan) that added tons of new monsters, locales, and gear. Examples include Monster Hunter 3 Ultimate for Nintendo 3DS and Nintendo Wii U and Monster Hunter 4 Ultimate for Nintendo 3DS.
However, that all changed when Monster Hunter World debuted for Playstation 4 and Xbox One in 2018. Instead of a number, each subsequent game would have a subtitle based on its central theme. For example, Monster Hunter Rise's title is referencing the game's focus on aerial traversal and aerial combat using the game's unique Wirebug mechanic.
This new naming convention is fitting with Monster Hunter since the plots of these games are episodic in nature. This way, anyone can jump into Monster Hunter Rise without needing to play the previous entries whether they are a newcomer or a long-time veteran.
Monster Hunter Rise will release on Nintendo Switch on March 26, 2021. Don't forget to secure one of the best microSD cards for your Switch so you enough space for Monster Hunter Rise.
Hunt for glory
The Rampage is almost upon us, and only you have the skills and mettle needed to stop it from destroying Kamura Village. Take on the Rampage alone or join others in the hunt in 4-player online and local co-operative multiplayer.
Master your iPhone in minutes
iMore offers spot-on advice and guidance from our team of experts, with decades of Apple device experience to lean on. Learn more with iMore!
Alexander Cope is a writer for Windows Central and iMore that has been gaming since the 16-bit era.