More than 200 million devices now running iOS 7, says Apple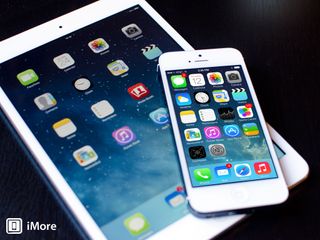 Apple released iOS 7 on Wednesday of last week, and now more than 200 million devices are already running the new version of the operating system. The news came as part of a press release announcing the sale of 9 million new iPhone 5s and 5c models. That's quite an uptick from last year, when Apple announced - along with sales of 5 million iPhone 5 phones - that 100 million devices had been upgraded to iOS 6.
iOS 7 is the most ambitious update to iOS since its first release. In addition to a singificant overhaul to the user interface, getting rid of most of the skeuomorphic elements that were the hallmark of ousted Apple VP Scott Forstall, iOS 7 also makes many under-the-hood changes like improved multitasking, incorporating new features like AirDrop, Control Center, and more.
Are you using iOS 7? Or have you held off for now? Sound off in the comments, and check out these links for more info.
More iOS 7 tips and how-tos
Get the best of iMore in in your inbox, every day!
I, nor my 2 friends and my wife who have tried, have been able to get airdrop to work. Sounds cool, but wifi, Bluetooth on, airdrop set to contacts only AND everyone, and nothing. None of our devices discover any other devices. Sent from the iMore App

Works for me, odd. My mom has a 4s, so all I can do is test between my tablet and phone. I REALLY wish they would open it up to the 4s and iPad 2.. For this to get true adoption they really need to make it more open to the lower end phones. I don't think this is a hardware limitation.. iPhone 4s has Bluetooth 4.0 LE.. I think this was more of a 'feature' incentive to get people to upgrade.

I can't say it "just works" as well as I anticipated. I have had some success, but you all not only need to be near each other (for the bluetooth handshake), you need to be on the same wifi network, and the devices need to be active (screen on).

No problems here! Sent from the iMore App

Is it just 5S's that it works with? I know it doesn't work with 4S. I've only tried between my 5S and others 5C's. Bluetooth and wifi on, phone (and screen) on, airdrop set to contacts only AND everyone multiple try's. No iPads available to try it with yet. I wish it would work with 4S so I could send some pics from my old phone to the new one easily. Lol. Sent from the iMore App

As per Apple: "AirDrop is available on iPhone 5 or later, iPad (4th generation), iPad mini, and iPod touch (5th generation) and requires an iCloud account."

Hmm. iCloud accounts: check, wifi and Bluetooth on: check, same wifi network: check, close enough for Bluetooth: check (inches away!), iPhone 5S and 5C, still nothing! Sent from the iMore App

This has to be the worse iOS ever released. I truly believe that if Steve Jobs was still alive that this version would have never seen the light of day. I am regretting everyday that I upgraded both my my phone and pad.

I've decided to hold off on upgrading to 7 till the next few subsequent updates that may be coming around. I'm perfectly content with 6 and fear loosing any more battery life to a new OS. I am a flight crew member that doesn't have access to a charger through out the day, so I have to be careful to not run the phone or pad down and risk not being in contact with the company.
However, once I know they have a handle on battery life or there's been further testing, I might be joining you all.

I updated right away.
I'm not a giant fan of the color scheme, but it's a fresh change-up from yesterday's iOS... So I'm fine with it. I do most certainly enjoy and appreciate the cleaner, flatter look to iOS 7. The folders and the "dock" could use at least 50% more transparency ( or just a thin line outline )... They look overbearing no matter their background color. My battery life is a little worse than before, but considering I have an iPhone 4S - with half the battery of a 5/5C/5S... It that accelerometer, I tell ya! xD. C'est la vie. I'm also disappointed that the 4S got left behind on the Airdrop, but it does sport a lesser Wifi system, so, again, meh. ... In a word, for iOS 7... Yes. * will the iMore app be getting a "7-esque" overhaul as well? Sent from the iMore App

I hope iMore will keep their current keyboard!!! I miss this keyboard in other places!!! Sent from the iMore App

Huge. The rate at which people update is just incredible! Sent from the iMore App

the new iOS 7 is the absolute worst. can't believe apple would release something so completely cheesy. pathetic.
Thank you for signing up to iMore. You will receive a verification email shortly.
There was a problem. Please refresh the page and try again.