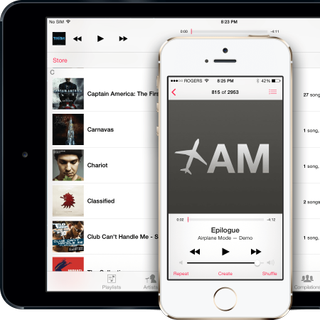 Apple's Music app is one of the original apps for the iPhone, iPod touch, and iPad. On the iPhone it was originally called the iPod app, and included video content as well as audio, but later split off into Music and Video apps to match the iPod touch and iPad. Nowadays the Music app is also home to Apple Music, Beats 1, and (if you've enabled it) iCloud Music Library. The Music app on the iPhone, iPad, and iPod touch also seamlessly integrates with both iTunes in the Cloud and iTunes Match.
To use the Music app on an iPhone, iPad, or iPod touch you can buy content straight from iTunes, sync it through iTunes for Mac or PC, subscribe to iTunes Match for a yearly fee in order to match your existing iTunes library and stream it without eating up any storage, or subscribe to Apple Music to get access to Apple's streaming collection.
Siri also ties into the Music app so you can ask it to play any song, album, or track you have on your iPhone or iPad (or in the Apple Music collection). You can also enable iCloud Music Library so that your music library is always up to date across all the devices you own, all the time.
All iPhones, iPads, and iPod touches come with the Music app built right in; the same holds true for the Videos app. If you're interested in podcasts, however, you can download the Podcasts app as a separate download in the App Store.
Get the best of iMore in your inbox, every day!
Thank you for signing up to iMore. You will receive a verification email shortly.
There was a problem. Please refresh the page and try again.