This baffling issue is stopping me from switching to Apple Music
Opinion: Why does this error even exist?
(Image credit: iMore)
I've always had a like/dislike relationship with Apple Music, ever since it saw a redesign in iOS 7, but in 2023, silly errors that I'm coming across still keep me paying for Spotify.
Being on a certain cellular network, I have access to an offers app that I can browse through that lets me redeem trials I'd like to take for a test run. I spotted Apple Music was offering a three-month trial, and after first trying it out in July 2022, I wanted to see how far spatial audio support had come in the intervening months, especially in a playlist I created back then. For those unaware, it gives you surround sound on certain audio peripherals like the AirPods Pro 2 or AirPods Max, so you can hear certain instruments that you may not have spotted before, as if their sounds were coming not only from all around you, but from above, too.
I found the playlist I had made for spatial audio tracks, and was puzzled to find a bunch of them greyed out and inaccessible for playback. No problem I thought, I'll just tap it and it'll either play or download it. I then get an error explaining that I have to find a PC or Mac with Apple Music or iTunes installed and plug my iPhone in, and only then will the tracks sync.
This may be because of how Apple Music tries to handle the tracks you've already downloaded, and it's getting confused with the same tracks on its servers that have Spatial Audio, but it shouldn't be a message box - it should sort itself.
In frustration, I closed the app and went back to spatial-free Spotify, to listen to more of the Spice Girls, wondering why an error like this is even a thing in 2023 as 'Who Do You Think You Are' plays, without spatial audio.
An error I'd expect in 2003, not 2023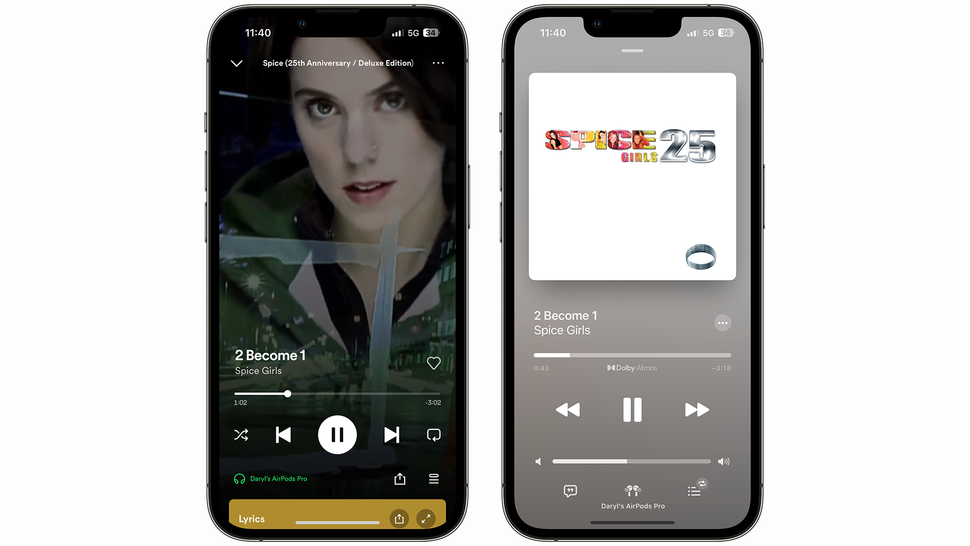 Apple Music has had a bunch of refinements since it was given a redesign in 2013 to match the new flat appearance of iOS 7 that year, while its streaming service which arrived in 2015, refined the app further.
But I've been a fan of Spotify since its soft launch in 2010, back when I was beta testing the app. I've always liked its black and green design, and while it had its own refinements and updates over the years, such as podcasts and animated videos and lyrics, nothing's ever felt like a distraction between me launching the app and playing something.
With Apple Music, it's different. Tracks disappear, controls such as shuffling music would be difficult to find, and now, a message box telling me to plug in my iPhone feels like a remnant from when iTunes was relevant.
Granted, I can fix this by deleting the song, going to the album it belongs to, and adding it back into my playlist, avoiding the bizarre message, but I shouldn't have to do this.
We're in an age where the cloud is being used everywhere — where many users are paying a monthly subscription to use Apple's services. So to be told, not asked, to plug in my iPhone to another device, feels outdated at the least, and wrong at worst.
While we've reached out to Apple for comment on the problem, it's arguably something that shouldn't exist regardless.
Get the best of iMore in your inbox, every day!
Daryl is iMore's Features Editor, overseeing long-form and in-depth articles and op-eds. Daryl loves using his experience as both a journalist and Apple fan to tell stories about Apple's products and its community, from the apps we use everyday to the products that have been long forgotten in the Cupertino archives.
Previously Software & Downloads Writer at TechRadar, and Deputy Editor at StealthOptional, he's also written a book, 'The Making of Tomb Raider (opens in new tab)', which tells the story of the beginnings of Lara Croft and the series' early development. He's also written for many other publications including WIRED, MacFormat, Bloody Disgusting, VGC, GamesRadar, Nintendo Life, VRV Blog, The Loop Magazine, SUPER JUMP, Gizmodo, Film Stories, TopTenReviews, Miketendo64 and Daily Star.