Three movies to watch on Apple TV that help mark King Charles III Live UK Coronation
The first in over 70 years.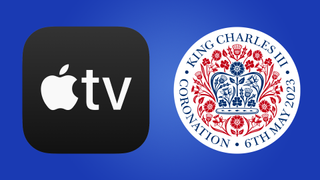 (Image credit: iMore)
May 6 marks the first coronation of a King in almost 90 years for the United Kingdom, and that's cause for celebration. After the passing of Queen Elizabeth II in September 2022, her son, King Charles III, took up the throne, and his official ceremony to mark this is taking place.
It's something that you don't see often in the UK - especially considering that Queen Elizabeth II's reign spanned 70 years, so this is going to be a once-in-a-lifetime event that, arguably, billions of people will be watching around the world.
You've most likely seen flags and bunting already being draped across homes and stores, but to get you in the mood for the coronation even more, we've dug up three films on the Apple TV app that can help you get even more ready for the crowning of King Charles III and The Queen.
The King's Speech
Released in 2010 to great acclaim and Oscar nominations, where it won four awards, including Best Picture at the 83rd Academy Awards in 2011, The King's Speech revolves around the real-life story of King Charles' Grandfather, King George VI, played by Colin Firth, and his struggle with a stutter, which was mostly hidden from public view.
Told from the early 1920s to his death in 1952, the story covers certain events where the King struggled with his speech, and, thanks to a speech therapist, Lionel Logue, played by Geoffrey Rush, he was able to conquer it and help give the British public another push when World War II began in September 1939.
It's a great film that's faithful to what happened, thanks to the writer of the film, David Seidler, and his in-depth research in the early 80s. But interestingly, at the request of the Queen Mother, he postponed work until her passing, which then resumed when that occurred in 2002.
It's one that gives you great insight into how someone in his position felt embarrassed by a speech impediment, and how he sought outside help and overcame it. One to watch if you haven't already.
The Favorite
While not a retelling of a true story, The Favorite, released in 2018, is still an enticing, engaging, and even funny tale of Queen Anne, where two cousins vied to be her favorite in the period of 1705.
Played by Olivia Colman, who won an Oscar for her performance as Anne at the 91st Academy Awards, while the film earned a total of 10 nominations at the event as well. It's a great watch where King Charles' Great, Great, and many more Greats, Grandmother is effortlessly played by Colman, while her cousins, played by Emma Stone and Rachel Weisz, help to ground the film in vying for Anne's affections as the court's Favorite.
Originally written in 1998 by Deborah Davis under the title, 'The Balance of Power', it took 20 years of acceptance by the film industry, mainly due to the sexual undertones of the film, for it to be made and released to great acclaim.
The three leads showcase just how well it threads through the plot structure of how Abigail and Lady Churchill try to court Anne, and while you think the film will end in a certain way, its twist and turns will surprise you on your first watch.
Spencer
The story of King Charles and Diana Spencer still go hand in hand - someone who is still beloved by millions around the world, over 20 years after her untimely, tragic death. As an aside- back in 2017, there was a great play, which was turned into a film, and it told the then-fiction of when Charles ascended to the throne, and how Diana's ghost haunts him before the coronation.
A great watch, but to truly understand Diana front and center, another film, called Spencer, which premiered in 2021, where she's played by Kristen Stewart, goes into the period of the Christmas holiday back in 1991, told over Christmas Eve, Christmas Day, and Boxing Day, where she struggled with considering to divorce King Charles, then the Prince of Wales, and leaving the Royal Family completely.
There had been films previous to this that tried to tell the story of Diana in a variety of ways, namely the one that starred Naomi Watts in the title role in 2013, which bombed critically and financially, mainly due to an inconsistent plot and unconvincing acting all round.
But here, Stewart somehow embodies Diana in her mannerisms, her expressions, and how she mimics her voice to the nth degree. It's impressive, and you almost get the impression that Stewart and Diana spoke about this period before she began filming.
She carries the film, and it's rightly why Stewart was nominated for an Academy Award in 2022 for Best Actress. Even Diana's closest friends were impressed by how similar she sounded to her - and it's exactly why it's a film you should be watching before her ex-husband is crowned the King of the United Kingdom.
A time when the UK comes together
You've most likely watched other shows that involve the Royals - such as The Crown on Netflix, or the comedy show The Windsors with comedian Harry Enfield.
But all of it is in good taste. They're informative and entertaining, and while a large part of The Crown is fiction, some of the events they tell are true, and you may have never known about it before, such as the Aberfan Disaster, a catastrophic landslide in a Welsh mining town in the 60s.
However, it's an event where the UK, and arguably most of the world, comes together to watch this occasion, and it's one that you'll be able to tell your family in the distant future of seeing The King be crowned, live, all within the comfort of your home.
Even if you have no interest in the Royal Coronation though, the three films here will certainly pass the time on Saturday, and you'll at least take something away from each of these - whether that's a laugh, a sigh, or a cry.
Get more iMore in your inbox!
Our news, reviews, opinions, and easy to follow guides can turn any iPhone owner into an Apple aficionado
Daryl is iMore's Features Editor, overseeing long-form and in-depth articles and op-eds. Daryl loves using his experience as both a journalist and Apple fan to tell stories about Apple's products and its community, from the apps we use everyday to the products that have been long forgotten in the Cupertino archives.
Previously Software & Downloads Writer at TechRadar, and Deputy Editor at StealthOptional, he's also written a book, 'The Making of Tomb Raider', which tells the story of the beginnings of Lara Croft and the series' early development. He's also written for many other publications including WIRED, MacFormat, Bloody Disgusting, VGC, GamesRadar, Nintendo Life, VRV Blog, The Loop Magazine, SUPER JUMP, Gizmodo, Film Stories, TopTenReviews, Miketendo64 and Daily Star.