Where, oh, where is my regional Apple TV content?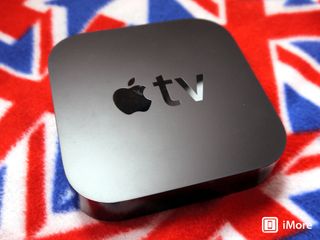 I love my Apple TV, but what I'd love even more is a healthy dose of regional content on it. AirPlay is OK, but I see it more a means to an end in certain circumstances, not an integral part of my experience. When I'm relaxing watching TV, I don't want to have to reach for my iPhone or iPad, or even my Mac in order to put something on there to watch.
The major free-to-air channels in the UK -- BBC, ITV, Channel 4 and Channel 5 -- all have on-demand video services. Each of them also has an iOS application to watch their TV content on your iPhone and iPad. On the Mac, you only need the web browser. On the Apple TV, I'd love each of these to have their own channel.
AirPlay isn't quite the same
AirPlay is great, I use it all the time. Be it sending music or video from my iOS devices or mirroring the display on my Mac to the TV. Mirroring a Mac display doesn't help in this situation though, because I can't use it for anything else. OS X doesn't provide the same media-only AirPlay options that iOS does. (Fingers crossed for OS X 10.9...)
The other issue is that the apps have to be specifically AirPlay enabled. For example, this method works great on the BBC iPlayer app, but doesn't work at all on the ITV Player app, because it doesn't have AirPlay enabled. Whether it's DRM issues or contractual obligations that keep apps AirPlay free, or force strange AirPlay implementations, it makes no difference to the end user. We just think it's broken.
In the absence of proper channels, AirPlay is all there is, for those that support it. I find myself using apps like the iPlayer more than ITV Player simply because I can watch them on the TV if I want to.
Never mind when you try to mirror from an iPhone and the Phone app actually rings, killing the TV...
The TV is for relaxing
I like to relax when I'm watching TV, so when I'm using my Apple TV I just kick back, find something to watch and off I go. There's just not quite enough content to make me want to use the Apple TV more. The hardware is fine, the software is fine -- to me, at least -- I just want more content. I want to use my Apple TV more. I want to have one under every TV I have, and not have to think about whether I'll need my iPhone or iPad to help decide what I want to watch.
So, coming out of WWDC I would really love to see some Apple TV news. I'd love to see Apple announce that they've struck a whole bunch of regional content deals all over the world. Or the ability for developers to make apps for the platform so the likes of the BBC could do it themselves. And I'm sure I'm not alone in wishing for a better spread of regional content.
So, what would you love to see Apple do with the Apple TV at WWDC? What kind of content are you longing for in your part of the world?
Master your iPhone in minutes
iMore offers spot-on advice and guidance from our team of experts, with decades of Apple device experience to lean on. Learn more with iMore!