My search for the best iPad Pro accessories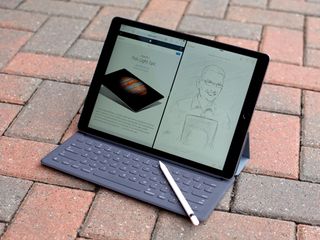 (Image credit: iMore)
One of the things I love about the iPad Pro is that when it's stripped down to its naked robotic core it's a powerful, useful device in a small, easily-carried package. But the iPad Pro wouldn't be an Apple product if it weren't surrounded by a universe of accessories.
Every accessory adds functionality to the core product, but also complexity and weight. It's a tricky balance, and here's what I've found best suits my lifestyle.
Case, cover, and bag
Let's talk protection. What you need depends on the lifestyle you lead. For me, an Apple Smart Cover has always been a must-have item — not only does it keep my screen from getting dirty or scratched, but it's a convenient way to automatically lock the device, and doubles as a stand. For my 12.9-inch, I've augmented this protection with the $79 Apple Silicone Case (opens in new tab) — but only when I'm taking the iPad out and about. At home, the case stays in a drawer, because (as is the case with almost every 12.9-inch iPad Pro accessory) it just adds too much bulk.
I don't use a dedicated bag for my iPad, because between my Smart Cover and any case I might choose to dress it in, I feel pretty comfortable dropping it in the laptop slot of my go-to messenger bag. But there are definitely bags out there that are dedicated to carrying iPad Pros (and the accessories, like the ones below, that we surround them with). For me, the most important thing is keeping things as light as possible. (Any case big enough to carry a 13-inch laptop will handle the 12.9-inch iPad Pro, of course.)
The Apple Pencil
I am not a pencil or pen aficionado. The moment my teachers in school began accepting typed homework, I was handing it in fresh off the dot-matrix printer.
As a result, the $99 Apple Pencil (opens in new tab) is not my personal favorite iPad Pro accessory, but it's a truly amazing piece of kit. Other than the cap (beneath which sits a male Lightning connector for quick charging), it's a device without an interface. Or, to put it more accurately, it's got the same interface as every writing implement since hands first picked up a stick and drew in the dirt.
Fast charging
The 12.9-inch iPad Pro is big, with a big battery to match. It takes a very, very long time (basically overnight) to fully charge the battery with the stock cable and adapter that Apple supplies. But there's a way to get much faster charging — if you're willing to pay the price.
That price is a $49 Apple 29W USB-C Power Adapter (opens in new tab) — built for the new MacBook, but also entirely compatible with the 12.9-inch iPad Pro and a $25 USB-C to Lightning Cable (opens in new tab). Other iPad models, even the 9.7-inch iPad Pro, don't have the circuitry to use the extra wattage that the USB-C Power Adapter puts out, but the big iPad Pro does. If you find yourself frustrated by the slow speed of charging, it might just be worth $74 to fix that.
Adapters are your friend
The iPad Pro's Lightning port is good for charging, yes, but it's also a way for the device to connect to other devices in ways we wouldn't blink twice about if we were connecting to a traditional desktop computer.
Despite its name, the $39 Lightning to USB 3 Camera Adapter (opens in new tab) is not just for cameras. Because it can itself be powered via Lightning, it allows you to connect other USB devices to the iPad, even if they require more power than the iPad itself could deliver. I've used this adapter to power high-quality USB audio interfaces, USB microphones, and even Apple's own $29 USB Ethernet adapter (opens in new tab). (Yes, your iPad can use Ethernet.)
If you need to connect your iPad to an external screen, perhaps for a presentation, you should invest in a couple of video adapters — just as you would for a Mac laptop. For the iPad, your options are the $49 Lightning Digital AV Adapter (opens in new tab) — which has an HDMI port and supports up to 1080p video — and the $49 Lightning to VGA Adapter (opens in new tab), because inevitably that place you're giving your next presentation will have a 10-year-old projector that only supports VGA.
Speaking of external video, the $149 Apple TV (opens in new tab) is actually a pretty great iPad accessory. You can use AirPlay to connect wirelessly to a TV with an Apple TV attached, freeing you from wired iPad adapter nonsense. There are also a lot of video sources that are still not available on the Apple TV, but have iOS apps that will let you use AirPlay.
A stand or an arm
There are many, many iPad stands out there — and even more stands meant for other purposes that end up working great as iPad stands. My friend Andy Ihnatko has, for several years, sworn by a simple art stand he bought at an art supply store for a few bucks. I often use a wooden stand meant for kitchen use that I picked up at Macworld Expo.
I do love a good iPad stand, though. The Smart Cover can be used as a stand, sure, but it's not quite as sturdy as a solid stand made for such a purpose.
As someone who often types on an iPad Pro using a Bluetooth keyboard, a stand is a great addition. The only problem is that, as with a laptop, the ergonomics of having your keyboard and display at similar heights are not particularly good. I wish someone made a mounting arm I could attach to a desk or table and then clip my 12.9-inch iPad Pro into, but I haven't found one. (There are some for the 9.7-inch model (opens in new tab), though!)
The quest for the perfect keyboard
So it's come to this. In some ways, the ultimate iPad Pro accessory really is an external keyboard.
There are a bunch to choose from, especially if you throw Bluetooth keyboards into the equation; in all honesty, if you've got a spare Bluetooth keyboard around, it may be all you need. (I wrote this very article on an Apple Magic Keyboard, connected via Bluetooth to my iPad Pro.)
I do like Apple's Smart Keyboard (opens in new tab) more than I thought I would. On the 9.7-inch iPad Pro it's pretty fantastic, despite the shrunken-down key size. The 12.9-inch model is a decent keyboard, but it does add to the bulk of the device, so I prefer the Smart Cover most of the time.
There are other keyboard options if Apple's options leave you less than thrilled, however. The Logitech Create offers the typing experience of a MacBook Air or MacBook Pro, though you have to clip the iPad into the case. iMore's own Serenity Caldwell said it's clunky and heavy, but she loves it — and I sure agree on the "clunky and heavy" part.
The new Razer Mechanical Keyboard case is less clunky, but even heavier.
I haven't yet tried the Zagg SlimBook Pro, but by most accounts it's less clunky than the Create (it's Bluetooth-based, so you can detach the keyboard from the case) but it also has a lesser keyboard.
In short, I'm not sure there's a perfect keyboard for the iPad Pro yet. The Smart Cover comes close, and so does a Bluetooth keyboard of your choice, coupled with a stand. Of all the accessories for the iPad Pro, it's funny that the most important one is also the one that hasn't really been solved yet.
Your picks
That about rounds up my adventures into iPad Pro accessory territory. What gizmos and gadgets are you using for your iPad Pro?
Get the best of iMore in in your inbox, every day!
Clam Case showed a iPad Pro case for the 12.9" that's supposed to be out this fall. It's super thin, has a spot to hold the Apple Pencil, a backlit keyboard, and uses the smart connector so you don't have to charge it up. It even protects the back of the iPad, making it look like a MacBook Air when it's in the case. The hinge can also be set to hold the iPad in any angle, including wrapping all the way around the back of the iPad so you can hold it like a tablet without having to remove it from the case. (The keyboard is underneath in this position, so it deactivates the keyboard in this position so you didn't accidentally type something while holding it in that position) Looks pretty much perfect if they actually ship it this fall.

Cool! Can you provide a link for that upcoming case? Their web site doesn't have it. Thanks!

I found the Apple keyboard to be too slick and didn't like how the keys felt. On my lap the screen would tip over. I had to use it with a lapdesk to keep it steady. I switched to the ZAGG, which adds considerable bulk. You have to use their case which snaps into the keyboard and can be flipped around to attach on top of the keyboard or you can leave the keyboard off. It makes it feel like a small laptop.

" Lightning to USB 3 Camera Adapter is not just for cameras. Because it can itself be powered via Lightning, it allows you to connect other USB devices to the iPad, " Would you please explain more about this? I have 12.9 and wanna be sure to get to know which devices i can connect to my device via that?!!!

Totally crazy additional use for the USB 3 Camera Adapter: plugging in a Magic Keyboard that's paired with a Mac to temporarily use it as an iPad keyboard without having to pair/unpair. It feels very kludgy to have this thing hanging off my iPad plugged into my magic keyboard, but as soon as you unplug it, it pairs right back to the Mac.

Do somebody knows if there is an ISO-Spanish keyboard? From my 1985's Macintosh 512k that I could buy and Apple's Spanish keyboard… but not for the iPad Pro.

(Tu Inglés es malo, colega...) No existe teclado específico en Español para el iPad Pro; pero cualquiera con conexión bluetooth te servirá. De hecho, es mejor idea, pues sería un teclado que podrías usar en cualquier posición respecto al iPad, y además podría usarse con otros dispositivos.

I think the only way to get a non-English keyboard is to order from a non-English-speaking country. If you have a friend in Spain or Latin America, have them order one for you. THird party procedures may be different. I love my Logitech K811 even more than my original Apple BT model, due to back-lighting and the ability to pair with three different devices randomly with a button press!

Logitech CreateCase issues. The short story is that I just went through 2 cases and 3 iPads since Feb this year. The case is "burning" corrosion holes in the iPad along the magnetic slot. Logitech finally paid to replace one iPad and refund the case (without the tax) but the experience was painfully slow, convoluted and at one point, they actually told me to "destroy the case and send them photos" of the pieces! The refund was a moneygram that was initially issued in the wrong name. Beware of these cases. Sent from the iMore App

The iPad Pro is amazing with the Pencil. We love the accessory for Apple Pencil and iPad Pro called GOPOD stylus holder. Now on Kickstarter.
Link to project page:
HTTPS://Kickstarter.com/projects/gopod/gopod-a-pencil-stylus-holder-that-attaches-to-your
Thank you for signing up to iMore. You will receive a verification email shortly.
There was a problem. Please refresh the page and try again.