Confessions of a former gamer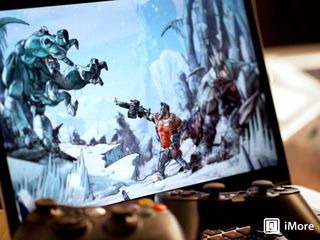 Maddy Myers' recent column for iMore, A salute to iOS gamers, or how to stop intimidating your non-gamer friends, comes at an interesting time. Because it's an issue I've been wrestling with myself for quite some time.
For almost a decade, I wrote a column for Macworld magazine called "The Game Room," gently reminding our readers that Macs could be used to play games, and great games at that. Games have always been a central part of what I've used computers for. Over the years, I've found myself growing increasingly distant from gamer culture.
I've played computer and console games since I was a kid in the 1970s. I saw first-hand the rise of the home video game console market, and was part of the early hobbyist personal computer trend. Back in the old days, when we trudged uphill in snow to program BASIC on command lines to play Tic Tac Toe (get off my lawn).
Through many generations of game consoles, I'd be among those who would take time off from work to wait in the wee hours for the first day of sales; I remember doing so for my Sega Dreamcast; I remember excitedly opening my Xbox and my PlayStation 3 the same way. I bred that love for games in my kids, too, and we often used gaming as an excuse to play together, the same way other generations played (and still play) board and card games.
Now I'm in my mid-40s. As I've gotten older, my priorities have changed. I don't have the leisure time I used to, and I don't have the disposable income I used to. Those two things alone have dramatically affected my ability to get and enjoy games.
The other thing that's changed is me. I no longer identify myself as a "gamer," especially compared to my two boys — 19 and 14 respectively. (My daughter, in between the two boys, hasn't really spent much time gaming.) As I recounted a few weeks ago, the 14 year old actually had me help him build a gaming PC, and the 19 year old spends most of his leisure time playing games with his friends online. Both of them are part of a culture I really don't identify with anymore, partly because of age, partly because of shifting priorities.
Last year's "GamerGate" controversy solidified that I wasn't part of the "hardcore" gaming culture anymore. The violent reaction of a contingent of gamers against others looking for less marginalization struck me as a particularly immature, unacceptable reaction that I wanted no part of.
But mostly it's about time. More specifically, it's about how I spend my free time. The funny thing is that I probably spend as much, if not more time playing games now than I did when I was younger. But the way I spend that time is different.
Rather than grabbing hours during nights and weekends to master hardcore action games, in-depth strategy titles and adventure games that take hours to explore, I spend minutes here and there. That lends itself to a lot more play of casual titles, which usually sit on my iPhone or my iPad, rather than the computer.
There's no question that as the smartphone market has exploded, so has the casual game market. And casual game makers are finding new and innovative ways to grab our attention all the time.
Some of the games I play most frequently are, by the measure of most "serious" gamers, utterly banal: Games like Hay Day, the Farmville-style task management game from the people who make Clash of Clans. But it's a game I can get in and out of easily while waiting for an appointment to start. Trivia Crack has proven itself to be fun for the same reason: Easy to spend a minute on here or there, collaborative, but not overly demanding of time or resources. Even runners like Yak Dash have found their way onto my phone; fun time-wasters that I can spend a minute or two with here and there, then get out of and not think about again until I'm ready to play.
I still love well-crafted, involved and detailed games, especially ones that make it to the Mac. And I still plan to examine them critically and report on the business, because it's still of enormous interest to me (and to my readers as well, I presume). But I no longer identify as a gamer the same way I used to. I've moved on. And I'm not sure that being a "gamer" even matters anymore, in the scheme of things. Games have become so interwoven into most of our daily experience, aren't most of us gamers these days?
I agree with you, Peter. As mentioned by you, ever since smartphone market has exploded, it has totally changed the gaming era! Casual games are more popular.. Why? Costs less, easy to launch(no setup needed of wires), can be played even when you are in loo!! Everybody is a "gamer" now and all thanks to smartphone evolvement. Sent from the iMore App

No, gamers play on consoles or PC.They always have and always will.People who primarily play mobile games are not gamers.Casual games are not more popular to gamers. Casual gamers and gamers are two different consumers. The people who play on mobile were never gamers. I never play games on my tablet or my phone because they do nothing for me. Casual games have only hurt the gamers era,not change it for the better. The reason we play games on consoles is because they experience is better than a limited mobile game.It's the same as casual sports fans.They may watch sports or go to some games,but they are not sports fans.Just playing a game does not make one a gamer.

I disagree. Gaming is a hobby. If you pick up a pencil and paper and drew a stick figure, are you an artist? No. You may have drawn something, but you are nothing like actual artists that dedicate their time to the hobby. People that waste time on their phones may be playing a form of a game, but they are not gamers and never will be.

There are some that have made tons of money off stick figure drawings. What you consider art can be very different than what others do.
A gamer can be someone that enjoys playing games, give it whatever name you want, pro, casual, hardcore, they are gamers because they enjoy it.
All games are a waste of time, thats what entertainment is. Sent from the iMore App

Well written article. I certainly find myself in a similar boat. May I ask,
what's that screenshot of in the opening? Sent from the iMore App

A great way of looking at the whole "gamer" controversy. Kudos. I don't play many "serious" games and never have, simply because they are too boring for me. Let's face it, they aren't great art and the stories in games are on a level somewhere *below* that of the graphic novel, (which itself is several steps lower than anything you'd find in an actual novel). Mostly they comprise repetitive fantasy competitions/battles of one kind or another. They are all very, very , very similar to each other as well. It's rare for me to ever finish one for the same reason. I find that once you start to wonder *why* it is exactly that it matters to do whatever the thing it is that you need to do to "complete this level" (or whatever), the game is pretty much dead to you because you realize you are just doing this repetitive thing that doesn't really matter anyway. To me, life is too short, and every minute spent playing games is to me, a 100% "wasted" minute. This leads me to the same place as Peter. I mostly just play games as time-filling activities. Time that would otherwise be spent just staring at a wall or sitting silently in a chair.

I have spoken to others with similar thoughts as you. Games serve a much higher purpose than you say though. Critical thinking and problem solving skills are the ones most people lack and games help with this process. Also, for something to be fun, one's mind needs to be put into it. As a result, it can be plenty fun.

I personally do not agree with you, Peter. I was born in the 70's, so I think i had a kinda similar gaming experience as you. I was a "gamer", maybe even hardcore at some time (mostly Counter Strike while I was in my 20's). I grew up with a CPC64, an Amiga, and a whole dynasty of PC started with a 486 DX4/100. I kept my PC gaming high, but also had the Playstations up to the 3, and an Xbox 360. I too distanced myself from the gamer community, but mainly because of the FPS prevalence during these times. CS was new, and thus fun. The rest was just a never-ending reboot for me. "Never Ending". I think that's what qualifies the best the games we have today and why I think no one should really be called a gamer anymore today. Actually, they should be called "Never finished" games. Never finished because these games are delivered while they're not complete, waiting for DLC's to fill the voids or simply patches, or even sold in episodes, the summit of "non gamer-ness" (if you do this with buildings and apartments, you go to jail, at least in Europe...).
"Never Finished" also because at their core they are built to be played until the player gets bored - or broke: runner games, slots games, "strategic" games à la Warcraft, puzzle games... My point is, when I was younger and called myself a gamer, the goal was to beat the game. To finish it. To have a sensation of mission accomplished, the satisfaction that after all the hard efforts you finally got to the ending credits, and saw a magnificent CGI scene. A closure.
Now my kids just hop from one game to another, like i was zapping through TV channels (and we know what TV has evolved into now - poor us). They don't finish anything, they are not even incited to. They can't be called gamers. Now to Apple: another aspect when I grew up was to finally switch to a Mac when I could afford one. I was in need of stability, and knew the expense was raw power and games. But I was'nt prepared for such a disappointment: it was the nail in the coffin of my gamer life. How could I possibly play any games on that notebook ? God knows I've tried my best, through steam, through bootcamp, with all the settings down, but now even my retina macbook with a discreet graphics card can't keep up. And the games it can play are either barely better than Tetris, or just old gen games remastered (and I've already played them...). Except maybe for Skyrim, a remnant of old times, worth a couple hundred hours of my time even with the pathetic frame rate. I've already written this here and there, but as I read the rumors about Apple's next products, I don't see a trend to pave the way for real games. Even their latest efforts of trying to highlight "pay once and play" games in the iOS app store looks more like a Hail Mary than a real will to build a serious gaming environment. You say everyone is a gamer ? I say no one is a gamer, not anymore. These days are over.

Maybe your kids (like me) are just bored with the games. There hasn't been anything NEW in "serious" gaming for a long, long, time. Same old war games, shooting, tactical BS etc. The graphics get better, but that's about it. The thing that strikes me most about so-called "real" or "hard core" gamers is that they actually are ALL PLAYING EXACTLY THE SAME GAME. It's called "War" in the real world, and as a game, it's boring as hell for most folks.

Games are too easy now. I can remember losing my last life and having to start from the beginning. Now I die and lose maybe 3 minutes of progress. When you remove challenge, you also remove a sense of accomplishment. Sent from the iMore App

Hi, my kids are too young to (be allowed to) play war games. My elder son has finished a few mario games, but that's because I refused to buy him new games before he finished the games he already had. Now he barely touches his 3DS and grab the iPad whenever he can, even if it's to play his little sister's free poney games where you have to wait for energy and refills...

I disagree, personally I have finished many games just in ME3 over a thousand hours played. State of Decay 112 hour played, and have beat the first two games. I was born in 82, and pit fall Atari, Intelivion, and had the Commodore 64, and pretty much every console since, and now I am pretty much purely a PC player. 9, and 6 year old in my house, and both have beaten SC2 on easy the campaign, and both want a pre-ordered copy of Legacy of the Void. I played games in the era you, and the article writer reference many of those games no actual end. Some yes, and like now I usually beat even the hardest ones in a couple days. Mortal Combat probably the most note worthy. I beat the game, and no one in my house would play with me, even my parents, because they didn't like being beat by a kid. So only time I could show my skill was at the arcade, and when my cousin came over, but he'd usually rope me into NBA game. I know someone with 3000+ hours in Skyrim you mention games with no end. That one is the worst. Everyone that plays it mods it. Try Bravely Default, or even Rune factory. DA:I huge let down, and just pointless padding.

I am assuming your female.
What guy let you go? From the sounds of it your single and have children. Most female players I know, do it for the social aspect. When you ask them about opinions on a game it normally comes down to guys and how easy the male gamers are to control and there is never any competition involved beyond that. You even sound like an old school gamer. That's the part that I find most interesting. Most men in your situation have learned to communicate more clearly, we were forced to. Most women game players could always communicate well - it was an important skill for getting their needs filled. You're like my hero. A person who is who they are for the sake of being themselves. Even I can't claim that anymore. And if your a guy, most of this still fits and I still respect the fact you communicate that way. It's very nostalgic and something I terribly miss.

I mentioned Skyrim because even there are side quests and mods, you can actually follow the "main" quest and finish it. Like in old school games, side quests are here to help you boost your specs enough to be able to finish the main quest. They just managed to have them less boring than usual. Of course, you will always find an example here and there that contradicts what I say, but I keep believing there's a massive trend here to turn every game into a casual cash-machine.

"Last year's "GamerGate" controversy solidified that I wasn't part of the "hardcore" gaming culture anymore. The violent reaction of a contingent of gamers against others looking for less marginalization struck me as a particularly immature, unacceptable reaction that I wanted no part of." Implying all hardcore gamers were on the bad side of "GamerGate"? Every single gamer I know thought the whole thing ridiculous, immature and unacceptable. This notion here is just ridiculous.
If you no longer consider yourself a gamer, that's fine, but this phrase here is pretty darned insulting to others who do.

He didn't imply anything. He said "a contingent" which pretty clearly says not all hardcore gamers are part of the lunacy. in fact, "contingent" connotes something fairly small as well. For me, it isn't just GamerGate but other incidents which keep me from gaming now except among my closest friends. This even includes tabletop/board games. While logically I realize it is just a relative few that are awful people I don't want to meet, there are enough. I have run into them too many times, and my patience is gone. Close friends are fine to keep the little leisure time I have stress-free.

He did not imply "ALL" hardcore gamers where on the bad side. You simply jumped to that conclusion and took offense at a perceived slight.

Labels, man. What's the point? I thought Wipeout on Playstation was supposed to make gaming mainstream. The dirtbags of Gamergate are definitely disgusting, but apart from their splash on Twitter, most people who haven't been targeted by them have hopefully forgotten about them by now. Anyone who calls him/herself (okay, most likely himself) a "hardcore gamer" without irony deserves pity, not special treatment. I'm Peter's age and I never stopped playing games, but I'm with Dredd67, gamers are over, it's just another type of media now. What I like about advancing technology (and age) is how all the good stuff turns into cheap retro games before long. KOTOR on my phone! All the Star Wars games on GOG!

This article could have been written about me. I too was one of the early adopters in the home computing era, and over the years gaming was a big part of my life. But now my son is the avid gamer and not me. Don't get me wrong, I still enjoy games, but my gaming time is now a lower priority in my life and besides, the first time my son beat me in Madden I knew the torch had been passed to him lol. Sent from the iMore App

To say that all hardcore gamers are part of the darkside of gamergate is hugely false. I am a hardcore gamer, I am for gamergate but against what ppl say all gamergate supporters are and do. Do not judge a whole group solely on the idiocy of others. I could say all christians are bigots by pointing out the doings of the Westboro Baptist Church but as we all know that is false. Don't use the same brush on every house and we will be alright. - Hardcore Gamer and Gamergate supporter

He NEVER said "ALL." You've pulled that from your own mind. Re-read that paragraph carefully. Don't jump to a conclusion based on something not said.

Great article...while I followed the same path (typing those programs in Compute Mag on my Texas Instruments and Commodore 64) I landed a little different. I totally agree that time is short BUT iOS allows me to play more involved games on the go. Order and Chaos, KOTOR, Baldur's Gate, GTA...etc...to name a few. You can still use your device to play respectable games without sacrificing your past. Better yet, all these nostalgic titles that release (Baldur's Gate prime example) really bring it back. I don't think you have to reduce yourself to a FarmVille Freemium zombie. There is still hope! Sent from the iMore App

Baldur's Gate - man, that was a great game. I have it around somewhere and the expansion. NWN was wonderful. I played the player created maps for 2 years. Wonderful gaming engine that they let the players utilize for story telling. That's all games are - good vs evil, eve turn based war games work on the premise one is heroic to some degree.

Yup, BG 1,2 and Icewind are all on the iPhone and iPad. If you want to play the original Bard's Tale you get those free through the updated Bard's Tale or Silversword is a great replica. Ultima 4 released for a short time if you could snag it. Or when iDos was in its prime you could use them all in their original PC form. Ha! Sent from the iMore App

>Mac Lol this fucking guy. I cant stand the amount of autism in this "article".

Hey Peter, is there an archive of The Game Room column that you did for Macworld? Of the ones that I found, they're quite intriguing. Sent from the iMore App

Thanks, Ryan. Alas, I don't have the faintest idea how or even if Macworld archived that old content.

You can't really use "gamer" as a catch-all anymore to describe people who play video games. I hang out on a few different retro gaming sites, mostly with an older crowd, and its much more chill. We all still have opinions and big games and such but different life priorities (for me job, for many others family) means we don't get as heavily invested in whatever petty concerns are going on at places like Twitter, etc. I can't remember the last AAA game I played but I haven't stopped playing games. There's enough mid-range stuff, Sims and strategy games, to last me the rest of my life. Don't need to be in the rush of moving to the next latest and greatest with a constantly upgrading computer anymore. Personally I'm glad to be out of the rat race and on a stable system that works fine for playing the stuff I like.

If you were trying to play on a Mac you were never actually a gamer. Also, have lost many friends that were gamers once they got married. Their wives able to spend hours at the mall, spa's etc..., but my guy friends want to spend a few hours playing Battlefield, Pay Day, ME3, Final Fantasy, etc... and they are nagged to death. If I had to deal with that I'd no longer game as well it isn't worth it. As a woman I suggested they have their gals come play with us, and no dice equally absurd I don't understand this I don't want to, and so that I can go drink wine with friends, and you never spend time with me whining they just do the whatever, and become beat down and sad.

Yeah, that was my first thought... MAC? their releases were 6 -12 months out Microsoft Windows releases if they ever got the title. I lucked in and went to E3 back in 1998 in Atlanta. Dang, it was wonderful, 3 days of gaming before release. As for gamer gate, hopefully that nonsense will wake up companies that was being targeted political types for exploitation to tell them to p1ss off now. I treat gaming like watching tv, but slightly more brain stimuli.

I'm your age and this is something I've seen as well. As a guy though, it's becoming difficult to have relationships with non-gamer girls, who are almost extinct in the 30+ group. Sure there are times of the year I game more than others, but it will ALWAYS be something I do.
The worst thing is that people that aren't gamers not only don't understand, they think there is something wrong with us. Yet they sit there for the same amount of time and watch Netflix or TV. Right now I have more time on my CPU than usual, but I've made ~$2 from item drops from gaming, and read around 20 relevant articles keeping up on current events. I could talk to anyone, and have something to keep them interested in what I'm saying.. (I'm a amateur psychologist behind a bar). I just feel that even purely for the social aspects of multiplayer gaming, there is much more of a reward to gaming than doing something like watching TV.

"If you were trying to play on a Mac you were never actually a gamer." No true Scotsman

I am a gamer. I've been one since I was six with a pinball machine in my room. I'm now approaching the big 4-0 and I realized that being a avid gamer, is NOT just about playing video games any more. We're moving into a very dangerous time for video games. Like all hobbies, we've had our young, innocent years, where it was a bunch of people doodling with graphics for fun. A quick glance back at the mid 80's will remind everyone how silly and shortsighted most games were then. But now, we're into those terrible late teen years. We're rebellious, trying to push buttons and start something, more often than not for attention's sake. Hatred, Gamergate, Destiny; anything to get people to say "Hey, listen to MEEEEEE!!!!" But we're starting to go down several very different roads, that could tear the gaming world apart. The first, as you pointed out, is the casual market. Make games harmless time-wasters again. Get rid of all the mature stuff, and just make stupid goofy games. I have no problem with casual games, but I do fear what they represent; a step BACKWARDS, rather than forwards. If we want people to treat gamers and games serious, we can't let that backward trend continue. Because at the end of it, lies the 80's gaming implosion all over again. Look on the App stores of your choice; how many clones of Bejeweled, Candy Crush, and Clash of Clans do you see? The same thing happened in the 80's; one game makes some money, and before you could blink, 20 copies are sitting side by side on the shelf. If that trend continues, that will be all there is of gaming, until people just walk away for ANOTHER 10-15 years, or possibly forever. The second, is the absurdly hard core gaming that's going on. I prefer calling it sequel preachers, because each iteration produces a more rabid, devout follower of the franchise, who spurns anything that isn't born of their chosen faith....err I mean, game. Again, this isn't TOO hard in seeing. Even original IP's now, are trying from jump to set themselves up as the next Legend of Zelda or Half Life. Look no further than Evolve, which is a game about five people playing tag, that launched with 44 pieces of DLC that they swear couldn't be on the disc, that adds $90 in price to the game, and ZERO actually relevant content. Next up, are for want of a better term; the Emos. These are the people that feels games HAVE to be about something. Masculinity, femininity, race, religion, society; every game must make a statement about something. Screw the story, screw the gameplay, if you aren't feeling some Twelve Years a Slave, Fifty Shades of Gray emotion from a game, you're an insensitive brute. Unless, your feelings disagree with MINE!!!! Then we REALLY hate you and go on some SWATTING sprees to make us feel better. Lastly, is the group I belong to, a group that is getting smaller by the day; let's just call us the Historians. We're not here for the hard core games, nor are we just looking to kill time. We're the ones who watch the show of gaming, from one year to the next, remembering and recording the little events that helped shape where we are. We have different tastes, but we can respect each other. I don't like Dynasty Warriors, but I don't want to see the franchise and it's developer nuked off the face of the earth because they DARED to make a game that I didn't like. But we're losing more and more historians every day. We're losing them to the casual market, and to not wanting to be associated with things like Hatred and Gamergate. Now that responsibility is starting to be put upon us, we're doing exactly what the freshmen at college does; get rip snorting drunk, shuck most of it and claim it's not our problem. Well, it IS our problem. We need to wade in with sense and reason, and RESIST that temptation to just up and walk away or try and distance ourselves from the less pleasing aspects. Because ultimately, it serves no useful purpose. It doesn't matter the form, extremists of every stripe, want to get people OUT of the middle. They want to STOP talk, STOP discussion, and DO something. Rarely something worthwhile. Gaming has it's extremists as well, and when we try to slip away so as not to be seen with them, we just give them more time in the spotlight to make us all look worse and worse. If you like playing games, speak up. Don't hide it like it's something to be ashamed of, or all that will be left, are people who do NOTHING but make you ashamed of being a gamer. Side with the middle, and try to pick through to some common ground, rather than leap to the furthest extremes, or right out of the argument. Because in the end, the only thing worse than bad games, are no games. And as we start fraying this international, race/gender/religion/society neutral culture we've made, we make less of a case for games to be made.

re; 'Bejeweled, Candy Crush, and Clash of Clans' those to be a brain puzzles (they relax the brain) and not games per se. They alter it slightly per level, but once you figure out the trick to the puzzle, it's easily soled given the order of the element given to you to use. Besides, all gaming is based on the mouse hitting a bar to self reward it a pellet of food. I generally play MMO. It's a treadmill - next generation armor, weapons, new levels, it never stops. Once you realize that, it makes it easier to manage your time and commitment. Gaming is not a priority, it's just mild entertainment - slightly more challenging than tv, that's all. .

I personally think he's confusing self control with lack of games that appeal to him.
I like clash of clans, only game I currently play.
I was a hardcore game player and probably still would be, if games appealed to me anymore. The new final fantasy looks nice, it reminds me of old EQ - but retuned and refined for the modern era. Problem is, I don't like the players and how they approach things. I remember sitting in line for FBSS camp in lower Guk playing EQ. Today's players don't understand the idea of patience or the morality behind not kill stealing. To even the average player, it's just a part of the game. Frankly, I played games to get away from that behavior, now that games are mainstream - so is the expectations. Hence I play clash of clans, no interaction with that aspect unless your trying to be top on the trophy count.
When I played EQ, I made it to top 2 for my class on my server and stayed there for close to 2 years(this was years before WoW). During a time when my server had more than 50 thousand active accounts, or 5-10 thousand people online at any given time. I did it without cheating. Playing clash of clans and you look at how the top players are top, they use macro's - have friends give them free shields (some even use multiple accounts to get free shields) - anything they can to keep their base from being attacked.
What appealed to us early gamers? Freedom from that mentality. You deal with it all day, you want a place to be free of it.

I played EQ for 5 years - Fennin Ro, then Bristlebane. Spot on. There was a self policing that went on by the player base and people would reroll because they trashed their reputations and would be 'dead' to the server.

Unfortunately gamer gate has probably soiled the term "gamer" forever. We just need to say we're people that like playing video games and we don't need to create a term for that. It's a medium of entertainment just like music and movies and those two things don't get there own special term for people who enjoy them.

There a lot of words for people who love music or movies Sent from the iMore App

I am old as well but let's be reasonable. 1) I own a Mac and Macs are not built for gaming. 2) gamers are not equivalent to gamer gate; just as not all presidents are watergate 3) iOS is not built for gamers. Gamers care about building skill. To be a gamer, one has to care about skill. Smartphone games are more equivalent to casinos. They play to a basic reward instinct and adrenaline rush. Thus, the popularity of "free to play" games on the smartphone. They are not skill oriented; just time passers and a quick shot of adrenaline while waiting in line during our mundane lives. As for time, many people watch movies but this time can be substituted for games. It is about choice.

Spot on. Sent from the iMore App

I distanced myself a bit from gaming too mainly because of money and time. I "grew up" and felt I should restrict myself until I get life in order. Yet I am still a gamer and I wouldn't say my simple time wasters on my phones are "filling the void" either. I would not "prefer" to play my phone game over my PlayStation, I only do it because my 3DS is out of reach or I only have a minute to waste. To be honest, this new casual push is also why I'm finding a lot of games boring. They are overly simplistic and boring. Everything needs to be short and simple because people that are not gamers have jumped in and decided to call themselves gamers. Since they are buying the games now and expanding the audience, the developers cater to them. I mean look at Dragon Age, one of the best games that released in a long time, and now look at the long list of whiners "it's too long!!!!!" UGH! For every Dragon Age there are 10 casual titles to fall asleep to. Just because you open Angry Birds on your phone doesn't make you a gamer, and I'm pretty tired of the industry deciding to cater to them now. I may not have as much time to play games, but ill still spend money on them when a good one releases. Dragon Age has taken so much of my time it's insane!

Whats the point of this article? You used to play games when you were younger...now your older and don't.....uh...ok?......whats your point? Absolutely useless article.

I may disagree with Peter, but I find this article interesting nonetheless. Maybe you don't feel concerned, but I believe many iMore readers have had similar experiences to share. Just look at the comments here. Video Games are now part of our culture, like cinema, painting, or music. It's a new media, it will keep evolving, but it's here to stay. You can't limit it to kids anymore, that would be a huge mistake. I think some people may have thougth that like avery other games, you leave them behind you when you grow up. Turns out the games have grown up too, and people are still playing them, even if it's in a more casual way.