NSFW: Don't throw out the Aperture baby with the bathwater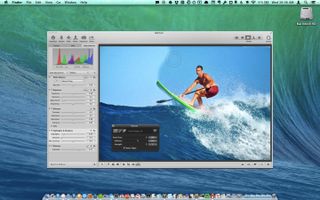 Apple sent out an email to Aperture owners this week reminding them that as soon as Photos for OS X goes into general distribution, Aperture will no longer be available for purchase from the Mac App Store. The usual gnashing of teeth and tearing of hair erupted soon afterwards. I have just one thing to ask people who are complaining about this: Why are you so anxious to get rid of Aperture?
Look, Aperture is end of life, we all know that. Apple said that last June at WWDC, and the email they sent out this week says that they won't be selling new copies either. But read what Apple said carefully:
So you can't buy new copies of Aperture. What won't change, however, is that you can still download Aperture if you already own it. I've checked with Apple and they confirmed this for me. So if you're already using Aperture, you can continue to download and use it.
Apple introduced Aperture late in 2005, providing professional photographers with a professionally-priced photography cataloging tool that provided functions like raw image support, non-destructive editing and other capabilities. Apple improved it over time and lowered the price, eventually migrating Aperture to the Mac App Store, opening the software to be used by many other Mac users whose needs exceeded what iPhoto could do.
Some of us have been using Aperture for a decade, since before there were Intel-based Macs. Some of us have invested hundreds, if not thousands, of hours in Aperture workflows to make our photos look great and to better organize large volumes of photos that we've shot, imported and scanned into our Macs.
Obviously Apple hasn't committed to keeping Aperture alive indefinitely. If Apple discontinues APIs in future versions of OS X that are necessary for Aperture to work, Aperture will die. It's wise to plan for the future by developing a workflow that's not Aperture-dependent.
But that future isn't today, or even tomorrow. If you're going to be using Yosemite for a while, you can count on Aperture to continue to work. Even when Photos for OS X is out in the world, you'll be able to continue using Aperture to your heart's content.
I've been working with Photos since the first beta version of 10.10.3 was released, and I find it to be a mostly adequate replacement for iPhoto, with considerably more robust and fast iCloud integration, which is nice. But Photos isn't a replacement for Aperture.
The way I use Photos is for general-purpose importing from DSLRs and my iPhone. Everything I shoot gets dumped in there. I like to use Aperture to catalog and tweak the product photos I shoot for iMore, so I use Photo's share sheet to export to Aperture. The photos are copied to Aperture's own, separate database, where I can manipulate them as I see fit.
The rest of the photography software business hasn't stood still, of course. Adobe's Lightroom is a popular alternative for photographers, made even more enticing to Aperture users when Adobe said it would double down on Lightroom in light of Apple's announcement.
So if you're using Aperture today, you can continue using Aperture even after Photos makes its debut. Sure, go ahead and plan for the future, figure out the best tool for what you need to do. But stop acting like someone from Apple is going to show up at your house and tear Aperture from your Mac with their bare hands the moment Photos for OS X is released. It's not happening.
Master your iPhone in minutes
iMore offers spot-on advice and guidance from our team of experts, with decades of Apple device experience to lean on. Learn more with iMore!