NSFW: Don't throw out the Aperture baby with the bathwater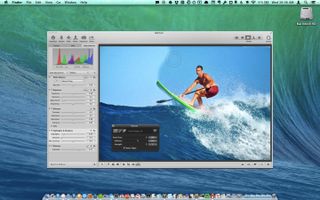 Apple sent out an email to Aperture owners this week reminding them that as soon as Photos for OS X goes into general distribution, Aperture will no longer be available for purchase from the Mac App Store. The usual gnashing of teeth and tearing of hair erupted soon afterwards. I have just one thing to ask people who are complaining about this: Why are you so anxious to get rid of Aperture?
Look, Aperture is end of life, we all know that. Apple said that last June at WWDC, and the email they sent out this week says that they won't be selling new copies either. But read what Apple said carefully:
So you can't buy new copies of Aperture. What won't change, however, is that you can still download Aperture if you already own it. I've checked with Apple and they confirmed this for me. So if you're already using Aperture, you can continue to download and use it.
Apple introduced Aperture late in 2005, providing professional photographers with a professionally-priced photography cataloging tool that provided functions like raw image support, non-destructive editing and other capabilities. Apple improved it over time and lowered the price, eventually migrating Aperture to the Mac App Store, opening the software to be used by many other Mac users whose needs exceeded what iPhoto could do.
Some of us have been using Aperture for a decade, since before there were Intel-based Macs. Some of us have invested hundreds, if not thousands, of hours in Aperture workflows to make our photos look great and to better organize large volumes of photos that we've shot, imported and scanned into our Macs.
Obviously Apple hasn't committed to keeping Aperture alive indefinitely. If Apple discontinues APIs in future versions of OS X that are necessary for Aperture to work, Aperture will die. It's wise to plan for the future by developing a workflow that's not Aperture-dependent.
But that future isn't today, or even tomorrow. If you're going to be using Yosemite for a while, you can count on Aperture to continue to work. Even when Photos for OS X is out in the world, you'll be able to continue using Aperture to your heart's content.
I've been working with Photos since the first beta version of 10.10.3 was released, and I find it to be a mostly adequate replacement for iPhoto, with considerably more robust and fast iCloud integration, which is nice. But Photos isn't a replacement for Aperture.
The way I use Photos is for general-purpose importing from DSLRs and my iPhone. Everything I shoot gets dumped in there. I like to use Aperture to catalog and tweak the product photos I shoot for iMore, so I use Photo's share sheet to export to Aperture. The photos are copied to Aperture's own, separate database, where I can manipulate them as I see fit.
The rest of the photography software business hasn't stood still, of course. Adobe's Lightroom is a popular alternative for photographers, made even more enticing to Aperture users when Adobe said it would double down on Lightroom in light of Apple's announcement.
So if you're using Aperture today, you can continue using Aperture even after Photos makes its debut. Sure, go ahead and plan for the future, figure out the best tool for what you need to do. But stop acting like someone from Apple is going to show up at your house and tear Aperture from your Mac with their bare hands the moment Photos for OS X is released. It's not happening.
Get the best of iMore in in your inbox, every day!
I know its beta but on my small 128 SSD, Photos Library was 22.5GB and I unchecked copy files into Photos. I only grabbed 500mg of my files just to play with Photos. That's insane. I didn't use iphoto or aperture because the Libraries would get huge even if you referenced the files. Lightroom's catalog of the same 500mb folders is nothing more than about 55mb. My real Lightroom Catalog is about 5gb but its a catalog of over 500gb. I have no idea what apple is saving inside their Libraries but I can't use Photos is I only grab 500mb of files and it blows up to 22.5GB. It has to be a bug and did something strange when it was importing.

"If you're going to be using Yosemite for a while, you can count on Aperture to continue to work." I think this is part of the problem causing anxiety. With the now annual major updates to OS X, will Aperture function erode over time or will it just quit working with some 2016 OS X? Sent from the iMore App

the author has no idea if Aperture will continue to work with Yosemite as the next OSX update could break Aperture (now that Aperture is dead, I doubt Apple QA will test for compatibility anymore). The anxiety over Aperture is not that it's no longer being sold but that it's no longer being supported. The ability to download it and run it has no effect on the support.

And if you are a professional photographer, you can't afford to hope Aperture will keep doing the job. What I don't understand is why Apple keeps trying to kill their professional grade software. Sent from the iMore App

"the author has no idea if Aperture will continue to work with Yosemite as the next OSX update could break Aperture" Actually, I do, because I paid attention to what Apple said during WWDC. Apple said that Aperture will continue to work through Yosemite's run. Apple isn't guaranteeing future compatibility with versions of OS X beyond Yosemite, but if you plan to stick with a Yosemite workflow for a while, you're safe.

You forget that at the time of WWDC Aperture was still a supported product as it wasn't until after WWDC that Apple announced that they ceased development of Aperture (i..e I bet at WWDC Apple also said iTunes and FCPX will continue to run on Yosemite).. When Apple announced the end of Aperture, they mentioned no plans of of guaranteed Yosemite compatibility.

Renee said on MacBreak Weekly that Photos doesn't have a numerical rating system (and ratings in Aperture turn into key words like "4 stars"). This is a deal-breaker for me. I've worked out a sorting/culling workflow that relies on being able to set a threshold on the numerical ratings. Does Lightroom have a numerical rating system?

I would say download the trial and give it a try. As long as you only need photo editing apps, the Adobe CC (cash cow) versions aren't too expensive. Sent from the iMore App

Yes, about the only thing Lightroom doesn't have that Aperture does is the horrible UI. If Apple would sell the UI to someone and allow the lightroom or DXO or Capture One back end it would be the perfect app

I understand the rush to the middle of the photo ground for Apple by emphasizing the consumer aspect of photography. However when I heard that Apple was going to create a Photos product that would run on both the Mac and iPhone, I was hoping that they could adapt their iMovie and Final Cut Model and keep Aperture as a pro product.
I know that I am an edge case with over 400 Aperture libraries filling 16Tb of hard drives, but killing Aperture is really a big problem for me. I can switch to Lightroom on a go forward basis, but what do I do with my existing 400 libraries? Although I could freeze them by moving to Photos and lose all my star ratings, colour coding and the ability to merge and split libraries, I would be left with hundreds of thousands of photos that I really can not do much with.
I got the message that Aperture will be around for the Yosemite, and probably OS 10.11. Apple owes us something more.
- Make the code base open source and allow some developer to pick it up.
- Develop extensions for Photos that allows users to get back the lost functionality of star ratings, colour coding etc.
- Provide Adobe with the APIs required to move the Aperture Libraries over to Lightroom.
- Continue to make the updates required to have Aperture run on the next generations of the OS.
- Or best of all, reconsider and keep updating Aperture. In so many ways (managed libraries if nothing else) Aperture has advantages and features that Lightroom does not have. It still has a place with loyal Aperture fans.

I usually lag behind in moving to new versions of OS X. Since Apple has had a policy in the past of ending Aperture support on an old OS when the new OS is released, that means that I have experience with how well Aperture does without support. What I've seen is that Aperture is surprisingly fragile, with OS updates sometimes causing significant breakage. One example is an OS update that resulted in Aperture failing to launch about half the time. Even the current "supported" version of Aperture is already starting to have trouble on Yosemite, with some file system operations now failing. These experiences don't give me confidence in Aperture being usable for long.

You can perpetually use apps in whatever future version of OS X you have simply by using Parallels and installing the version of OS X where that app works!. For example, Now Up-to-Date and Contact has been DEAD since 2010 when Now Software died. And it is totally incompatible with OS X 10.9 and 10.10. But I still use it every day by installing OS X 10.8.5 in Parallels then running NUTDC there, while the rest of my Mac runs OS X 10.10. So Aperture can live forever by virtualizing it in OS X 10.10 installed in Parallels.

That's a poor solution especially on Notebooks with small SSD drives. You're basically blowing away 20-30 GB space to run an app that frankly has been passed over by competitors anyways. Move your data out and buy a Lightroom Perpetual License. Most Pros have either moved to Lightroom already or have a plan in place to do so, so they aren't taken aback when it has to happen. I guess one can always get a MBA and never update it for accessing the stuff on external hard drives, but doing stuff in a VM isn't a viable solution for people who don't have the means to splurge on higher cost hardware. This is why I do all my photo and video stuff on Windows, though.
Thank you for signing up to iMore. You will receive a verification email shortly.
There was a problem. Please refresh the page and try again.