NSFW: GamerGate fallout, knee-jerk Yosemite upgrades, iPad names and more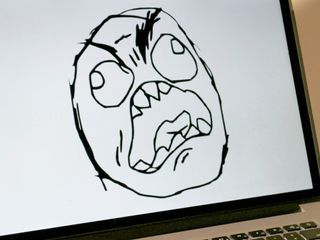 NSFW is a weekly op-ed column in which I talk about whatever's on my mind. Sometimes it'll have something to do with the technology we cover here on iMore; sometimes it'll be whatever pops into my head. Your questions, comments and observations are welcome.
The fallout from last week's #GamerGate pillorying of Brianna Wu continues into this week. On Monday I shared my thoughts with you, and regretfully (if sadly predictably), a few folks in the comments declared that I was a "social justice warrior" for daring to suggest that we can disagree about things without resorting to threats of rape and murder. Like that's a bad thing.
If that's the case, then I wear the badge proudly.
Within hours of Yosemite's release, I witnessed the collective gnashing of teeth and tearing of hair of Mac users who unwisely downloaded it right away, installed it over their existing Mavericks (or older OS X partitions) and promptly ran into problems.
All I have to say is I told you so.
Upgrading takes some time, takes some planning and needs to be approached soberly. And you should always anticipate some issues when you do something as major as replacing your Mac's entire operating system with something new. Yosemite has been thoroughly publicly tested but that doesn't mean it's free of problems or free of negative interactions with third-party software.
One thing I will agree with critics on, though: Apple did a really lousy job of articulating ahead of time what Macs will and won't support Handoff features, which are one of the hallmark features of Yosemite. Now, though? They've spelled it out. On their How To Upgrade (opens in new tab) page for Yosemite, they give a specific list of Mac models that support the new Handoff, Instant Hotspot and cross-platform AirDrop functions.
Of all the stupid things I've read about the iPad Air 2 and iPad mini 3, the absolute stupidest has to be complaining about the names. Heaven forbid Apple simply iterate their product names to make them easier to differentiate. Maybe this never would have happened if Steve Jobs was still around. But guess what? Steve's gone. Get over it already.
Last year when the iPad Air came out, I skipped it because it was missing Touch ID. Touch ID was a total game changer for me when I bought my iPhone 5S, and I wanted it everywhere. I even want it on my Mac. Hell, I want it on my car, on my front door, on my fridge.
The iPad Air 2 is sexier than ever, but it's only iteratively sexier than the iPad Air was. Apple has an iterative product development cycle for its iOS products, where we go alternate years with moderate improvements in between major redesigns.
As someone who sells these things on the weekend, it's been really easy to differentiate between the iPad Air and the Retina iPad mini — the only real difference, I explain, is the size of the screen. Both systems have the same chip (the iPad Air's is a bit faster, but it's not something that's a major differentiator for most customers), have the same abilities and so on.
This year complicates things significantly, because Apple's moving the new products in alongside existing ones, and the iPad product line certainly looks very complicated: iPad Air 2, iPad Air, iPad mini 3, iPad mini 2, iPad mini. iPad Air 2 gets a processor upgrade while the iPad mini 2 doesn't, but both get Touch ID. So many iPads to choose from.
Choice is good. Too much choice, though, can cause confusion. I don't think we're at the Bad Old Apple days of the Performa 635 yet, but let's not head that way again, mmmkay Apple?
Now that Apple's October event is out of the way, we're probably done with new Apple hardware announcements until the Apple Watch ships sometime in the new year. But with Apple Pay and iOS 8.1 headed out on Monday, Yosemite and iOS 8 interoperability to explore, new iMacs and Mac minis and new iPads to play with, we've got a lot to ground to cover. I'm already neck deep in stuff to write about and can't wait to bring it to you. Thanks for reading!
Get the best of iMore in in your inbox, every day!
I love these articles and your willingness to speak boldly and go against the grain. Keep it up! Sent from the iMore App

They should dropped the Ipad mini. I understand they will use it for a entry level Ipad, but it is Ipad 2 old. I bought one about a month ago, but returned it after hearing about Ipad event. Both Bestbuy and Target had it on sale for $199 at different times in the same month. I believe this price should have been it's price instead of $249. If you really wanted to draw new buyers, put it under the $200 mark. And finally I agree with your Jobs accessment. Posted via the iMore App for Android

The iPad mini was historically one of the best selling and most popular iPads they have ever made. It also cannot be replaced by an iPhone 6+ as they aren't the same thing at all. Ask anyone who seriously uses one.

+1 Sent from the iMore App

I think this was in regard to the OG iPad Mini, not the retina model(s). Sent from the iMore App

I like what they did with the iPad line and see they are trying to cover the gamut on price point. The one I disagree with is keeping all three in the mini lineup. They should just keep two. I could make a case for keeping either the two or the original but either way I think all three is a bit much. The only difference in the 2 and 3 mini is the Touch ID. So in my mind to keep all three they should have done more to differentiate those two like putting the newer processors in the 3 along with Touch ID. Or they should just do away with the 2 and have the original and the 3 and drop the price a bit on the 3. OR dump the original keeping the 2 and three but putting the 2 at the $249 price and drop the 3 to the prices of then starting the 3 at the $299 or $349 price point. With the way it is now just seems to crowded in that line with not enough differences!

I still don't understand, given that the iPad mini 2 was reduced in price, why they didn't just keep it the same price and then just say "From now on iPad mini 2 will have TouchID." The iPad mini 3 is the exact same device. It makes no sense.

Totally agree. They could have almost even snuck that in there without a big announcement (Though it wasn't very big).

My guess is that it's just a no-brainer from a price-profit perspective. There's people who always won't buy something at how it's priced, because they don't perceive something to be worth it. Leave out TouchID and save a hundred bucks though? Yeah, that could be the difference in one of the "value hunters" buying it or not, and I'll bet that there's probably very little difference otherwise, so keeping it in the lineup is probably a minimal cost to Apple. Probably worth it for the 10 to 15% of buyers they might get to jump from the $249 model. Now if only it were $299 for a 32GB model, not a lousy 16...

"The fallout from last week's #GamerGate pillorying of Brianna Wu continues into this week." I think the tiny minority of "hard core gamers" who are bitter, misogynistic, and proud of it, will only get worse. "Gaming" is evolving rapidly away from legacy PC and set-top boxes, computing in general is evolving even more rapidly, and there's nothing they can do about that. Progress is leaving them behind, they know it, and they'll lash out at anything and anybody that represents that progress. Oh well. First-world problems. Yadda yadda.

Mobile "gaming" will never be real gaming in my mind. #PCMasterRace Posted via the 5s I'm not ashamed of using in my home.

"hard core gamers" who are bitter, misogynistic, and proud of it," "Gaming" is evolving rapidly away from legacy PC and set-top boxes, computing in general is evolving even more rapidly," ...and you figured this out on your own? Well ever hear of "Next Gen" systems. PC Gaming is still huge and Gamers are "Misogynistic?"
Get over yourself. Do some research and Demographics. Most gamers don't even know how to spell misogynistic, let alone care about it meaning in the context you refer them, gaming and the use of female characters in games. Some evil minded "brawd " cries about female injustices in games and the sky is falling and 12 year old boys are planning the demise of the female species. How bold you are to even make that outlandish claim and chime here as to have a working knowledge of the social underpinnings of the gamer society let alone how your damn phone works. The sky is falling and EBOLA is catchy on contact. GROW UP chicken little. Start to use your brain for yourself and not because MSNBC told you so.

I'm shocked Apple is using 16gb storage in their entry-level iPad Air 2. For crying out loud, games for iPad are getting bigger in size!

32, 64, 128, & 256 all should be offered in the Air 2, but that'd complicate things for a casual tablet window shopper I guess. 16gb for any iPad save the original mini is ridiculous! It still baffles me they kept a 16gb option for the newest 2 iPhones... Even the 5s should have started at 32! Sent from the iMore App

I have an early 2011 MacBook Pro. I can't take advantage of most of the continuity features because of a lack of Bluetooth LE. I've seen a couple of things around the web about the possibility of replacing my airport card with a newer version that includes Bluetooth LE. I'd love to see an iMore take on how, and whether this will enable me to use Handoff with my older Mac! Sent from the iMore App

Problem for really narrow band of users but one which bit a few of my co-workers; Yosemite updates Apache from 2.2 to 2.4. Most people who would be bothered by that also know how to fix it, but it can still catch you by surprise. Sent from the iMore App

I am one of those that downloaded right away and got all mad about it. :-) But at least it only lasted a day. I am disappointed that my tricked out top of the line 2008 Mac Pro doesn't support a lot of the cool new features though I understand why. Most of them rely on Bluetooth and the older computers just don't have the same modules. The big disappointment for me though is the shabby treatment the iPad mini has received given that it's currently my main computer, and the impending removal of the rotation lock toggle. This is a little different and might be the thing that makes me leave Apple altogether and actually buy a (shudder) Android device. I use that rotation switch all day every day and to me, it's a pretty useless device without it. The fact that it has been removed from the Air, means it will likely be removed from the iPad mini when it eventually gets updated. To me, that means I simply can't use the device. It's that big of a deal. I am happy (had to say I was happy about something), that Apple has provided a way to lock the rotation in software, but after a day or so of trying the method out, IMO it's a colossal failure. It has turned what used to be a delicate touch on a single button, (or at most a click-click), into a button press, a swipe, a tap, then a swipe, then a rotation, then a swipe, then a tap, then one last swipe, and then a tap. So ... four swipes and three taps versus touching a button. Great!? As a "solution" it's ridiculous and all this frustration is for no reason other than to say that they have one less button. The rotation lock toggle was no taller than any of the other buttons, the decrease in thickness did NOT require it's removal. Also, it's a button. It could be made any size at all.

I upgraded from my fully tricked out Mac Pro 2009 model to an iMac 2013 fully tricked out with 3TB fusion drive. That turned out to be an upgrade with about 9% processor upgrade comparing identical Handbrake video conversions with a stopwatch. So a quad core i7 from 2013 beat dual quads from 2009. Single core was much faster in the newer model. If you can afford it and you want that snappy screen, this might be a great time for you to upgrade if you can afford it. It will support an additional 4K monitor and bring you up to date on everything else. Or you can wait for the Broadwell processor, but keep in mind that the next big thing is always around the corner.

Whoa. I hadn't even noticed that the switch was gone. I guess when I upgrade my old iPad 3, I'll be getting a refurb Air 1... Nah. I'll just learn to deal, since eventually I'll have to trade up. I just know that I won't be running some trashy Android slate. MS Surface before Android.

Quite right, sir. Spot on.

If Brianna Wu were Brian Wu, she would not be hiding in fear of hr life. So is #GamierGate about ethics? na.

Brianna Wu should just shut her pie hole.
We all know what they say about opinions...? Pete you are like the "Common Sense" dad. At times I want to bring up stories in the news but, me being me, I would probably get NFL and ,smack some "Touchy Feely" "Peta" Fish lover while eating sushi and all hell would break out. Ward Cleaver you are sir, and i commend you.

Peter
Do we know if the no-handoff issue can be resolved by a BLE USB dongle added to Mac computers running an earlier Bluetooth version? If so, which dongles would work? Does iMore sell them? Apple stores?

No, a Bluetooth dongle won't work.

There are people working on that dongle. If this thread allowed pasting, I would add an interesting link. But, for the moment, you are right: no dongle works.

Well, I know why handoff wasn't working on my 2011 iMac now. A little disappointing, although it wouldn't have changed my decision to upgrade. I agree that the iPad lineup is starting to get a little crowded. Obviously they've decided that keeping some of these older models around for a while makes sense, but I imagine it's confusing for people who don't follow things closely.

I don't think the current iPad line-up is /that/ bad. Yes, the iPad Mini 3 is well, nothing significant, to say the least (Unless you /really/ want TouchID and/or need a gold iPad, save your bills), but it's still not as confusing as when they branded the 3rd-gen as the New iPad, and then only a few months later (alongside the original iPad Mini), quietly released a new New iPad (4th-Gen), with a bit of a processor bump, slightly improved battery, and of course: Lightning connector. If that wasn't confusing: I don't know is.

Oh, and let's not forget how they originally opted to continue selling the 2nd gen iPad 2 alongside the 4th gen new New iPad, and retiring the 3rd gen old New iPad, and then retired the 4th gen new New iPad when they started selling the 5th gen iPad Air, and then silently killing the iPad 2 and reviving the 4th gen new New iPad. Crazy! Glad that drama has finally ended.

Yeah I'm coming to this read a little late, but a thought about this #Gamergate nonsense. First I'm not a gamer but I have 3 teenagers ages 16, 14, & 13 & they are all self professed 'gamers' so I have some good source material. I asked just what this is all about & sadly it seems here & every other website I read that has wrote about this is telling a one sided affair. There is as much cruft, threats, lies, intimidation, & garbage peddling going on from the self professed victims here as well. But no need to hash that out here since it's clear you've taken a stand in support of your friend Peter. Which is fine & so be it. However, let's see if you have the intellectual honesty to fully commit shall we? Carly Fiorina, Meg Whitman, Tammi Reller... Just three names of prominent women who serve in tech at high levels of importance. Certainly much more significant than a game developer. Aside from Ms. roller who I can't identify what political leanings she has, Ms. Fiorina & Ms. Whitman are publicly conservative. They have faced absolutely brutal misogyny, sexism, hatred, threats... You get the idea. Websites like The Verge, Kotaku, (ala Gawker Media), far too many tech websites to name & mainstream news participated in this & even promoted it. No public outcry from most sources demanding retractions, apologies, police & FBI investigations, etc. Now these same websites, & many of the same writers are in an uproar. Oh & shall we mention the treatment Sarah Palin & her family have been subjected to? Absolute sexism, hatred, misogyny, & endangerment from supposed liberal women supporters & feminists. And all the men crying about these game developer celebrities? No mention of Gov Palin & how she has been treated. Coincidence? Or just bias to certain political viewpoint? Hardly a cry for these women to be treated fairly or stop the madness. Maybe you can do this now publicly Peter? Care to show just how committed you are to fairness & true equality? Yep I know this won't win me any up votes from the readership here. So be it & I could care less really. Hell this open challenge could get my account suspended or banned. If so that says more about you & Mobile nations than me. But let's bring this closer to home shall we? This was before your tenure here Peter but still relevant. Your colleague & co-worker Phil Nickinson @ Android Central ran a contest a few years ago (I was a committed Android user at the time) to give away a phone. I can't remember the phone itself but I want to say a Droid maybe? The winner they selected submitted a photo from a girl who was in a sexy pose with full cleavage in view & pouty lips. Yeah it was fit for a clickbait fetish bonanza & that's what they got. The problem is after all the crazed replies & obvious after effects, or what should have been obvious considering how they picked a winner of the contest, there was shock & outrage. Feigned shock & outrage in my view but hey whatever. They set the girl up for the ridicule & sexism. She submitted the pic & they got what they got. I lost tremendous respect for that website & it's editor on that day. I haven't done much activity there since. And now Phil keeps putting up links about this #Gamergate stuff & showing an obvious bias & lack of journalistic integrity considering his work history in newspapers. Perhaps you can be the first at Mobile Nations to demand Phil apologize for that clickbait sexist contest & how he selected & judged the winner? It was disgusting. He feigned some kind of outrage but perhaps given the whole affair the only fair outcome should have been his resignation or termination no? It seems to be the popular outcome when somebody screws up to resign or check into rehab. I'm not sure that rehab applies here but it a popular dodge of politicians & celebrities to absolve them of responsibility. Here's the point. This #Gamergate nonsense is much ado about nothing. It rises to the level of people arguing about video games. So what? Journalistic integrity & ethics? That a laugh. It doesn't exist. This is a blog which is a key difference so you folks aren't held to that standard. Be glad too or you might find yourselves in the crosshairs of this garbage peddling from both sides of this argument. Is it anybody's business what the sex life of some game developer (not much of a game I must confess in my opinion, my oldest daughter got it off of Steam - deleted it pretty quickly) or her allegedly loose sexual practices be debated here? Or the false accusations of a supposed gamer or feminist (hard to tell what she actually is since her actual background is so stretched thin)? Who knows? But I'd suggest that they not make themselves internet celebrities if they truly value their privacy (which also no longer exists in modern society). How about the terribly scary death threats (note the sarcasm) somebody posts on Twitter? It's a laugh. I've been threatened on Facebook, Twitter, Google+, & numerous websites. Nothing has come out of it yet. I take measures to protect myself in real life with rights I'm afforded under the law. Maybe these women should do the same no? I had my two teenage daughters look thoroughly into this & give me their opinions. To sum it up I was told it's basically a bunch of finger pointing & crying about nothing. In fact my 13 year old said perhaps they should try going to public school & dealing with that treatment. That's some real scary stuff right there. I'll be looking for those demands of equal fairness I mentioned above. Though I suspect they won't be forthcoming.

BRAVO SIR.... BRAVO Sent from the iMore App

PETER! Shame on this crap. I'm getting sick of this ! "for daring to suggest that we can disagree about things without resorting to threats of rape and murder. Like that's a bad thing" How many PEOPLE total. Issues out death threats ? How many?! Was it an entire population? Or just a few people on the internet ? If it's the second answer. Then how does taking about this as if it's a problem make it any different then say... "Bendgate". Which was just a few people out there. POINT being. It's INFURIATING me how you people on the feminist side are acting like THIS is black and white. That death threats and rape threats are how everyone who doesn't agree with your feminist garbage is acting. So some dudes out there threaten someone ? Whoop dee do! Happens every day! It holds NO representation as a whole over a group of people. Sick of this gamergate garbage. And the online journalistic communities NON STOP talking about it. Sent from the iMore App

Hmmm, maybe I should issue a death threat to iMore (it surely would help me win one of those early Christmas contests). Looks like this threatening is all the rage nowadays :)
Thank you for signing up to iMore. You will receive a verification email shortly.
There was a problem. Please refresh the page and try again.