Get our Apple Music: The Ultimate Guide ebook!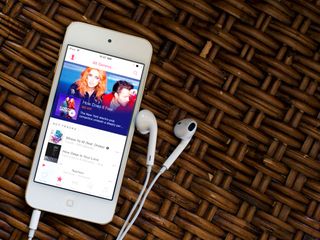 Apple Music turns three months old today, and that means those who started their trials on day one are about to convert to paid subscribers. If you're one of them, then you should make sure you get the absolute most out of your subscription—with our Apple Music: The Ultimate Guide ebook!
For the last three months, we've been living, breathing, and writing about Apple Music. The ambitious service isn't without its bugs and confusion, and we want to help with the transition. That's why we've posted over 70 articles on iMore.com on the music service.
It's also why we've decided to compile all those articles into our very first ebook (opens in new tab)!
Those who followed me in my Macworld days may remember I helped build the magazine's ebook program and put out over 30 ebooks during my tenure there; as such, I've been wanting to build ebooks of iMore's great Ultimate Guide content for ages.
This 150+ page book is our missing manual for Apple Music. It's chock full of information on what Apple Music is, how you can subscribe, and how to master the confusing maze of family plans. We'll show you how to use the all-new Music app and iTunes 12.2 to listen to your music and Apple Music's catalog alike, browse songs, build playlists, add to Up Next, use AirPlay, and queue Siri.
You'll learn the difference between Apple Music and iTunes Match (and how to use them in tandem), how to work with iCloud Music Library, and how to follow artists and past Beats 1 shows alike on Connect. And if you're having issues with your Apple Music experience, our final chapter is dedicated to troubleshooting your problems.
We hope you love this book—it's been a labor of love from all of us. The book is out, today, August 20 on the iBooks Store for $4.99—less than the cost of a large coffee!—and it's now available from the Kindle Store, too.
If you liked our Apple Music coverage and want to help support iMore in the writing of even more great how-to and editorial content, buying this book is a wonderful way to do that and will get you many happy feelings from Rene and myself. Sending the link to your Apple Music-befuddled friends: also awesome.
Apple Music: The Ultimate Guide - $4.99 - iBooks Store - Order here!

(opens in new tab)

Apple Music: The Ultimate Guide - $4.99 - Kindle Store - Order here!

(opens in new tab)
Sweet Music
(opens in new tab)
Millions of songs in your pocket.

Apple's music streaming service boasts over 70 million songs, live radio stations anchored by renowned personalities, and thousands of curated playlists spanning every genre you can imagine.
Get the best of iMore in in your inbox, every day!
Serenity was formerly the Managing Editor at iMore, and now works for Apple. She's been talking, writing about, and tinkering with Apple products since she was old enough to double-click. In her spare time, she sketches, sings, and in her secret superhero life, plays roller derby. Follow her on Twitter @settern.
Will the ebook be updated as Apple Music is updated etc.? If so, will folks who bought it get the updated version at no extra charge?

Yes and yes! If there's a gigantic update next year that necessitates rewriting everything, we may put out a new version of the book, but we do plan to update it throughout 2015/2016 as Apple improves Music.

congrats!!!! looking forward to reading it! :) Sent from the iMore App

Congrats, looks awesome. Sent from the iMore App

Thanks for your efforts. Just purchased the book and the preorder book disappeared. Looking forward to more from iMore! In fact, cancelled my subscription to Macworld and have reserved those funds for iMore pubs. Sent from the iMore App

Will the updates to book be free (or discounted) for those who purchase this now? Sent from the iMore App

That sounds great. Is there a section that tells us how to request Genres that are not available in Apple Music? And how about one for Apple Watch?!

Just purchased this and I am having issues with downloading the book on my iPad. The error message is: Unable to download Item
Apple Music: The Ultimate Guide
Could not be downloaded at this time Hopefully this will be fixed soon

I was able to download the ebook successfully. Reading it now

I just downloaded my copy.
When I saw the headline I jumped over to iBooks and clicked on the 'pre-ordered' book icon but got the message it couldn't be downloaded, so I came back over here to see what up?
I skipped down to Serenity's charming postscript explaining the problem and went back over to iBooks and searched on 'apple music.' It was the first hit. I had been watching for the charge to hit my iTunes account ever since I pre-ordered and decided that they probably weren't going to charge me until the book was actually delivered. Turns out I wasn't going to be charged at all, because there wasn't a book attached to that pre-order. I have my copy now and I'm excited about the prospect of updates! Yes, Apple Music is still something of a moving target...

Bought and downloaded. Happy times!!

Any plans to make this available for the Kindle? I am trying to keep my book collection limited to that platform. Sent from the iMore App

Never mind. I saw that that is coming. How will you give us free updates on the Kindle?
Wondering...

I'm not 100 percent sure, but I think we can resubmit the file.

oops.. please move the mysterious Report this comment symbol farther from the up arrow haha.. just reported you Serenity. Sorry 'bout that. ;)

Kindle edition: http://www.amazon.com/gp/product/B0147OT6J0?tag=hawk-future-20&ascsubtag=UUimUdUcU667234

Tons of info in the sample.. but worth buying for not just more info, but updates as we all know there will be changes.. and what an amazing amount of work that was put into this!

Hi Ren, thanks for all your great work. I pre-ordered the ebook and now it tells me that "The item you've requested is not currently available in the German Store." Do I have to wait or will it not make it across the big pond?

Hiya! iTunes pre-orders got borked, so they'll never be charged. Instead, you'll have to pick up the book through the new link. Sorry about that! We've spoken very sternly with the iTunes folks to ensure that never happens again.

Just purchased and so far so good! Great writing from Serenity, as usual!

I would sure like to see an article about how this book was put together. I always love it when Serenity writes or talks about producing ebooks!

I referred to your articles enough in getting acquainted with apple music that I had to buy the book just for the value I'd already gotten from the web site and your appearances on the more and Nosilla podcasts. I'm astonished about how much is in there, much of which I probably don't know. And really good to see we'll have access to your update of the ebook. Well done Ren.

Thanks, Serenity! The book looks great. Now can you do a book on iPhone photography next? That's what I really need!

How do we order this book if we not in US or Canada? South Africa here. Sent from the iMore App

It should be available in any country iTunes has the iBooks Store for, and we just put it up on Kindle. Not sure if either store supports SA, but as soon as they do, we'll support it, too!

Message on South African iBooks Store: The item you've requested is not currently available in the South African store.

Since I bought the book and downloaded it in iBooks the iBook app is crashing. It happens on my iPad Air 2 and my iPhone 5S. Anyone else experience this? :edit: Just checked iBooks on my Mac and everything's fine there.

Yes. Happened to me too when I try to relaunch iBooks with the guide already open on my iPad Air 2. I did a full shutdown/reboot and the book loaded fine on the fresh restart.

Sadly, that sounds like typical iBooks. :( But there shouldn't be any code in the book that could trigger a crash (video and audio embeds are usually the worst culprits there).

I never had that before Serenity. But I'll try the tip from ScubaQ5 and see how it goes.

I think your right. My wife is complaining of white screening with iBooks too and she doesn't have AM: TUG in her library.

I found this solution on the Apple support forum: 'I Had the same issue, got a senior tech support guy named Will on the phone, dude is a genius. Here is what he had me do, no issues since. go to your settings, and first go to Safari and delete your history by scrolling down to "clear history and website data". Then go to the advanced settings and select ""website data". It should show 0 bytes. If not, clear again. next go to iTunes and App Store in settings, and touch your Apple ID, the select sign out.
After you you sign out of your ID, restart your iPad by holding down the power button and home key simultaneously until you see the apple logo after the restart. when you are powered up, go to iBooks. You should get a message that you need to sign in to sync up your books. Sign in, and that should do it. apparently what happens is there are two things, somehow safari history affects their native apps like iBooks and iTunes, and second, iBooks gets out of sync. You can't delete the app anymore, so you have to clear safari then reset iBooks in that order.
good luck, and if you can't make it work, tell them you want Will, the senior advisor in the mountain time zone to help. Sorry, don't have a last name!
beth' I hope this will help others as well.

How to make my iphone aotu answer call Sent from the iMore App

I love this spotify update, it is so useful, wait, this isn't spotify !!! Posted via the iMore App
Thank you for signing up to iMore. You will receive a verification email shortly.
There was a problem. Please refresh the page and try again.