Pandora vs. Slacker vs. Spotify: iPhone streaming music app showdown!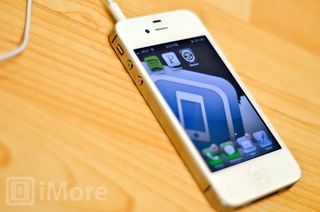 Pandora, Slacker, and Spotify are three of the most popular streaming apps available. But which one is the best option for iPhone users?
While iTunes is the undisputed king of digital music, it doesn't offer streaming or subscription services, leaving the field wide open for a wide variety of contenders, including Pandora, Slacker, and Spotify. That's important because not everyone wants to buy their music. Some iPhone users want more variety and a better way to discover new music, or simply re-discover old favorites. That's because music is personal. It has to suit both our general tastes and our mood at the moment. A good streaming music app needs to reflect this. It needs to have music available that we like, when we like, and the better it does that job, the better it is.
Pandora, Slacker, and Spotify each have their own unique take on streaming music, but which one does it best?
Pandora vs. Slacker. vs. Spotify: User interface and experience
When it comes to streaming music, users want to find what they want to listen to easily and start listening quickly. If you have to dig through tons of menus or spend lots of time figuring out how to find music, you're just as soon switch to something else. It needs to be accessible and even better -- customizable.
Pandora's layout is relatively straight forward and simple. The first tab will aggregate all the stations you've listened to and a "quick mix" that will play a mix of your stations. You can tap the edit button and easily remove anything you don't want. The next tab allows you to add new stations. You can search by either artist or genre. Tapping on a station or artist will instantly start streaming that content. It will also add that station to your playlist tab.
The bookmarks tab does exactly what you'd expect -- it allows you to bookmark tracks and artists. This feature is handy if you want to keep lists of tracks for future purchase (you can jump straight into iTunes from Pandora to buy content). While Pandora doesn't allow you to go back and stream that exact track, you can create a station based on that artist or track. This is great for fine tuning the Pandora app to play content you like. Make sure when listening to tracks that you use the thumbs up and thumbs down feature to filter in content you're more likely to enjoy and filter out things you don't like.
Upon launching Slacker you get a home page that allows you to browse some pre-defined stations or create your own custom stations. Premium users will also have the option of creating custom playlists (that's a feature Pandora does not offer in their iPhone app).
After choosing a station or creating a custom station, you can like or dislike songs or artists just as you can with Pandora. When disliking a track, you can either dislike just a specific song or the artist in general. So if you detest Rihanna in all forms, just block her from ever showing up for you in Slacker again.
Slacker also gives you the ability to check out what artists and tracks are featured on a station. Tapping into a station allows you to view info on the station, check out the artists, and check out the song list. Tapping the play button next to the station name will instantly start streaming that station. Overall, the entire layout of Slacker flows nicely. There aren't tons of menus to navigate and all of your presets and content are accessible via the main page.
Spotify for iPhone is quite a bit different when it comes to overall design and the manner in which you interact with your content. The main homepage shows you a slider of top tracks and new releases with news underneath. The first tab shows any playlists you've created as well as your inbox, starred, and local tracks (we will get more into these later). The next tab allows you to search for artists, tracks, and albums. Once you find what you're looking for you can either stream it, add it to a playlist, or star it to play it later.
Spotify also integrates Facebook to allow you to view what your friends are listening to under the Friends tab. You can, of course, disable this feature (if, like some of the iMore staff, you don't want your friends to know you secretly listen to the Spice Girls...)
I actually prefer Spotify's layout and interface to the others but there's one big downside -- you can't browse genres. If you don't know what you're looking for or find things in "what's new" or "what's hot", there's pretty much no other way to find music from the iPhone app. This doesn't make for a great experience.
Between the three, Pandora is somewhat plain and Spotify lacks the ability to find music productively. Slacker is a nice middle ground. It doesn't overwhelm you. It might look a bit busy at first but after using it, everything just flows nicely together.
When it comes to user interface and experience, Slacker takes the prize.
Pandora vs. Slacker. vs. Spotify: Content
Pandora, Slacker, and Spotify all focus on music, yet present content in very different ways. If you want a random selection and don't care for playlists, Pandora provides that. But if you want to customize your listening experience right from the start, Spotify and Slacker are the best bets.
Pandora at its core is an online radio streaming service. You can choose the types of music you like as well as like and dislike individual songs or artists. If you come across and artist or song you really like, you can listen to a mix based on that song. What Pandora doesn't do is give you the option to add individual songs to playlists and make your own. It attempts to learn what you like by the ratings you give content. Sometimes those ratings aren't so accurate.
If you want a more radio-like experience and don't want to put too much work into finding and playing content, Pandora is great. Beyond that, it's lacking features even for premium users.
Slacker is simliar to Pandora from the standpoint that you browse through stations and like or dislike artists and songs. From there, Slacker will show you custom content based on your own tastes. You can like and favorite songs which will show up under your favorites section off of the main menu. If you are a premium subscriber, you'll be able to listen to songs on demand.
Slacker allows offline streaming of up to 25 stations at a time (as long as you have room on your iPhone to store the content). You'll need to be a plus or premium member, but you'll be able to listen to your favorite stations without using up your data plan. To access stations you've saved for offline playing, just select the cached content section on the main menu and you're good to go.
Spotify concentrates on a more tailored experience. When it comes to the iPhone app, you can either search for content to play one song or album at a time, or build playlists. There are no stations to weed through or genres to choose from. This may be a deal-breaker for users who want the ability to browse music instead of having to find something specific. There are many times I just want to start playing music and don't really know exactly what I want to listen to. I just know what type of music I want to listen to.
If you'll only be using your iPhone to stream, Slacker will provide you with the best content selection and ways to sort and listen offline. While they don't have custom playlists, you can favorite songs you hear that you like and listen to and access them under your favorites tab on the main menu.
When it comes to content, Slacker wins.
Pandora vs. Slacker. vs. Spotify: Cross-platform syncing & streaming
If you plan on listening not only on your iPhone but on your computer or other mobile device, such as an iPad, you may want to consider what each service offers on other platforms, especially if you're contemplating a premium membership.
Pandora has a wide array of mobile apps available for iPhone, BlackBerry, and Android. You can also listen online. When you sign into your account all your information and saved content will be there.
Pandora One is Pandora's premium subscription model. It gives you access to the desktop application for Mac or Windows. The desktop app really isn't anything to get excited about and s quite dull. There's not much to interact with and it doesn't offer you any particular benefits over using the web-based player.
Slacker also has applications for most platforms and a few more than Pandora offers, namely a native iPad client. They also offer support for Windows Phone 7, Nokia, Palm, BlackBerry, Android, and many more. Slacker will save all your content under your login and it will be there regardless what app or platform you sign in to.
Slacker does not have a Mac or Windows app but you can, of course, stream straight from their website.
Spotify also supports popular platforms such as Windows Phone, Android, BlackBerry, and iPad.
While I have an issue with Spotify's lack of a search feature on the iPhone, it makes up for that with the Mac and Windows app. It's by far the best desktop app of the three (especially considering Slacker doesn't even have one). You can view popular playlists, star tracks, see what's popular in your area, and monitor what your friends are listening to.
My favorite feature of Spotify's desktop app is the ability to wirelessly sync your starred tracks and playlists whenever your iPhone is on the same Wi-Fi network as your desktop computer. I frequently use this feature when I'm listening to music in the office or at home. I'll star music that I particularly like and have my iPhone set up to download starred tracks for offline use. I launch Spotify while on my network, the desktop app recognizes it instantly, downloads any changes, and I get in my car and start listening without having to worry about using my data (offline mode requires premium subscription).
You can also use the Spotify desktop client to sync local tracks from your computer. It'll pull everything in from your music library. While I don't typically use this service, it will be a nice addition for users who don't have to have to manage music in two separate apps. Spotify can handle it all.
When it comes to cross-platform support, Spotify takes the win due to their robust Mac and Windows app. When they launch their anticipated iPad app, it'll just be that much better. The iPad app is available now.
Pandora vs. Slacker. vs. Spotify: Audio quality
One of the most important aspects of listening to music for many is how good it sounds. There's no exception when it comes to streaming content. It's really hard to give a consistent rating considering many things can influence the actual rate at which music stream, such as your internet connection and whether or not a specific track is even available in a higher quality format.
Pandora streams at at average rate of around 64kbps for free listeners on the web, and at 192kbps for premium subscribers. They make no guarantee about mobile listeners, such as iPhone users, considering so many external factors can affect the bit rate.
Slacker doesn't have much information on the exact rate at which they are streaming but they do say that regardless of what platform you are streaming on, you should experience "near-cd quality" audio.
Spotify is a bit better at explaining what they stream. Premium users can get up to 320kbps on the desktop app and within the iPhone app. Of course, actual quality may vary given internet connection and other variables. They say the typical average and free users usually get around 160kbps.
Spotify wins when it comes to audio quality.
Pandora vs. Slacker. vs. Spotify: Pricing & features
While content is super important, so is the price you have to pay for it. While Pandora, Slacker, and Spotify all have a free ad-supported version, they also all offer premium subscriptions.
Pandora's premium service, Pandora One, weighs in at $36 a year or $3.99 per month. So if you can buy yearly, you'll get a bit of a discount. Pandora One will get you the following additions over the free version:
Higher quality streaming - 192K bits per second
Removal of ads
Unlimited skips per day (but you'll still be limited to 6 skips per hour due to licensing issues)
Access to the desktop player
Extended timeout (listen up to 5 hours while not by your computer or iPhone)
Custom skins
Slacker has 2 subcription models to choose from. The $3.99/month plus subscription will get you the following over the free version:
No ads
Unlimited song skips
Mobile station caching (offline playing)
ABC news
ESPN radio
The $9.99/month premium subscription will get you everything listed above as well as the following:
Songs on demand
Albums on demand
Single artist stations
Caching of albums and playlists
Create custom playlists
Spotify also has two subscription models outside of their freemium model but we're only going to cover the $9.99/month version because, sadly, that's the only version that will even allow you to stream to your iPhone. There is a 48 hour free trial if you'd like to check it out first. Just download the app to activate your trial.
Manage your local MP3s
Take your music abroad
Artist radio
No ads
Play local files on your mobile device
Offline mode on your desktop & mobile
Enhanced sound quality & content
Pandora, Slacker, and Spotify all provide access to play content through your home or office systems such as Sonos. They're all widely accepted and you shouldn't run into issues with any of them when it comes to a lot of the popular music systems.
When it comes to price, Slacker offers the most for only $4/month but Spotify offers much more in their $9.99/month package. You'll just have to weigh out what you need and what services you'll really use. Go with the one that has a better value for you personally.
When it comes to cost, it's a tie between Slacker and Spotify.
Pandora vs. Slacker. vs. Spotify: Conclusion
Pandora, Slacker, and Spotify all offer streaming experiences in very different ways. I can't help but feel that Pandora is lacking when it comes to functionality and customization. I know many users just want to listen and go, but access to previously listened to songs and stations would be a welcome addition.
Slacker provides a nice streaming service for free with an easy to maneuver through interface. You can even get offline caching for only $4/month. That's a very sought after feature for many users who want to be more conservative with their carrier data. You won't get it cheaper than you do with Slacker.
Spotify is the new kid on the block but packs a punch. While I think they have the best desktop experience of all three, we're talking iPhone app here. And sadly, that's lacking. There is no way to browse for and discover music. That's a deal-breaker for me. So is having to pay $9.99/month just to use the iPhone app. If Spotify could fix these two issues by beefing up the iPhone app and giving iPhone users access either for free (ad-based) or at a cheaper rate, they'd be the best choice, hands down.
Only one of these apps seems to be a happy medium between discovering and customizing the streaming experience, and that's Slacker. It'll suit most users needs and offers the flexibility most users need.
Slacker is the best streaming app for iPhone.
Pandora - Free - Download Now
Slacker - Free - Download Now
Spotify - Free - Download Now
Get the best of iMore in your inbox, every day!
iMore senior editor from 2011 to 2015.
All poignant, and I agree... best "all around" music app? Slacker. Nice article!

None of them. MOG. The catalog is great, streams at 320, and the customer service is exceptional.

I agree! MOG is head and shoulders (and ears) above the rest. I used the desktop app for about a year before going to the $9.99/month iPhone app and I'm glad I did! Search is a breeze and sound quality can be 64k or 320k with no skips between tunes (big deal on live albums). MOG is the best!

Sorry - but a mobile app (Mog) that does not provide the ability to create or manage playlists can't be taken seriously.

Sorry, but neither of those get close to what Grooveshark has to offer. For some "mystery" reason the app of Grooveshark can't be on the App Store officially, which makes me think that is because of the EXCELLENT and GREAT service that this offers, Apple doesn't like a really good competitor for iTunes, that said none of those get even close, since with Grooveshark you get all of the three combined, plus other stuff like cloud storage to upload your own songs. Too bad that the greedy Apple can't see the whole potential of Grooveshark here, but hey, having regardless functionality the top selling devices...WTH!!..right??

There is a grooveshark app, it's jailbreak only, but it does exist. I won't get into the legal reasons that apple cites as their reason for not allowing Grooveshark on the app store, but it has to do with the way that grooveshark licenses (or doesn't) their music, it's too gray for apples black and white world.
I used Grooveshark for about 2 years, before spotify came to the US, and it's okay, but there is no way you can put it against these 3 apps, the cost is the same as spotify, to get it on your iphone (9.99/mo) and the quality in the tracks is so wildly inconsistent, only a fool would pay money for it, I had plenty of tracks that were incomplete or sounded like they were recorded off of FM radio and then uploaded or were just plain the wrong song. They say you can upload your own music and have it included in their catalogue, when I did that, a couple of Phish and Dave Matthews concerts, I got a nasty-gram from them that I had somehow violated something and that all of the tracks I uploaded had been removed and my upload rights had been revoked. Grooveshark's free desktop version is nice and all, but a pay/streaming mobile service stinks.
I've been using spotify since last summer and I love it. The social aspect of sharing playlists is fantastic, and being able to build playlists that include tracks from your library, that they don't have rights to (Pink Floyd) alongside their tracks is awesome. IMO it's sort of unfair to completely judge spotify based on app functionality alone, it is so much more than that and wins for me hands down.

I agree with you, Spotify is a better service on the sound quality maybe, but for me the library that I has been able to find if you compare with Spotify is actually limited in comparission with Grooveshark. Another note here, for an international travel like me, Spotify is a no go and this actually sucks. Not to mention that you can use Grooveshark actually everywhere in the world (already tested in south america and Europe). My experience no complains about the library quality or sound, that is why I am happy payer for the great service :) ...and if you wonder..yes I am a fanboy LOL...been with them for around 4 years and no planning on dropping my subscription...EVER!! LOL (well maybe not forever, as long as they continue the sam way)

Spotify actually works very well When travelling internationally.

Hi I was just waiting to say great article & Spotify does allow searching by genre has for years

For me, it will always be Slacker because of station caching. It's like having new MP3s all the time without doing the work of downloading them. It allows me to listen to uninterrupted music in low signal areas and use my iPod with Slacker in my truck.
If Pandora had station caching, I would consider switching, but until they do, it has to be Slacker.

Agreed. The caching is the main reason I keep using it. I also like the innovative custom stations they make for when I'm not sure what I want to hear. They "micro-genre" and that shows a company committed to making all customers happy. Pandora and Spotify seem mostly concerned with profits.

I prefer Rdio, it's the same price as Spotify, but the UI is prettier and the selection of new music is better.

I use none of these. Songza seems to work best for me.

I know, I use Songza all the time. I'm really surprised it wasn't included in this comparison. Plus it is FREE with NO AUDIO ADS. I wonder if Allyson will publish an update?

Sirius XM is where I stream my music from all day long with nary an issue. I have all the stations available through my regular receiver and can take it with me wherever my phone goes.

Your cross-platform section fails to account for devices other than PCs, tablets or smartphones. When you do this, Pandora wins hands down. Pandora is available on Roku and most Internet-enabled TVs and Blu-ray players. It's even on DirecTV satellite boxes, with Dish on the way. Slacker and Spotify don't come close in this aspect. This was the deciding reason for me to go with Pandora.

Cross platform you are right. I just wish Pandora would not be so off, and on. Some days the playlist are right on to the artist. Other days, they play songs way off. Other days, it is the same 10-15 songs over, and over. The add are really starting to get aggressive.

Slacker has my vote as well (for the clear cut winner). I use Pandora as well for listening while at work. Spotify however is my my boycott list due to the fact that logging in requires a FaceBook login. I canceled my FB a long time ago & would never go back. Any company that limits their account creation to FB will never get my support.

I agree with the boycott however the work around is simple:
create a Facebook account adding nothing to it and making it totally private and the Facebook account does not have to be actively used

Can all of these be AirPlayed to an Apple TV? I know Pandora can, including currently playing art and details, but I don't know anything about Slacker or Spotify.

Yep! They all can. Each one actually operates just like the music app and you can select the AirPlay streaming natively. There are no restrictions. It's very nice :)

I think spotify will take the cake once they make the iPhone app as good as the client. The apps you can install via spotify now are awesome. I love moodagent and the DefJam app.

Pandora: VERY limited amt of songs, I frequently get song repeats that weren't "thumbed up".
SONGZA: SUPER GREAT playlists! Just try it and you'll see!!!!
Grooveshark: IMHO had the best music quality selection algorithm, period! Sucks that the app crashes regularly for me....sooooo annoying.
Raditaz: Most beautiful looking app! Hands down!

(from Raditaz): we are redesigning the app right now... What do you like about how it looks and works? We'll try to keep the good parts around as much as possible. (i o s A- r.....z.com)

I have simple control from cydia. It's like spotify but free. So it's a win for me

Umm... Rdio? All of those apps suck.

First of all, Slacker does have a Windows application... It can be found at http://support.slacker.com/app/software There are also other ways to access Slacker, primarily if you own a Logitech Squeezebox, in which case you can access your full subscription on bothe the Squeezebox device, as well as the Squeezeplay app (which also allows you to add a number of other sources, including Pandora and Last.fm -- one app that allows you to consolidate all of your radio choices)
My vote is for Slacker.. Ive had both the plus and premium versions, although I found myself not using the premium version, so I dropped down to plus. The fact that you get unlimited skipping on plus and above is awesome.. I also have a premium Pandora subscription -- but that does limit skips to 6 per hour on a particular station. Both services will eventually have you listening to the same songs over and over -- so its best to continuously fine-tune your stations.
I tried Spotify and MOG briefly -- and while the audio quality is good, they lack preset radio stations, which is kind of a bummer.
As to the guy that said he had XM or Sirius Mobile -- thats not even something that should be considered here... Whatever Sirius/XM is broadcasting is what you are stuck with.. You cant skip a song you dont like, youre stuck with lame DJs, and worst of all -- you are stuck with THEIR pre-set stations and playlists.

I know I speak from a U.S. centric point of view but I prefer Pandora for one reason, I really don't want to spend any time at all putting together play lists or keeping track of what I've listened to. Perhaps it's my rather simple "station" but Pandora does a great job of providing the songs I want to listen to without a preponderance of ads. My U.S. centric point of view comes into play with the data usage. I've streamed Pandora all day long while I was onsite and away from WiFi and used less than 100MB of data. For the average person in the U.S. that's limited by 2GB data plan (yes, unless you're on Sprint even the "unlimited" data plans get throttled to the point of being nearly useless) 100MB per day for a few days a month will not break the bank.

I've used Slacker and Pandora. I actually pay for the yearly subscription to Pandora. While it may not have the widest range of music and as others have said it does tend to repeat some songs and the orer they play them it is predefined so if you set up a station and then return to the station it will start at the same songs each time in the same order.
Pandora is also integrated into more devices as standard. It is available to stream through Verizon on their DVR so you can play through it rather than use your iPhone or iPad to stream.
They have also updated their app on the iPhone regularly and improved compatibility with a lot more car audio systems so that you can pause and skip music and see what it playing in the same way as you would using the standard apple music player. 12 months ago it would be a case of having to grab the phone, unlock the phone and do everything from there. In fact slacker still has this problem, which is very off putting.
I tend to like the 'radio' method of play. Pandora has introduced me to musicians that I would not normally listen to and does lead me to purchase full albums which I then have for those time when there is no signal.
The biggest negative is that as soon as you leave the USA it automatically blocks the Pandora Service, certainly and at least for those that pay for a subscription it should allow you to stream when connected to Wi-Fi when international.
I did notice that Slacker have a cheaper subscription though and that tempts me just to see how it works if I go international again.
Spotify. I am sorry but I just couldn't like it. A friend showed me it while he was over from the UK before it even started here and I didn't care for it very much and when they launched here I cared for it even less. To force people to pay for the higher price subscription just to use the mobile app is "just not cricket" to use an English term for an English Company. They could at least have a special subscription that allows 'mobile' only access through their app's.
So really right now it's still Pandora for me, I pay once a year and then when it gets near to renew I make that single payment and then no need to think about it for another year.
Music quality through it is still okay, I listen through an expensive sound system in my truck and it sounds good, certainly good enough for my needs.

I'll take Tune In Radio anyday.

I've used Slacker quite a bit, it's great for streaming radio as a Pandora alternative but these seem like a very different type of app than Spotify, MOG and Rdio. If you want to sync/cache playlists to mobile devices, Pandora and Slacker are not good for that, and Slacker can only cache to a single designated device. I just use Pandora or Slacker as a free radio tool but the premium service I pay for is Rdio. People shouldn't really claim one is best unless they have tried the others, I at least subscribed to Spotify and MOG for two months apiece, and used the free premium trial of Slacker. I found it all came down to the Windows and iOS interfaces of Rdio meant I got much more use out of it and was discovering a lot more new music. But I'll be quick to jump ship if another company innovates and has something I like better, but it better include very strong mobile support.

I tried them all!
Yes, Slacker is #1, just $1.00 a week.

Spotify owns all. Period. $9.99 is well worth it.

Spotify PLUS SpotOn Radio!
It's like Pandora on Spotify-Steriods

I was a big Napster fan til they were bought by Rhapsody.

One thing that Pandora does better than the others is create stations from artists that allow for discovery. When you create a station from an artist in Pandora it uses the artist profile to seek and present other artists with broadly similar characterisitics, plus a little variation. Slacker uses a much narrower algorithm, resulting in artists that are more nearly identical to the station artist, including a much higher percentage of songs by the station artist. As a consequence you won't discover as many artists with whom you aren't familiar on Slacker.

I have just started using Songza.com for streaming. It is new to me, but it has completely replaced Pandora and Grooveshark for me. It is a startup, so I don't know how long it will last, but it is great so far! Perhaps you can review them in your next sound-off!

Because I like to be able to stream to three devices - a ipad and two iphones, I use Rhapsody. I couldn't be happier! I'm surprised that there isn't more love for it, or even a mention, here.

Groovehark anyone? I know it's jailbreak only because apple won't pass their app, but still, I love groovehark.

Ding ding. Trick question. The answer is Mog. Great content and tremendous sound quality, including iTunes busting 320kbps downloads for iPhone and IPad. You'll want a BMW for the apps integration.

I'd love to see Rdio thrown into the mix.

As others say, MOG is the actual REAL winner. Can't believe it was passed over in favor of junky Spotify. How Spotify has gotten so big, I can't imagine - their catalog is not as big as they claim, it's only bolstered by a massive number of compilation albums and partial albums that MOG (and Rdio) does not count because they have the actual albums. MOG's iPhone app is so much easier to use, too (though I have to admit that Rdio's iPhone app is even easier than that, but their sound quality is the worst of the three.) Spotify is a mess - no alphabetical organization makes finding specific artists you've downloaded extremely hard to do if you have more than a few. Imagine trying to navigate a completely random list of artists while you're on the road - very dangerous. I wish I could combine Rdio's app, which is so much like the built-in iPhone Music app, with MOG's service, but I'll settle for the better sound quality of MOG and hope they update their app for a better experience.

TuneIn full throttle, you cant get things like The Tom Leykis Show, New Normal Music, or the countless other streams (not that they're all good- most of the aren't, but there is definitely some real gems of streams out there) that exist on Pandora, Spotify, or any other of what's listed above. TuneIn is the only one for me

TuneIn has nothing to do with a discussion of on-demand, user-configurable streaming services like Spotify, Slacker or Pandora.

I hate that Rdio is constantly being excluded from this list when it's music selection and pricing are both on par with Spotify. Not to mention that it's user interface is vastly superior to Spotify -- which makes me feel like I'm using Kazaa or Napster again.
Also, with Rdio you don't even have to install any software (unless you want to use their desktop app) -- which means you can use it from any computer that has a browser.

The biggest benefit to Spotify is the ability to bring your local tracks into the mix - and sync those to your device. That is huge. However - I agree that their "playlist only" approach is very limiting. If Rdio had the ability to integrate local tracks - it would win hands down on everything but (possibly) sound quality. Between Pandora and Slacker - there is no comparison - Slacker wins in every category except ubiquity.

I'm a long-time Slacker Plus subscriber and I really enjoy it. I've tried them all, including others not discussed like MOG, Rdio, and Rhapsody. Slacker's pricing for what I get is an exceptional value.
I'm surprised the article didn't mention how much music each service actually owns. I've heard before that Pandora only owns 2 million while most others own between 11 and 13 million. I got tired of Pandora always playing the same songs. It was nice when I was discovering, but then it got old.

Allyson - how can you say that Spotify's iPhone app doesn't have a search feature when you have included screenshots in your story that clearly have a large magnifying button at the bottom of the screen?
Spotify for the iPhone certainly has a search feature. Not sure how you have overlooked this.

MOG, Rdio, Spotify... In this order!
MOG is hands down the best and I've used all of them for more then a few days.

Sorry - neither MOG nor Spotify have any way to shuffle your entire collection on their mobile apps. Rdio does - and that is important when you have tens of thousands of tracks. I don't always feel like making playlists.

It appears that some classes are missing from the tarball like CCMoveTo...

The fact that Obama is black trumps everything else for Chris Matthews. His anger at the Clintons rates a distant second.

You got it right! Slacker Radio puts the most heart into what they do, and it shows.Not just the obvious things but the subtle things too.

I have had an extensive experience with all 3 of these music services, but in my personal opinion, Slacker Premium is the best you can get, OVERALL. As the guy who wrote the article stated, it provides the most options out of any of the 3 services and has a very strong medium between personalizing and straight up radio streaming services.
I had Pandora One to start off with and Pandora is great, but, as a musician with tons of tastes and a rapidly growing and shifting musical taste profile, Pandora's music stations (even custom) get very repetitive and a little too mainstream for my liking. Plus I LOVE having control over my music. The more personalized and customized it can be, the better it is. Pandora One grants very little of this in my experience.
I moved to Slacker Radio and quickly liked the basic version more than even the Pandora One version because it automatically had more user control and profiling to it; as well as more options and settings to the program itself. It has just as many artists available as well, if not more. I quickly unsubscribed from "Pandora One" and subscribed to "Slacker Premium" which offers the following (with stablity on my Samsung Galaxy S Captivate SGH-I897):
NOTE: These are features that are not common to MOST music providers but do note that Slacker also offers artist biographies, album review, and song lyrics provided by themselves and LyricFind.
Slacker Premium offers: Over 200 professional and expert programmed Slacker stations for immediate streaming if you don't want to take the time making your own stations or playlists. This is good for those of you who are "listen-and-go" type people who don't have much care or preference for pimping out your radio experience. For those of you who just want to get to listening as fast as possible. It even offers news, sports, and comedy broadcast stations. Not just music. On demand streaming of songs, albums, playlists, favorites mash-ups and music stations (custom AND Slacker designed). You can create your own music stations (as many as you want). Not only that, but you have the ability to HANDPICK ALL the artists you want on the stations. You have unlimited skips, can ban a song or an entire artist for any given station you're listening to at the present time. You also have the very common "like" feature so favorite songs will play more often. You also have the ability to skip (back AND fourth) through albums and playlists and restart songs. The restart song feature will work for stations as well. The coolest part is fine tuning the stations. Fine tuning includes the following: How often you want the station to play favorites (loved songs), how much artist discovery you want rotated on the station, the level of song popularity profiles you want to play (hits, auto, familiars, et cetera), the year/age of the songs played (recent, auto, old, et cetera), activating a DJ on the station and not just the server programming, and lastly, activating news and ESPN broadcasts at every hour listening intervals. As I've already probably stated, you can create PLAYLISTS. You also have the ability to share songs, stations, albums, and playlists with friends and even post what you're listening to on facebook (just like Spotify) Caching!!! Premium also allows you to cache anything you want (up to a total of 25*). It can be all (or a mix of) stations, playlists, favorite song mash-ups, and albums for offline playing. Slacker basic or Slacker Plus may have some strong competition, but Slacker Premium is way up at the top with all it offers and is well worth $10 a month. The reason I rate it the best of the three is based off the fact that it can be highly customized and personalized. Music is an art, expression, and experience. The more customization and personalization you have, the better it is. Hands down. I also rate it at the top because it is so well rounded. You have more than enough pre-programmed radio stations to listen to as well as your own, PLUS the listen to albums and the creation of playlists and favorites mash-ups and lots of music settings. Slacker has also been rated to have one of the best sound qualities as well. I have had almost no need for any other music service or provider because of Slacker Premium.

Yes, Slacker has fantastic programming features. Unfortunately the sound quality isn't as good as Spotify or MOG. For me, it's only an issue when streaming to an external speaker system. Through earbuds, Slacker sounds fine. I would pay $15/month if Slacker would up their bit rate to at least 192 kpbs aac+

Agreed. I think Slacker stations are cached at 64k AAC which is "OK" for non-critical listening, but obviously not on par with the higher bit-rates. I wish they would give you the option to cache at lower or higher bit rates.

I take back my saying that it was rated to have one of the best sound qualities, however it is still more than pleasing and I can't ever tell the difference between what's on Slacker and what's on the cd. Plus if you have great headphones or speakers they can usually rectify some of the more common sound deficiencies. Another cool feature I left out is that they have track pre-loading for their streaming services. It's memory intensive (recommend a device with at least 1Ghz processing speed and more than 500mb of RAM to run smoothly on a consistent basis). You'll obviously need a strong network connection for pre-loading to work well, too.

Unfortunately Spotify is and has been unusable for over a month. Music tracks pause after a few seconds with is extremely annoying and destroys the listening experience. Us premium users are paying for something that doesn't work. Look at the Spotify community forums... it's full of complaints and not a single comment from Spotify acknowledging the issue or giving any indication of when it will be resolved. If their claim of 2 million users is to be believed and they are all premium users that's £20 million pounds a month they are taking off people for a service they are not providing.
http://community.spotify.com/t5/Desktop-Windows/Songs-pause-erratically-...

I enjoy running and jogging to Pandora but since Verizon and other cell providers have now started limiting one's data usage, I find it more important to use less KBPS while using cell reception. This is from an e-mail response from Pandora: Here are some specs regarding audio quality on Pandora:
Free Pandora is 64k AAC+ on the web.
Pandora One subscribers get the option of 192k MP3 on the Web and when using the AIR Desktop App. Most Home-listening devices get 128k MP3 – whether the account is free or paid. Cell phones get anywhere from 24k to 64k in mono or stereo, depending on the phone, carrier, connection type, and in some cases the user setting. I hope this answers your question. Thanks for writing.
Best,
Meghan
Listener Advocate
PANDORA® internet radio
Need help? http://help.pandora.com

Great, well-written review. Thanks! Only wondering if the Spotify iPhone app has or will have lyrics ability like their desktop. Lyrical comparison is the only thing I would add to your article.

LOVE PANDORA MUSIC............ I USE WIFI INTO MY IPAD 2 NOT IPHONE ..VERY CAREFUL BILL SHOOT UP... BEC OF DATA BILL..

I without a doubt hands down, without thinking about it am a die hard Slacker Premium fan. I like pandora bring its on all my TV's, but Slacker is the best. Don't know too much about the others mentioned but my next in line is Souncloud! Love them both!

There is another new service you'll love becuase it's free and legal. You can access it via browser, desktop apps for Mac and Windows and with an Android app. It's called cliggo music https://music.cliggo.com ... have fun

Have you tried Allavsoft?It is very good to download Pandora music, radio, comedy to MP3, WAV, AAC, M4A, FLAC, WMA, etc for playing Pandora music on your iPhone, iPad, iPod, MP3 player and any music-playing mobiles and devices.