Pandora vs. Slacker vs. Spotify: iPhone streaming music app showdown!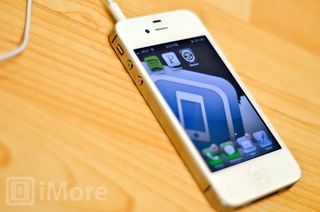 Pandora, Slacker, and Spotify are three of the most popular streaming apps available. But which one is the best option for iPhone users?
While iTunes is the undisputed king of digital music, it doesn't offer streaming or subscription services, leaving the field wide open for a wide variety of contenders, including Pandora, Slacker, and Spotify. That's important because not everyone wants to buy their music. Some iPhone users want more variety and a better way to discover new music, or simply re-discover old favorites. That's because music is personal. It has to suit both our general tastes and our mood at the moment. A good streaming music app needs to reflect this. It needs to have music available that we like, when we like, and the better it does that job, the better it is.
Pandora, Slacker, and Spotify each have their own unique take on streaming music, but which one does it best?
Pandora vs. Slacker. vs. Spotify: User interface and experience
When it comes to streaming music, users want to find what they want to listen to easily and start listening quickly. If you have to dig through tons of menus or spend lots of time figuring out how to find music, you're just as soon switch to something else. It needs to be accessible and even better -- customizable.
Pandora's layout is relatively straight forward and simple. The first tab will aggregate all the stations you've listened to and a "quick mix" that will play a mix of your stations. You can tap the edit button and easily remove anything you don't want. The next tab allows you to add new stations. You can search by either artist or genre. Tapping on a station or artist will instantly start streaming that content. It will also add that station to your playlist tab.
The bookmarks tab does exactly what you'd expect -- it allows you to bookmark tracks and artists. This feature is handy if you want to keep lists of tracks for future purchase (you can jump straight into iTunes from Pandora to buy content). While Pandora doesn't allow you to go back and stream that exact track, you can create a station based on that artist or track. This is great for fine tuning the Pandora app to play content you like. Make sure when listening to tracks that you use the thumbs up and thumbs down feature to filter in content you're more likely to enjoy and filter out things you don't like.
Upon launching Slacker you get a home page that allows you to browse some pre-defined stations or create your own custom stations. Premium users will also have the option of creating custom playlists (that's a feature Pandora does not offer in their iPhone app).
After choosing a station or creating a custom station, you can like or dislike songs or artists just as you can with Pandora. When disliking a track, you can either dislike just a specific song or the artist in general. So if you detest Rihanna in all forms, just block her from ever showing up for you in Slacker again.
Slacker also gives you the ability to check out what artists and tracks are featured on a station. Tapping into a station allows you to view info on the station, check out the artists, and check out the song list. Tapping the play button next to the station name will instantly start streaming that station. Overall, the entire layout of Slacker flows nicely. There aren't tons of menus to navigate and all of your presets and content are accessible via the main page.
Spotify for iPhone is quite a bit different when it comes to overall design and the manner in which you interact with your content. The main homepage shows you a slider of top tracks and new releases with news underneath. The first tab shows any playlists you've created as well as your inbox, starred, and local tracks (we will get more into these later). The next tab allows you to search for artists, tracks, and albums. Once you find what you're looking for you can either stream it, add it to a playlist, or star it to play it later.
Spotify also integrates Facebook to allow you to view what your friends are listening to under the Friends tab. You can, of course, disable this feature (if, like some of the iMore staff, you don't want your friends to know you secretly listen to the Spice Girls...)
I actually prefer Spotify's layout and interface to the others but there's one big downside -- you can't browse genres. If you don't know what you're looking for or find things in "what's new" or "what's hot", there's pretty much no other way to find music from the iPhone app. This doesn't make for a great experience.
Between the three, Pandora is somewhat plain and Spotify lacks the ability to find music productively. Slacker is a nice middle ground. It doesn't overwhelm you. It might look a bit busy at first but after using it, everything just flows nicely together.
When it comes to user interface and experience, Slacker takes the prize.
Pandora vs. Slacker. vs. Spotify: Content
Pandora, Slacker, and Spotify all focus on music, yet present content in very different ways. If you want a random selection and don't care for playlists, Pandora provides that. But if you want to customize your listening experience right from the start, Spotify and Slacker are the best bets.
Pandora at its core is an online radio streaming service. You can choose the types of music you like as well as like and dislike individual songs or artists. If you come across and artist or song you really like, you can listen to a mix based on that song. What Pandora doesn't do is give you the option to add individual songs to playlists and make your own. It attempts to learn what you like by the ratings you give content. Sometimes those ratings aren't so accurate.
If you want a more radio-like experience and don't want to put too much work into finding and playing content, Pandora is great. Beyond that, it's lacking features even for premium users.
Slacker is simliar to Pandora from the standpoint that you browse through stations and like or dislike artists and songs. From there, Slacker will show you custom content based on your own tastes. You can like and favorite songs which will show up under your favorites section off of the main menu. If you are a premium subscriber, you'll be able to listen to songs on demand.
Slacker allows offline streaming of up to 25 stations at a time (as long as you have room on your iPhone to store the content). You'll need to be a plus or premium member, but you'll be able to listen to your favorite stations without using up your data plan. To access stations you've saved for offline playing, just select the cached content section on the main menu and you're good to go.
Spotify concentrates on a more tailored experience. When it comes to the iPhone app, you can either search for content to play one song or album at a time, or build playlists. There are no stations to weed through or genres to choose from. This may be a deal-breaker for users who want the ability to browse music instead of having to find something specific. There are many times I just want to start playing music and don't really know exactly what I want to listen to. I just know what type of music I want to listen to.
If you'll only be using your iPhone to stream, Slacker will provide you with the best content selection and ways to sort and listen offline. While they don't have custom playlists, you can favorite songs you hear that you like and listen to and access them under your favorites tab on the main menu.
When it comes to content, Slacker wins.
Pandora vs. Slacker. vs. Spotify: Cross-platform syncing & streaming
If you plan on listening not only on your iPhone but on your computer or other mobile device, such as an iPad, you may want to consider what each service offers on other platforms, especially if you're contemplating a premium membership.
Pandora has a wide array of mobile apps available for iPhone, BlackBerry, and Android. You can also listen online. When you sign into your account all your information and saved content will be there.
Pandora One is Pandora's premium subscription model. It gives you access to the desktop application for Mac or Windows. The desktop app really isn't anything to get excited about and s quite dull. There's not much to interact with and it doesn't offer you any particular benefits over using the web-based player.
Slacker also has applications for most platforms and a few more than Pandora offers, namely a native iPad client. They also offer support for Windows Phone 7, Nokia, Palm, BlackBerry, Android, and many more. Slacker will save all your content under your login and it will be there regardless what app or platform you sign in to.
Slacker does not have a Mac or Windows app but you can, of course, stream straight from their website.
Spotify also supports popular platforms such as Windows Phone, Android, BlackBerry, and iPad.
While I have an issue with Spotify's lack of a search feature on the iPhone, it makes up for that with the Mac and Windows app. It's by far the best desktop app of the three (especially considering Slacker doesn't even have one). You can view popular playlists, star tracks, see what's popular in your area, and monitor what your friends are listening to.
My favorite feature of Spotify's desktop app is the ability to wirelessly sync your starred tracks and playlists whenever your iPhone is on the same Wi-Fi network as your desktop computer. I frequently use this feature when I'm listening to music in the office or at home. I'll star music that I particularly like and have my iPhone set up to download starred tracks for offline use. I launch Spotify while on my network, the desktop app recognizes it instantly, downloads any changes, and I get in my car and start listening without having to worry about using my data (offline mode requires premium subscription).
You can also use the Spotify desktop client to sync local tracks from your computer. It'll pull everything in from your music library. While I don't typically use this service, it will be a nice addition for users who don't have to have to manage music in two separate apps. Spotify can handle it all.
When it comes to cross-platform support, Spotify takes the win due to their robust Mac and Windows app. When they launch their anticipated iPad app, it'll just be that much better. The iPad app is available now.
Pandora vs. Slacker. vs. Spotify: Audio quality
One of the most important aspects of listening to music for many is how good it sounds. There's no exception when it comes to streaming content. It's really hard to give a consistent rating considering many things can influence the actual rate at which music stream, such as your internet connection and whether or not a specific track is even available in a higher quality format.
Pandora streams at at average rate of around 64kbps for free listeners on the web, and at 192kbps for premium subscribers. They make no guarantee about mobile listeners, such as iPhone users, considering so many external factors can affect the bit rate.
Slacker doesn't have much information on the exact rate at which they are streaming but they do say that regardless of what platform you are streaming on, you should experience "near-cd quality" audio.
Spotify is a bit better at explaining what they stream. Premium users can get up to 320kbps on the desktop app and within the iPhone app. Of course, actual quality may vary given internet connection and other variables. They say the typical average and free users usually get around 160kbps.
Spotify wins when it comes to audio quality.
Pandora vs. Slacker. vs. Spotify: Pricing & features
While content is super important, so is the price you have to pay for it. While Pandora, Slacker, and Spotify all have a free ad-supported version, they also all offer premium subscriptions.
Pandora's premium service, Pandora One, weighs in at $36 a year or $3.99 per month. So if you can buy yearly, you'll get a bit of a discount. Pandora One will get you the following additions over the free version:
Higher quality streaming - 192K bits per second
Removal of ads
Unlimited skips per day (but you'll still be limited to 6 skips per hour due to licensing issues)
Access to the desktop player
Extended timeout (listen up to 5 hours while not by your computer or iPhone)
Custom skins
Slacker has 2 subcription models to choose from. The $3.99/month plus subscription will get you the following over the free version:
No ads
Unlimited song skips
Mobile station caching (offline playing)
ABC news
ESPN radio
The $9.99/month premium subscription will get you everything listed above as well as the following:
Songs on demand
Albums on demand
Single artist stations
Caching of albums and playlists
Create custom playlists
Spotify also has two subscription models outside of their freemium model but we're only going to cover the $9.99/month version because, sadly, that's the only version that will even allow you to stream to your iPhone. There is a 48 hour free trial if you'd like to check it out first. Just download the app to activate your trial.
Manage your local MP3s
Take your music abroad
Artist radio
No ads
Play local files on your mobile device
Offline mode on your desktop & mobile
Enhanced sound quality & content
Pandora, Slacker, and Spotify all provide access to play content through your home or office systems such as Sonos. They're all widely accepted and you shouldn't run into issues with any of them when it comes to a lot of the popular music systems.
When it comes to price, Slacker offers the most for only $4/month but Spotify offers much more in their $9.99/month package. You'll just have to weigh out what you need and what services you'll really use. Go with the one that has a better value for you personally.
When it comes to cost, it's a tie between Slacker and Spotify.
Pandora vs. Slacker. vs. Spotify: Conclusion
Pandora, Slacker, and Spotify all offer streaming experiences in very different ways. I can't help but feel that Pandora is lacking when it comes to functionality and customization. I know many users just want to listen and go, but access to previously listened to songs and stations would be a welcome addition.
Slacker provides a nice streaming service for free with an easy to maneuver through interface. You can even get offline caching for only $4/month. That's a very sought after feature for many users who want to be more conservative with their carrier data. You won't get it cheaper than you do with Slacker.
Spotify is the new kid on the block but packs a punch. While I think they have the best desktop experience of all three, we're talking iPhone app here. And sadly, that's lacking. There is no way to browse for and discover music. That's a deal-breaker for me. So is having to pay $9.99/month just to use the iPhone app. If Spotify could fix these two issues by beefing up the iPhone app and giving iPhone users access either for free (ad-based) or at a cheaper rate, they'd be the best choice, hands down.
Only one of these apps seems to be a happy medium between discovering and customizing the streaming experience, and that's Slacker. It'll suit most users needs and offers the flexibility most users need.
Slacker is the best streaming app for iPhone.
Pandora - Free - Download Now
Slacker - Free - Download Now
Spotify - Free - Download Now
Master your iPhone in minutes
iMore offers spot-on advice and guidance from our team of experts, with decades of Apple device experience to lean on. Learn more with iMore!
iMore senior editor from 2011 to 2015.