Phone different (tiPB?) Podcast 18 - Wait-a-Thon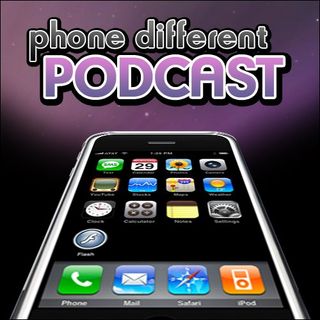 Mike Overbo is back this week for the 18th installment of our [insert preferred name here] Podcast! We discuss the continuing rumors of the iPhone 3G, iPhone 2.0, and more. Definitely worth a listen.
We're also doubling up the Wait-a-Thon today. If you haven't already commented on How to get your content into iTunes, go do that. Then come back here for another chance to win a $100 iTunes gift certificate. The question we need answered: What should we call the podcast? "The Phone different Podcast?" ... "The iPhone Blog Podcast?" ... something else?
(One last bit -- we're going to be moving our podcasts over to another server in the near future -- all of 'em. Should add some reliability in the podcast. If your version stops halfway through, just delete and re-subscribe in iTunes and it'll download properly.)
News
the iPhone Blog. Boom
iPhone 3G: The rumors continue

Rumored photo... or not so much
$200? Nah
Tested in Austria?
AT&T Employees can't go on vacation... Straw Graspin!
iPhone Black starting to look .....legit

iPhone 2.0 Fun:

Handwriting support
Contains settings for toggling 3G
Raging Thunder Racing game. Homina homina homina
.Mac to stop sucking?!, get push email?

Does the iPhone need Java?, how about some open flash, or SE's javaflash monster?
iPhone as Webserver. Bound to happen sometime
(if time) Diamond Clone
How To
Fun sensor trick
New to the Phone different Store
Morphie Juice Pack
Mirror screen protectors
Credits
Thanks to the Phone different Store for sponsoring the podcast.
Our music comes from the following sources:
Get the best of iMore in in your inbox, every day!
Nice, i'll be sure to check out your podcast!

Listening as I type this...

@Paul who Voicemail'd in asking the clock question:
If you jailbreak your iPhone, you can download Dali Clock through the Installer.app. It's basically a ever changing/morphing/free transform clock that changes colors and stuff.
Would i recommend it? I don't know, it's a little bit on the ugly/basic side for iPhone apps. And if you wanted to rig it as a desktop clock, you would have to set auto-lock to never.
Currently, I haven't found an app that lets you turn your iPhone into a desktop clock. But i'll be on the look out.

Just sync'd it to my iphone, going to listen on my way home from work.

Another GREAT show! OMG i can't wait 'till Apple announces the iPhone 3G and possibly mini-tablet Mac.

Concerning the 3G toggle:
The 3g handshake stuff would take some time, simply switching edge 3g would be possible, but I don't know if people would be happy waiting some seconds for an automatic switch...
The thing that would be cool about 3G: no sound distortions when having the iphone near a speaker and a call comes in / emails are checked / ... Really don't like the beep-be-beep-be-be-be-beeeeeeep when driving in my car and the iphone is lying near the speaker cables :)

I like "Phone Different Podcast" as I came to you through the Phone Different site. BTW, I liked the old Phone Different RSS feed (which included the images) better than the iPhone Blog RSS feed (text only).
I'm with Marc on the 3G no speaker distortions. I have speakers everywhere- it's hard to put the phone some place where it won't cause beeping.

Interesting as always, but I think we'll see the 2nd gen iPhone sooner than you guys think .. not until August?? No way ... I say June.

I was fearing the combine of phonedifferent with tIpb butit seemsall is well in blogland. :)

and id go with "the iPhoneblog podcast, for those who want to Phone different"
kinda catchy. and after all this is tiPb ... :)

Dieter: "The iPhone Blog iPhonecast for--"
Mike: "Greetings phone differenters!" (differentites? differentians?)

I still like the name "Phone Different" podcast. The iPhone Blog is fine and works for the blog, but I think the original name still works well for the podcast. Maybe a signoff something along the lines of "The iPhone Blog reminds you to ... phone different"... yeah, I know...cheesy ;)

In terms of smart 3G switching, wouldn't it make sense to have 3G switch on when you're doing heavy internet communication and then back off? So 3G switches on automagically when you browse the web, pull up maps, d/l from the iTMS or send or receive a large attachment. The rest of the time it stays off. Of course in classic Apple fashion this would be a setting you wouldn't be able to change...

How about iPhlog Different podcast. Kind of catchy don't you think?

Great blog... and I like tschertz01's idea for the name of the new podcast :)

I'm with tschertz01. I like "iPhlog Different" podcast. LOL Actually, whatever it's called, it's very informative. Thanks.

I still like the name, "Phone Different Podcast". Keep up the good work, guys.

I like "Phone Different" also, the other one sounds too cumbersome and disjointed.

iPhlog sounds too much like iPhlegm :(
Thank you for signing up to iMore. You will receive a verification email shortly.
There was a problem. Please refresh the page and try again.