Pokémon Go: How to obtain Mime Jr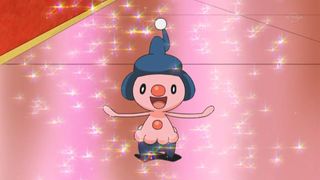 (Image credit: The Pokemon Company)
The baby form of Mr. Mime, Mime Jr, has arrived in Pokémon Go. But you may not know it if you don't live in Europe and aren't a regular egg hatcher. Mime Jr can only be obtained by those in a very specific geographic location who are hatching eggs, and the rest of us are out of luck until there's an event that brings him to everyone else.
Here's everything you need to know about Mime Jr and his regional egg buddies in Pokémon Go:
How do you obtain Mime Jr in Pokémon Go?
There is currently only one way to obtain Mime Jr in Pokémon Go, and that's through the current World Tourism Day egg event, which began on September 26 and appears to be going on indefinitely. Mime Jr is available in 5km eggs obtained from spinning Poke Stops in Europe; in the same regions its evolution Mr. Mime is available.
Can Mime Jr. or Mr. Mime be caught in the wild?
Mime Jr cannot currently be caught in the wild and is limited only to eggs. Mr. Mime can still be caught in the wild, but is also Europe-only as it's been from the start. Mr. Mime was available from 7km eggs for a limited time last year along with its regional brethren Tauros, Farfetch'd, and Kangaskhan, but that event has passed and he's returned to Europe-exclusivity.
Do you have to be located in Europe to get Mime Jr?
You do. Mime Jr will not hatch from eggs obtained anywhere else at the moment.
Can you hatch Mime Jr from a 7km egg obtained from someone in Europe?
You cannot. Mime Jr only hatches from 5km eggs right now, though he may move to 7km eggs down the line.
Will other regions get similar exclusives?
Right now there is, unfortunately, an imbalance of exclusives depending on which region you're located in, with Europe having the extra Mime Jr. Here is a broad rundown of the current regional exclusive Pokemon in Pokemon Go, though keep in mind that these are subject to change.
Africa:
Heatmor
Pansear
Tropius
Corsola (Kenya, Ethiopia, Madagascar)
Sigilyph (Egypt and surrounding region)
Throh
Asia:
Farfetch'd (Japan, South Korea)
Corsola (India, Thailand, Vietnam, Malaysia, Philippines, Indonesia, Papus New Guinea)
Chatot (India, Thailand, Vietnam, Malaysia, Philippines, Indonesia, Papus New Guinea)
Volbeat
Torkoal (South Asia)
Zangoose
Lunatone
Pansage
Heatmor
Pachirisu (Russia)
Sawk
Australia and New Zealand:
Kangaskhan
Corsola (Northern Australia)
Chatot (Northern Australia)
Volbeat
Zangoose
Lunatone
Pansage
Heatmor
Relicanth (New Zealand and surrounding islands only)
Sawk
Europe:
Mr. Mime
Volbeat
Zangoose
Lunatone
Tropius (the Mediterranean Sea and surrounding areas)
Mime Jr
Pansear
Durant
Sawk
North America:
Tauros
Heracross (Southern areas of Florida and Texas)
Illumise
Seviper
Solrock
Pachirisu (Alaska, areas of northern Canada)
Panpour
Durant
Throh
South America:
Heracross
Corsola (Mexico, Peru, Colombia, Cuba, Dominican Republic, Puerto Rico)
Illumise
Seviper
Solrock
Chatot
Panpour
Durant
Throh
Maractus
Will Mime Jr ever come to other regions?
Currently, that's unknown. Mime Jr is a frustrating exclusive since it's a "baby" Pokémon that can't be caught in the wild, but it's not an evolution where if you had gained a Mr. Mime from the recent event you might be able to evolve him regardless of region. It's possible we'll see Mime Jr come overseas as the result of a special event later in the game, but for now, you'll have to be able to go on holiday to obtain one.
Updated May 2020: Updated list of regionally exclusive Pokémon to include several new Gen 5 monsters.
Get more iMore in your inbox!
Our news, reviews, opinions, and easy to follow guides can turn any iPhone owner into an Apple aficionado