5 reasons why I'm not buying the iPhone 12 or iPhone 12 Pro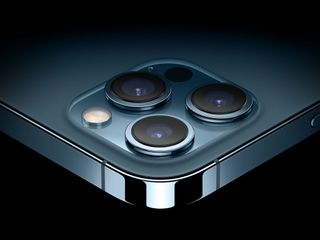 (Image credit: Apple)
Since Apple started offering regular and pro iPhone models, I have always chosen the largest handset available. This year, I almost went down a different path. And yet, in the end, I elected to buy the latest iPhone Max model once again. It's the fine print that convinced me.
Almost chose iPhone 12
When Apple announced the iPhone 12 and iPhone 12 Pro series earlier this month, one significant point stood out. The regular and Pro lineups are much more similar this year, both inside and out. For example, all four new iPhones, including an iPhone 12 mini and iPhone 12 Pro Max, feature a Super Retina XDR display. Last year's iPhone 11, by contrast, comes with a Liquid Retina HD display.
Both lineups also come with an A14 Bionic chip, 5G compatibility, Dolby Vision HDR, a ceramic shield front, and other similar features.
The iPhone 12 still doesn't include a telephoto camera, nor does it offer a LiDAR Scanner. Its frame is also made from aerospace-grade aluminum versus the surgical-grade stainless steel found on the iPhone 12 Pro. I also find the Pacific Blue finish on the iPhone 12 Pro/iPhone 12 Pro Max a little bit more refined than the blue hue of the iPhone 12.
Almost chose iPhone 12 Pro
No doubt, most iPhone buyers in the coming months will look past these differences and go with the less expensive iPhone 12 mini or iPhone 12. And yet, after some thought, they were enough to change my mind and stick with a Pro model.
It took some further research before I decided to go with the iPhone 12 Pro Max over the smaller iPhone 12 Pro. Leading up to Apple's iPhone event on October 13, I had already started to receive cases for all four new handsets. Don't get me wrong; display size is a big reason I have always selected an iPhone Max in recent years. And yet, it struck me after putting my 6.5-inch iPhone 11 Pro Max into a case for the 6.7-inch iPhone 12 Pro Max just how little of a size difference there is between the two.
This slight difference in screen size at the Max level is what almost convinced me to save some cash this year and select the 6.1-inch iPhone 12 Pro instead. After all, previous Pro vs. Pro Max models were mostly the same on the inside. Leave it to Apple to mix things up in 2020.
Reasons I chose the iPhone 12 Pro Max
The iPhone 12 Pro and iPhone 12 Pro Max are identical except for the size on the surface. However, look deeper, and you quickly realize key differences beyond the display size. It's those differences that convinced me to go with the iPhone 12 Pro Max (again) this year. Here are five of those differences.
Optical zoom range and more
It's a subtle difference, but the larger model includes a 5x optical zoom range versus the 4x optical zoom range found on the iPhone 12 Pro. The higher the optical, the better, of course. You'll also receive photo digital zoom up to 12x on the 12 Max compared to 10x. The iPhone 12 Pro Max also uses sensor-shift optical image stabilization instead of dual optical image stabilization. This type of system uses a floating sensor to counterbalance any movement within the camera.
More video playback across the board
Three more hours of video playback per charge is what you'll get with the iPhone 12 Pro Max over the smaller model. You'll also find one more hour of video playback (streamed) (12 vs. 11 hours).
Looking for more? The Max offers a whopping 15 hours more of audio playback (80 vs. 65 hours).
The iPhone 12 Pro Max also takes better video than the iPhone 12 Pro by offering 2.5x optical zoom in, 2x optical zoom out, and digital zoom up to 7x. By comparison, the iPhone 12 Pro offers 2x optical zoom in, 2x optical zoom out, and digital zoom up to 6x.
What say you?
Apple doesn't expect most folks to select the iPhone 12 Pro Max, and neither do I. The best iPhone of the year for most folks is the iPhone 12. And yet, if you're someone considering an iPhone 12 Pro versus an iPhone 12 Pro Max, consider the key differences before making a decision. Because I'd like to take my photo- and video-taking to fun new levels, I'm selecting the Max. Your choice may differ.
Regardless, it will be a few weeks before I get my hands on a new Pacific Blue iPhone 12 Pro Max. It and the iPhone 12 mini don't go on sale until November 6, unlike the iPhone 12 and iPhone 12 Pro, which are available beginning today, Oct. 23.
Which iPhone are you selecting this year? Let us know below.
Get the best of iMore in in your inbox, every day!
Bryan M. Wolfe has written about technology for over a decade on various websites, including TechRadar, AppAdvice, and many more. Before this, he worked in the technology field across different industries, including healthcare and education. He's currently iMore's lead on all things Mac and macOS, although he also loves covering iPhone, iPad, and Apple Watch. Bryan enjoys watching his favorite sports teams, traveling, and driving around his teenage daughter to her latest stage show, audition, or school event in his spare time. He also keeps busy walking his black and white cocker spaniel, Izzy, and trying new coffees and liquid grapes.
Why do people keep fixating on the "zoom range" - it is only 0.5x larger on the Max than on the Pro and last year's Pro devices. It is NOT 5x optical zoom. It is still only 2x or 2.5x fixed telephoto. No one taking a ultrawide phot would ever consider the 2.5x optical as a 5x zoom in on the standard camera. This is such a marketing ploy it is insane.

I also almost went iPhone 12 Pro Max. The better camera is what interested me. However, I really didn't want a larger phone in my pocket. I'm coming from the iPhone X and the increase to 6.1 inches makes it noticeably larger but didn't increase the physical size too much. That was the deciding factor for me.

What pushed me over to the Max was the sensor stabilization. I've used it in my pro cameras for years, and it's indispensable for the way I shoot.

Screen brightness and the tank size. The most useful aspect of a mobile phone for me is as a GPS in my motorcycle. I would like to go for a mini but the screen brightness is not enough for daytime use. The Max gives more time on the road, and an easier to read screen. Sold.

Returning the Pro and will just wait it out for the 12 Pro Max for the Holiday. No big rush. I've gone the bigger size since the 6 Plus, and the screen size alone makes me feel like I've downgraded. Comparing it to the 11 Pro Max just makes me feel like I've downgraded to a much smaller screen. The main problem is the body is just too small, but it's so bad that I'm getting buyers remorse for it. After just a day, I'm back to the 11 Pro MAX.

Thanks for the insightful comments so far. Keep reading!

After waiting to upgrade my 7plus for the last few months for the 12 release, I chose iPhone 11.
There are 230 reasons for this (as in $$$$) ...... plus:
- I don't care about 5G - sub 6 is a marginal speed improvement. mmWave is a huge speed improvement, coupled with pathetically short range and inability to go through obstacles, and extremely limited availability. Zzzzzzz
- The squared off edges are nice, but so are the more rounded edges.
- OLEDs look vivid, but have their own drawbacks (oversaturated look, plus potential migraines, sore rear of eyeballs, etc, with some users, or just more eye fatigue), and LCDs look more natural (to my eyes, anyway).
MagSafe looks cool, but gimmicky, and I don't see any "must have" or simply "want" use cases for me.
- A14 kicks @ss, but so does A13, only slightly less.
- Due to support of 5G, pushing more pixels on the OLED, and having a slightly smaller battery, iPhone 12 has less battery life than 11 (in spite of A14 being more efficient).
- 12 has an incremental bump in camera, but 11's camera is still near "best in class" (at least, top 5 in class?).
- Ceramic shield is a "very nice to have" feature. But I always use a case, and I'm pretty careful with my gadgets.
- The blue looks great, but the 11 colors all look good too. So all in all, the 12 is a better phone than 11, no doubt. But for me, only "just so", and not enough to justify the $230 difference (iPhone 12 6.1 inch starts at $829, $799 with carrier subsidy, iPhone 11, now discounted $100, starts at $599). So with all this considered, going with the 11 became a no-brainer for me. In the past, come upgrade time, I always went with the latest and greatest. But phones have now kind of peaked - sure there's always incremental improvements, and sometimes cool new features. But now, with mid priced phones all being more than good enough for most people, certainly last year's flagship, at reduced price, is just a killer value proposition. Going forward, for future upgrades, this is going to be my default, unless the "latest" has some new feature/spec/capability that I absolutely have to or want to have. This time around, iPhone 12 just didn't give me enough reason to go that route. I'm very happy with my new iPhone 12 (black, yeah, I was boring with color choice lol).

"Due to support of 5G, pushing more pixels on the OLED, and having a slightly smaller battery, iPhone 12 has less battery life than 11 (in spite of A14 being more efficient)." - I actually disabled it altogether. I don't want nor need those kinds of speeds on the go. Literally the 200 MB/s at home is way more than I need. all 4 carriers can brag all they want, the second they promote that BS on me I shut them up.

I like a device that is easily portable and able to be used comfortably in one hand without having giant hands so the 12 pro works for me. The minimal camera improvements aren't worth the added cost or size.

Too big and too easy to drop.
Thank you for signing up to iMore. You will receive a verification email shortly.
There was a problem. Please refresh the page and try again.