Reeder vs. The Early Edition 2 vs. NewsRack: iPad RSS app shootout!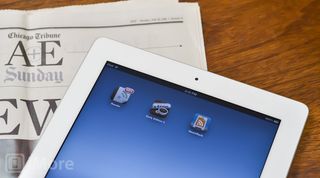 The iPad provides one of the best digital reading experiences available, and a great RSS reading app only makes that experience better. We've already taken a look at the best personalized magazine apps for iPad, including Flipboard, Zite, and Pulse but for those of us who like a more traditional style of RSS, and more control over our news feeds, nothing beats a dedicated RSS app. Reeder, The Early Edition 2, and NewsRack are all great choices but which one is best? And which one is best for you?
Let's find out.
Note: We didn't include NetNewsWire in this shootout because it's under new management and rumor has it a new version is on its way. When that new version is released, we'll update this shootout accordingly.
Note
Reeder vs. Early Edition 2 vs. NewsRack: Interface and experience
Reeder was one of the first good RSS apps released in the App Store and it keeps getting better. Upon launching Reeder for iPad you'll see a list of your feeds in the main viewing area and a small navigation pane off to the left that allows you to toggle between starred, unread, and all items.
To start reading you can tap into any section and you'll be presented with those articles in a list view. Again, you can use the left hand navigation pane to drill down further and sort by individual feeds and most recent.
Tapping on an article allows you to read it and tapping the title will take you to the full blown web version. Along the top you'll have options to mark as favorite, mark as unread, share it or send to a read it later service, and view in Readability mode.
Reeder has additional settings with the general iOS Settings app that will allow you to adjust and fine-tune many details such as how many days worth of articles you'd like to filter in. Reeder is simple by default but gives power users the control they want at the same time.
The Early Edition 2 presents RSS feeds differently. While it appears to be a personalized magazine style app, you still have complete control over what you read and what feeds filter in. That could make The Early Edition 2 the best of both worlds for some -- you get beauty and functionality all in one.
Using the metaphor of a newspaper, everything from the type to the animations let The Early Edition offer you the latest digital news wrapped in an almost old world print look and feel.
You can also choose to sync via Google Reader or use standalone mode.
The Early Edition 2 uses swipe gestures to allow you to access different submenus and lists. Swiping down with one finger will bring up the top main menu. From here you can sort by unread, articles posted today, and all articles. You can see your sync status, view features articles, and adjust your settings as well. Swiping to the right with two fingers will bring up a submenu that allows you to toggle between sections and feeds. You can also refine what you're reading into indivudal feeds or sections.
I did have some problems with gesture recognition at times, for example bringing up the feature section when it's not what I swiped for. Overall, gestures are fast and powerful, but there's a danger in relying on gestures instead of buttons.
NewsRack is organized in a simliar fashion to Reeder. All your feeds will aggregate in the left hand pane while your content will appear in the main window to the right. You can drill down into different sections and read either by unread, individual feed, or only view your starred articles.
You can also use a one finger swipe to the left or right to hide the navigation pane and enjoy full screen articles. It you frequently use the Mail app on your iPad you'll notice the simliarity. This makes for a great choice for readers that aren't as advanced and don't need a ton of options or want a difficult navigation menu to work with.
When it comes to reading news feeds, Reeder provides the best overall experience. It has all the advanced options power users needs, but hides them well enough that new users won't feel overwhelmed.
Reeder vs. Early Edition 2 vs. NewsRack: Google Reader integration
Reeder, Early Edition 2, and NewsRack all offer Google Reader integration but each handles it a bit differently.
Reeder requires you to sign into your Google Reader account the first time you launch it. From there you don't have many other options. If you'd like to add feeds you'll have to do it through the Google Reader site. The Reeder for iPhone app recently received an update that allows users to add and delete feeds from Google Reader natively. Hopefully the iPad app will get the same treatment in the near future.
Early Edition 2 and NewsRack also integrate Google Reader but both allow you to edit your subscriptions natively without the need to ever leave the app. So if you frequently find yourself adding feeds, removing them, and editing sections, Early Edition 2 and NewsRack will give you that ability.
Tie between NewsRack and Early Edition 2.
Reeder vs. Early Edition 2 vs. NewsRack: Sharing, read later, and additional features
While Reeder, The Early Edition 2, and NewsRack all allow you to browse news feeds, mark them as read, and sort them in many different ways, each also has additional features to appeal to power users.
Reeder has tons of options you can tweak and configure to get it to perform in the exactly the way you'd like. You can edit how many days worth of feeds you'd like to add, which social and sharing services you'd like enabled, and more. Reeder supports Instapaper, Pocket (formerly Read It Later), and Readability as well. Once you sign into your account via Settings you're good to go.
You can also adjust image caching through Settings. You can choose between caching images for only starred items or all unread items, as well as to only cache when you're on Wi-Fi.
You can change the order unread items appear and what swiping motions will do. You can customize them to do things such as star articles or send them to the read it later service of your choice.
The nice thing about the way Reeder is that more advanced options are hidden away in the iOS Settings app so, if you don't need them, they don't clutter things up in-app.
The Early Edition 2 also provides support for all the popular social, sharing, and read later services. Once you're in an article you can choose the share link at the top to send articles to the service of your choice. You can also share them via e-mail as well.
All of The Early Edition 2's settings are pretty obvious but if you don't pay attention to the walk-through the first time you launch the app you'll miss out on how to access feeds and settings, and may feel a bit lost. Once you watch the walk-through, the motions become rather fluid, but it'd be nice if they could figure out a way to hint or help you find what you need even after you've been using the app for a while.
The Early Edition 2 has several different views from indivdual paper view to clippings to features, to individual thread view. It almost feels like too much and the too many different ways, and can interfere with the overall experience at times.
NewsRack, like Reeder, is easy to navigate through. There aren't too many settings and additional functions, and all the controls you need are at the top including sharing, starring, and marking as unread.
You can tap into the app's settings via the gear at the bottom of your feeds list in order to choose how many articles you'd like to sync and adjust what mobilizer views you'd like. NewsRack also supports image caching and lets you control when you'd like the app to download images. You can choose between read, unread, and starred. You can also choose to only download images over Wi-Fi is you'd like.
When it comes to additional features, Reeder and NewsRack provide just enough to please power users but both do it in a clean, simple manner. Early Edition 2 is extremely powerful but the layout is confusing at times.
Tie between Reeder and NewsRack.
Reeder vs. Early Edition 2 vs. NewsRack: cross-platform syncing
Odds are you don't only read news feeds on your iPad but want to read them while on the go with your iPhone and at work or home from an actual computer.
Reeder offers not only an iPad app but an iPhone and Mac app as well. All three are separate purchases and will run you around $13 for the whole package. There are currently no versions for Windows or other smartphone platforms.
Early Edition 2 currently only supports iPad so if you'll have to get other apps to read on the iPhone, other smartphones, or Mac or Windows PCs.
NewsRack works on iPhone, iPad, and Mac. The iOS version is a universal binary which means you'll only have to buy it once and it'll work on both your iPhone and iPad. The Mac version is separate but the entire bundle will run you around $13 as well. There's no version of Windows or other mobile platforms.
Tie between Reeder and NewsRack.
Reeder vs. Early Edition 2 vs. NewsRack: Conclusion
Reeder, Early Edition 2, and NewsRack are all great RSS apps in their own right but differ greatly when it comes to the actual experience of reading news on your iPad.
The Early Edition 2 is the best choice for those who want something close to the personal magazine experience, but want to maintain the power and control of a pure RSS app. If you want to enjoy your digital news curled up on the couch with a beverage to the side, just like a classic newspaper, check out The Early Edition 2.
NewsRack is a great choice for anyone wanting a traditional RSS experience on the iPad. It's powerful but not overly complicated. If, for some reason, you simply don't like Reeder, take a look at NewsRack.
Reeder is the best choice for anyone on a Mac, iPhone, or iPad and wants a consistent RSS experience between all three platforms (and when the updated iPad version hits, it should only get better.) It has a great interface and keeps everything clean while still offering all the options a power RSS reader needs.
Right now Reeder is the best app for reading RSS feeds on the iPad.
Early Edition 2 - $4.99 - Download Now
Master your iPhone in minutes
iMore offers spot-on advice and guidance from our team of experts, with decades of Apple device experience to lean on. Learn more with iMore!
iMore senior editor from 2011 to 2015.