Rogers, BCE reportedly in talks with Apple Inc. to become Canadian launch partners for Apple iTV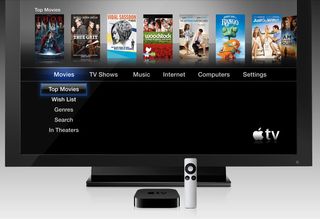 The rumors surrounding an Apple's iTV television don't seem to be slowing down, and now a report has come out suggesting that two of Canada's top telecommunications companies, Rogers and Bell, are in talks to provide content for the still-unannounced, unreleased device.
According to The Globe and Mail all three companies declined to comment on the matter, as expected. However, a second source claimed that both Rogers and Bell have the Apple television in their labs for testing.
The Globe and Mail also reported on iPhone and iPad based controls, Siri integration, and even Xbox Kinect-style remote gesture keyboards, though the sourcing of that information read more like analyst musings/wishful thinking than solid leaks.
Our living rooms are still a major battleground, with everyone from Apple to Google to Microsoft to Sony vying for the "third screen", a connected television, to add to the desktop/laptop and phone/tablet experience. However, no one has yet taken a decisive lead.
Steve Jobs famously said in his biography that he "cracked the television interface", and doing for television what the iPhone did for phones and the iPad for tablets would no doubt be welcome by many consumers who can't find the shows they want, when they want, on who-knows which box and with what remote any more. However, providing content for an Apple television, especially network programming, sports, and live events, is a huge challenge in a industry run by a multitude of regional cable monopolies.
The iPad has overcome some of this via apps that function like channels -- different television networks like ABC, studios like Sony, and sports leagues like MLB all have dedicated apps, some free, some requiring subscription, some requiring proof of existing cable service.
Apple's current Apple TV set top box, instead of apps, has built-in partner channels including MLB, but no App Store and no way for users to pick and choose which ones they want.
If Apple is, in fact, working on content deals with the likes of Rogers, it sounds like that same partner channel approach might be where we're headed for the Apple television. That's great for content, but not for selection.
Source - The Globe and Mail
Get the best of iMore in in your inbox, every day!
Editor-at-Large at Mobile Nations, gadget junkie, energy drinker, ranter.
"However, no one has yet taken a decisive lead"
I disagree with this statement. The Xbox 360 has taken quite a decisive lead with tens of millions of units sold. Including Kinect, it truly is a complete living-room entertainment experience. It's not perfect, but right now it is the best.

I read this on another Apple news site: "Barclays Capital calculates that the LCD market will reach about 230 million units in calendar year 2012." A few million Xboxes here and there is nothing in comparison.
Kinect uses a quick-and-dirty motion sensing technique. It projects thousands of infrared dots all around the room and detects when any of them move. Thus, it is unable to detect fine movements like individual finger gestures. The hardware is also more expensive because of the complex dot projection system.
A vastly better solution would be to use a regular video camera (cheap and easy) and to analyze the camera image directly instead of reducing the data set to a small number of moving dots. But, of course, that's hard. It requires skillful software development. And that's outside Microsoft's Windows & Office core competencies.
Thank you for signing up to iMore. You will receive a verification email shortly.
There was a problem. Please refresh the page and try again.