Rogers vs Bell vs Telus: Which 4G LTE new iPad should Canadians get?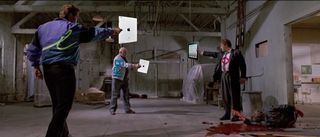 Provided you've settled on color and storage capacity, In the U.S., you've only got two choices if you're hunting for an LTE-enabled new iPad. In Canada, things are a bit more complicated. During Apple's event yesterday, Rogers, Bell, and TELUS, the big three service providers up here in Canada, featured prominently. Two LTE models would be launched to make sure every able carrier would be able to offer LTE, though there's lots of 3G compatibility for elsewhere, too. The new iPad lands in Canada on March 16, and no doubt many are wondering which carrier they should go with for data service. We've chewed through the plans and coverage, and have a fairly definitive answer.
There are two caveats, mind you. For one, we don't have a lot of data on speed comparisons. You'll want to ask around to see who's offering better speeds in your area. Secondly, we're assuming that The Big Three won't be switching up their iPad plans before launch day, which is entirely possible. The new iPad is big enough that there could be promotions across the board, so make sure to double-check before committing.
LTE availability
In Canada, those LTE centres are still fairly limited, which actually makes your pick of carriers for the new iPad a lot easier. Bell and TELUS share their LTE network, so coverage will be fairly interchangable between them. They've got LTE in Toronto and the surrounding area, Vancouver, Montreal, Ottawa, Calgary, Edmonton, Halifax, Yellowknife, Quebec City, and smaller regions like Belleville, Cambridge, Waterloo, Guelph, Hamilton, Dartmouth and London. By comparison, Rogers only covers Toronto, Vancouver, Montreal and Ottawa. Rogers did recently expand to St. John's, Newfoundland, and they're expecting to cover Halifax in the next couple of months, but on the whole, Bell and TELUS have a distinct edge on coverage. It's also worth noting that Bell and TELUS are supporting dual-cell HSPA+, which means you might still be able to get up to 42 Mbps outside of LTE areas. What about pricing?
Pricing plans
This is where things diverage a little bit. Bell's flex plan starts at $5/month for 10 MB, which gets bumped up to $15/month for 250 MB if you go over, which is in turn bumped to $35/month for 5 GB, and then charging $0.15/MB after that. TELUS has a similar structure (opens in new tab), but has two additional tiers - $10 for 100 MB, and $20 for 500 MB. That's way better, considering it's a steep change from paying $15 and $35 on any given month. TELUS also has static plans available that aren't on Bell. For $35/month, you can get 2 GB, and for $60/month, you can get 6 GB. Why would you get these instead of Flex plans? I have no idea. TELUS also lets you split your smartphone data bucket with your iPad for free if you're already a customer, which is a pretty sweet deal, considering Bell charges $10/month for the privilege.
Rogers offers similar fixed and flex plans. For $15/month, you get 250 MB, and for $35/month, you get 5 GB, which is way better than TELUS's stand-alone static tablet plans. The Flex plans for Rogers iPads are a little weird, since they've kindly bundled in all of the taxes in with the fees; I guess they're worried about getting dinged by the CRTC for misleading prices like Bell did in June. For $6.93/month, you get 10 MB, which is bumped up to $16.93/month for up to 250 MB if you go over, $21.93/month for 500 MB after that, and $36.93 for 5 GB and $0.02/MB after that. So the flex pricing on Rogers is pretty much identical to TELUS, except for the different $10 tier has been bumped up to $25 for a bit more data. Rogers also offers shareable data add-ons for smartphones that are separate from their usual offerings (though no more expensive); you get 1 GB across both devices for $30/month, 3 GB for $45/month, and $60/month for 6 GB. The sneaky part here is that it looks like you wouldn't be able to access LTE if you opt for the bottom-tier plan, which is downright dirty. Bell and TELUS don't mention anything about this, so I can only hope that they aren't doing anything similar.
With all of that said, I would have to side with TELUS if I was buying one of the new iPads with LTE. They've got the broadest national coverage, the best spread in flex rates, and free sharing of data with smartphones. Obviously, if you're in St. John's, you'll pretty much be forced to go with Rogers, but for everyone else in Canada, it should be a pretty clear decision.
Get the best of iMore in in your inbox, every day!
Editor-at-very-large at Mobile Nations, gamer, giant.
You were mentioning that Telus let's you share your data bucket from your phone to tablet, would I be able to do that with my existing iPad 2 without a microSIM and just add it on to my plan without any extra charges for data if I stay under my limit?

Hey Simon,
when Telus advertises free data sharing they just mean hotspot
they won't activate a 2nd sim and let you pool that data for free, or even for a charge.

Ugh, thanks. It sure would be nice if the site was a little more clear on that. Even the sales rep I talked to thought it was free.

Remember that bell launches LTE networks with as little sites on air as possible. When Bell launched Toronto they did it with about 40 sites. Rogers launched a week later with over 400 sites in Toronto. Speed is very much affected by signal strength. I think people who get Rogers will be happier with speeds than bell. I am assuming this is the same with the rest of the bell and telus launches. Quick to launch whatever they can get on air.

While Rogers may be good in St. John's proper, they barely have any cell coverage (even 3G) in the rest of Newfoundland, so if you ever leave the city, you're better off with Bell or TELUS.

I live in Calgary(area) and it really made the most sense to go with Telus here. Since they have a real vested interest in this area, once their service starts working (which sometimes is a pain in the arse) its usually really quite stable.
Sidenote, I had a real issue getting the 2 iPad2 3G's I had running on Rogers here, and it was a 2 day monster of a time to get actual activation. That made my choice a bit easier.

And the one on the floor is... Samsung galaxy tab ?

I was thinking either Mobilicity or WIND. :)

And people say the United States has horrible coverage? Yeah AT&T has like 20 cities now, but Verizon has LTE almost everywhere now and is still on a ball. Heck, California > Canada so there should be no reason for Canada to not have all of their major cities covered sufficiently. Glad Atlanta is always near the top of the list when it comes to deployments though.

I'm finding your terminology confusing. At times you make it sound like there are different versions of the iPad for the different carriers, which I believe is not the case here in Canada. Can you confirm?

Sorry, that was more of a global reference... One iPad model will be built for Verizon LTE, while another will cover all of Canada and AT&T.

The comment above might not be correct. When you order your "New" ipad in Canada on the Canadian Apple store you need to choose which SIM you want Telus/Rogers. I tried to put them both in as they are zero cost items. Due to (my guest/IMHO) different LTE frequencies the ipad gets locked to carrier at delivery time :-( why they do this makes no sense unless they get kickbacks from the carriers. So that also means there truly isn't a world/global ipad until someone releases a "Unlock" hack which is different (but more difficult I think) than a "Jailbreak".
After all, Apple has to keep up making profits after all they "losing" 5% margin from IPAD 56% down to a predicted 51% margin on the new IPAD...

Can you provide a reference for this "locking" restriction?
This was not true on my original iPad and I've not seen anything from Apple to indicate a change.

Hi,
I stand corrected... It does look like the difference in the US is due CDMA/GSM (not locking):
https://discussions.apple.com/thread/3799546?tstart=0
Frank

Can anyone confirm Telus can share an existing smartphone data plan with a 4g iPad? Not to mean iPhone hotspot but using the iPads 4g signals.

My biggest issue, is that I am with Fido, which is Rogers in the end; but they have clearly stated they do not offer iPad data pricing in the past.

Dude its their value brand.
Just like how you'd get fancier features on a Cadillac than a Chevrolet.

I am coming to Florida on holiday soon and plan to buy the new iPad for use in the United kingdom,would I be correct in thinking that I should choose the at&t version because it uses sim cards like we do in the UK?

I laughed and laughed when I read this part at the end: "but for everyone else in Canada, it should be a pretty clear decision."
There are 2 big provinces right in the middle of Canada that were jumped over by everyone: Saskatchewan and Manitoba. I can absolutely 100% confirm that it's not a pretty clear decision. 0 coverage by both. Well I guess it's a clear decision in that going with neither will net me the same result :)
In Saskatchewan, Rogers has 3G coverage in Regina and Saskatoon. SaskTel has much wider coverage. And Telus and Bell both use SaskTel. So for 3G coverage itself, then those 3 are all the same. I would hope SaskTel/Bell/Telus are working on LTE together at some point for Sask.
Rogers - I have no idea. Hopefully they haven't just given up on Sask.

SaskTel is launching LTE this summer Regina and Saskatoon. Rest of province to follow. So go with them clearly.

Bell is the only carrier that offers the Dual Carrier option (42Mbps). This is a HUGE sway towards choosing Bell IMHO for those times when you are not in LTE-range.

Thank you for another magnificent post. Where else could anybody get that kind of info in such a perfect manner of writing? I've a presentation subsequent week, and I'm on the look for such information.

When are bell and Telus going to come out with data plans for the united states like Rogers offers....they need to offer something for all the border towns And or travelers
Thank you for signing up to iMore. You will receive a verification email shortly.
There was a problem. Please refresh the page and try again.