Apple Music or Spotify — which is better?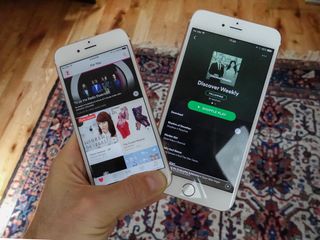 A year ago, Apple Music debuted with a three-month trial and no shortage of hype. The company was so confident of its product that it offered a three-month free trial to all users, as part of the iOS 8.4 update.
Despite a few hiccups at launch, many of which were quickly fixed in iOS 8.4.1 released in the weeks after launch, and an effusive public call from none other than Taylor Swift to compensate artists during the free trial, Apple Music has mainly been received positively — when it isn't messing up people's existing music collections, of course.
Now that the dust has settled, a larger question remains: Should you subscribe to Apple Music if you run mainly iOS devices, or is Spotify — current market share leader in terms of paid subscribers — the better bet? Let's take a look.
Price
At the outset, both Apple Music and Spotify are evenly matched in terms of price: Both are $9.99 per month, per single account and, as of a few weeks ago, $14.99 for a family account with up to six users.
The main difference between the two services is that Spotify has a free, ad-supported tier (which has earned the ire of many popular artists) whereas Apple Music does not. After the three-month trial, Apple forces users to pay for the service. Spotify currently offers a three-month trial of its premium tier for $0.99.
Sound quality
Both Apple Music and Spotify offer music at varying encoding qualities. Apple Music has two options: regular, and high quality, which works out to around 128kbps and 256kbps, respectively. Spotify, on the other hand, offers three choices: Normal, High, and Extreme, at 96kbps, 160kbps, and 320kbps, respectively. Between the two services, I had a hard time telling the difference between them at their corresponding levels, but sticklers will want to subscribe to Spotify for its highest-quality option.
Availability
As of writing, Apple Music is available in 113 countries. Spotify is available in 60 countries.
Music Collection
At this point, both Apple Music and Spotify are relatively evenly matched when it comes to their music libraries. Of course, it's all going to depend on region — what I get here in Canada is slightly different than what you get in the U.S., UK or Sweden — but generally, you'll find what you need on both services.
As Serenity points out in her review, Apple hasn't been able to snatch away huge exclusives from TIDAL like Beyoncé's Lemonade, but it has its own big names to point to — Taylor and DJ Khaled among them — as supporting the service with great content. But a big, robust library is table stakes at this point; it's how the companies use this library to its users' advantage that interests me.
Features
Broadly, both Apple Music and Spotify have some form of a la carte, radio, and playlist playback, and different takes on social integration. While I tend to prefer Spotify's mood-based playlists and randomly-generated radio stations, powered by The Echo Nest's fantastic algorithms, Apple also has a decent, though much smaller, selection of radio stations.
Where Apple Music excels is in providing live, DJed sets via Beats 1. Not only are the personalities like Ebro Darden and Julie Adenuga some of the most engaging and knowledgeable in the music business, but Apple Music invites well-known musicians — Elton John (!!), Josh Homme, Pharrell Williams — to host their own shows. Then they share the playlists! These are nuggets of gold for all subscribers, and something that Spotify just can't compete with. Unfortunately, in its current incarnation, these playlists are hidden and difficult to recall unless you explicitly subscribe to them, an issue that will likely be resolved with Apple Music's big overhaul in iOS 10.
Spotify does not have live DJs, but it does boast a far more comprehensive set of automatically-generated playlists.
What Spotify lacks in live music it makes up for with its deep bench of playlists. And then there is Discover Weekly, the service's crown jewel. According to the company, over 40 million listeners subscribe to their personalized Discover Weekly playlists every week, and over half come back every week. It's a qualified success, and something that Apple is mimicking in some form with its upcoming iOS 10 overhaul. Better than the feature itself, Discover Weekly has exposed thousands of new artists to millions of new people, including me.
Apple's own crown jewel is its For You playlists, which I have been obsessed with ever since the service launched last year. If Spotify's Discover Weekly is my music appetizer, For You is my main course; I practically live inside this tab. What makes For You such a compelling feature is its ability to surface content that I want to listen to at the perfect times. They have exposed me to new music, and old favorites I hadn't thought about in years.
Apple Music relies on AirPlay to send music from an iPhone or iPad to a stereo or connected television. The service also lives on the Mac, Apple TV and, most unlikely of all, Android (where there is no AirPlay support, for obvious reasons).
Spotify is available on nearly every platform, including iOS, Android, Windows 10, Roku and many others. It's the Netflix of music streaming services. The company has also created an AirPlay competitor in Spotify Connect, a way to push audio to any manner of connected speakers. Though not as ubiquitous, Spotify Connect works with equipment from popular manufacturers like Libratone, JBL, B&O and many others.
Apple Music has Connect, which is supposed to interface musicians directly with their fans. In reality, that hasn't really happened, and the feature is largely being deprecated in iOS 10. In the meantime, many artists' pages are ghost towns of aimless posts and aging music videos.
Spotify approaches social differently: It connects you with your friends on social media to get a glimpse at what they're listening to, in real time. While it doesn't go as far as Rdio, which created a small community of dedicated music lovers by allowing people to post reviews on albums, it's still an essential feature, especially as more of my friends and family subscribe to the service.
Podcasts, concerts and music videos
Spotify has begun separating itself from the rest of the music streaming services by integrating unique video content from broadcasters like The Comedy Network and BBC, among others, in addition to supporting podcasts. It's unclear whether this hedge will be a success for the startup, but it worked for Netflix, so what's to say it can't do the same for Spotify? The company also lists nearby concerts within its app, which has proven quite useful.
Apple already embraced podcasts long before it debuted its music streaming service, and they continue to live separately. But it supports a growing library of music videos and concerts, which are among its only video elements.
Making the best of Apple Music and Spotify
Apple Music is set to get a big usability upgrade in iOS 10, simplifying its user interface and hiding less popular elements, like Connect, that people weren't using. With a light, bright color scheme, Apple Music has always been inviting to use, if a little difficult to master.
Spotify, on the other hand, embraces the darkness, with a permanent black background under white text. Both apps are relatively easy to use, with intuitive controls and plenty of options for adding songs or albums to new playlists, or adding them to ongoing queues. Both services also, thankfully, support offline playback.
Apple Music can also be played using Siri, which is a huge advantage for Apple's homegrown service. While you can enter the Spotify app using Siri, integration with Siri allows for complex requests, such as "Play some popular music from the 90s," which, in my case, began playing that slow-dance classic, Save the Best for Last by Vanessa Williams.
So, which one should you go for?
Both Apple Music and Spotify are among the best music streaming services available today, and are differentiated in increasingly narrow ways. Ultimately, both can be trialled for three months without much investment.
But if you're going to choose one service, and don't regularly use Siri, Spotify is the better choice for most people — even those on iOS. It may lack the live music of Beats 1, but its playlists and algorithmic radio options more than make up for it. Moreover, its more intuitive interface, podcast and concert integration, unique video content, and excellent sound quality make it the music service to beat right now.
With around three months left until iOS 10 is released, if you haven't tried Spotify yet, now would be the right time.
Sweet Music
(opens in new tab)
Millions of songs in your pocket.

Apple's music streaming service boasts over 70 million songs, live radio stations anchored by renowned personalities, and thousands of curated playlists spanning every genre you can imagine.
Get the best of iMore in in your inbox, every day!
Daniel Bader is a Senior Editor at iMore, offering his Canadian analysis on Apple and its awesome products. In addition to writing and producing, Daniel regularly appears on Canadian networks CBC and CTV as a technology analyst.
I really like both but I ended up sticking with Spotify because of its dark theme.

I've subscribed to both in the past, but Apple Music won out in the end. Spotify is still very good though, and would still recommend it if people don't want to use Apple Music. Both are great!

I still like Play Music, but I'm happy to see such a fair breakdown of the other services.

Same here. I love the app UI much better than the others. Sent from the iMore App

This writeup, unless I missed something, completely blows by the fact that people who have been buying their music in iTunes for years can now have all of that plus anything they stream all in the same place: Apple Music. Yes, it had its functionality issues at the beginning, but that's largely been fixed. I've actually had no problem playing any of my old library on any of my devices, whether it was stuff I bought in iTunes or tracks I uploaded to iTunes Match. Back before there was even a rumor of Apple buying Beats, I was shopping around for streaming services, and I found Spotify to have an incredibly ugly and confusing UI. I use the free version on various devices now and then and it still hasn't gotten any better in my eyes. I think that saying Spotify is better "for most people" is incredibly misleading. Joe Schmoe iPhone/iPod user has probably been buying music on iTunes for years. (example: my parents, my sister, most of my non-techie friends, etc.) For that type of user, Apple Music is the better option. Heck, my 65 year old parents are having a blast with the service. And if it's so hard to even tell the difference in sound quality between the two services' highest bit rate, then that shouldn't even be a deciding factor.

Spotify is easily the better service. Music curation, radio options, playlist options and the UI are all better on Spotify. Apple Music has the advantage in that it ties deeply into the OS. Having all your music in one place is great. But that definitely doesn't make up for all the other disadvantages. And I assume most of you don't listen to your music in a car with even a decent audio set up or a nice pair of headphones. Because the audio differences are easily heard. Anyone who sits in my car can tell the difference when I play the two services. Apple music also has this ugly habit of replacing the music I purchased and thus I've got a lot of music that I bought that they replaced with edited versions. So even the advantage of all my music being in one place is a headache.

A car is never an optimal place to differentiate sound quality and there are too many factors in a car that can alter sound. I say this having spent many years in the car audio industry and having spent tens of thousands of pounds trying to achieve what can be done in a much more modest in home system or headphones. I agree that Spotify is the better service but it has little to do with sound quality. The differences between the bit rates the two services use are all but imperceptible and I'd posit that there are other factors involved, especially if you are able to 'hear' them using a suboptimal method of listening. Sent from the iMore App

I've bought tons of music over the years through iTunes, but it still won't turn me away from choosing Spotify over Apple Music on my iPhone, iPad, and iMac. The interface alone is enough to choose Spotify over Apple Music. I just don't like Apple Music's ui. Plus, as the writer noted, the playlist function on Spotify outshines Apple Music's as well. I share playlist with my family and gf all the time. I could go on and on, but just cause I can play music I bought over the years seems pointless. Especially when you consider the fact that you are paying to play all the music they provide, not just the one's you bought. You don't need an Apple Music premium account to play the music you already bought. You can do that for free considering you already paid for it.

In theory you are correct, but in reality Apple Music been a disaster. I can't tell you how many times I've tried to play a song on my iPhone from the "cloud" that I've purchased, only to have the app tell me that I have not purchased the song. The work around has been to go to the iTunes app and search for purchased music by the artist and then download it. Whether I've purchased a song or not should not even be an issue in Apple Music since I'm now paying to rent the music each month. This is a terrible way to treat long-term iTunes customers who have purchased extensive music libraries over the years. This should be an easy fix, yet Apple has ignored this problem for the past year.

Spotify is a non starter for me due to the lack of a music locker to supplement the library. I actually pay for Play Music though.

I had tried Spotify and wasn't impressed. As a result, when I tried Apple Music on day one, I expected to use my free three months and drop it too. By the end of the first day with Apple Music, I had turned the auto-renew back on and I've been using it ever since. I like the integration that Spotify cannot match. It's also much quicker to start streaming, particularly when on cell data. I can't stand Beats 1, so that has nothing to do with it.

I found the Radio on Spotify to be much better than Apple Music. Beats 1 is really a good station if you are into Hip-Hop and R&B but falls woefully short on other genres. I hope that expands to other types of music, would love a Beats 1 Music station for Rock, Blues, Country, Dance, etc,.

I know a pro-apple site is probably anti-android, but I prefer Google Play Music to both. It incorporates your own personal music easily (and not in the weird Apple Music I know you have this so I'll just give you a copy protected version of something you already own) way. And their acquisition of the Songza system makes it better. Oh, and there's YouTubeRed, so no ads on YouTube. So why wouldn't you do this again?

And Apple Music ALSO incorporates your personal library. If there's a better version than your's they'll serve that, if not, they also can do music locker, and serve your file, unencrypted.

I'm a long-time Mac user as well as an iPhone user, and I agree completely with you about Google Play Music. It has an excellent interface, and searching for music is simple and easy. Apple would do well to copy much of what Google does with Play Music. I use Google Play Music, and I never have the problems I've had trying to use Apple Music. And one more thing, Google Play Music allows you to upload your entire iTunes library if you so desire. It's a good match for anyone who's purchased iTunes music over the years. Just like Google Photos, Google has nailed it with Google Play Music. Apple should take note.

I'm a Google Play Music paying subscriber. I love that I can upload all of my music to the cloud and really like curated radios. I just wish Google were quicker to bring some features outside the US, like podcasts and detailled playlists by genre, And, of course, You Tube Red.

I'm glad to see Spotify win on this site considering it's an Apple centric site. Spotify really is the better service.

In my house we have a 50/50 split. 3 people are using Apple Music and 3 are using Spotify. Has Spotify released the family share plan in Canada (since it was the ONLY Country that didn't get it on release) as of yet?

I think it depends on what you want. I've tried them both and went back to Tidal as I could care less about UI. Now between them 2 I would definitely go with Apple music. Posted via my Galaxy Note Edge

When it comes to discovering new music, Spotify is superior. And I love the integration with other apps like Djay. Sent from the iMore App

The point about Spotify being pretty much everywhere, is why it wins for me. Also the offline playback is great.

I prefer Apple Music over Spotify for the fact that both owned & not owned tracks both live within one app, & Spotify has a lot of Tribute acts in place of the real artists. Sent from the iMore App

Apple Music. With the integration in the phone makes it more useful and my 6 year old son can easily say...Hey Siri play me a song.

With the new API's in iOS 10 I would be surprised if Spotify didn't integrate with Siri. Posted via the iMore App for Android

1st revision of the Siri API does not support music service integration

That's dumb. Google Now has been doing this for at least a year. C'mon, Apple. Posted via the iMore App for Android

I was spotify user since 2009, but I just canceled it. Apple music is better for me. Sure, playlist charing etc is way better in spotify but I don't need those.

I started with Apple Music, went to Spotify, then back to Apple Music. They won me back with their College price of $5.00/month. Running iOS 10 beta, the app is even better! Sent from the iMore App

Spotify has college pricing as well. All of the streaming services do honestly. Well the three I have (Spotify, Apple, Tidal)

Personally subscribe to a Play Music for my family and its works best plus has YouTube Red included. Just my 2 cents. Sent from the iMore App

Well, I've tested Apple Music in the beginning and I loved it.
But here in Germany Spotify offers audio books.
In addition it's included in my Telekom flat.
There's nothing like that in Apple Music.
So I'm sticking with Spotify. Sent from the iMore App

Spotify. Tried Apple Music and went back to Spotify.

Spotify is where its at for me as I mostly consume on apple devices but my PS4 my ubuntu laptop can support it. Its just everywhere as Apple music isnt. Yes I can get Apple music on my Macbook and iMac and they work great I just like not being tied to apple. Only regret is the apple watch integration is not there for spotify. I like the music quailty for 320. I use nice after market headphones and Audiohijack to boost my EQ.

... and windows iTunes and Android (for Apple Music)

You missed the number one most important feature that makes Apple Music my hands down favorite....
In addition to all the discovery, Apple Music will upload my 54,000 iTunes tracks to the cloud and let me stream them from anywhere. As a BIG listener to live music that I get from other sources (livemusicarchive, livephish, nuts.net, etree), being able to stream that on my iPhone along with everything else is priceless. Spotify does not have anything approaching this feature...
Without mentioning that your review is really shallow.

You left out one key differentiator: music library integration. Only Apple Music allows you to access your personal music library (purchased/ripped) and your streaming content via a single interface. This is the only reason I'm using Apple Music over Spotify.

Does Spotify allow you to download audio streams like Apple Music. I'm limited on data and like the fact that I can download a few albums or playlists and listen without a data hit. Also good for airplanes.

Yes, spotify does let you download (only with paid their - not advertiser tier)

Spotify, hands down. Sent from the iMore App

Apple Music is 256kbps AAC, which is equal or superior to Spotify's 320kbps OGG.

Hahahahaha Sent from the iMore App

Spotify sound quality is great over apple music. i have both subscriptions. but Spotify is great Sent from the iMore App

I'm betting Apple will win in the long run. They seem very committed to music in their products and services. It's good to have Spotify's competition to push Apple to get better and better, though. (But what's with the dumb name?! Every time I see it, I think of carpet cleaner...)

Apple Music because Apple moved me over from Beats Music. Sent from the iMore App

I started on Spotify, went to Apple Music, and now I'm back to Spotify. Spotify has better navigation. Sometimes when I heard a song by an artist I had never heard of before, I'd search on Apple and have no results. I'd search for the same artist on Spotify and had results. So I went back to Spotify. I'll see what the iOS update does, and might switch back Apple Music did **** me off because, when I ended my subscription, I lost all my playlists.

your playlist should still be available even after you unsub, i unsubbed for 2months and got back on it & had all my playlists still there

I've had Spotify for a long time. Did try the Apple Music trial because integration piqued my interest. But it really burned me. My library was decimated and in the end, I had to wipe out my Music folder and restore from a Time Machine backup. Now I will say with the iOS 10 changes I've entertained trying again, but this article and lots of comments have reminded me why I find Spotify better for me. Even if there's not as good connection between a personal library and streaming library in Spotify, I've just ended up saving from Spotify's catalog the albums I own in iTunes. Also, I find it funny that someone came down these comments and downvoted anyone who said Spotify. Wow, opinions, how do they work?

It's The matter of taste, for me black and green interface of Spotify is ugly and depressing, they even don't show album covers in playlists. Apple Music is more feature packed and developing so rapidly, Spotify hasn't changed much for years. Apples devotion to the music, their resources and passion will drive Apple Music forward, Spotify still operates at a loss, so unless they are acquired by some big player Samsung, Google or Microsoft, they might not sustain their business in the future. There are also some minor, but important arguments, like the lack of app for Apple Watch, I can have offline music on my Watch from Deezer or AM, but not from Spotify.

Apple Music for me but maybe because I have iTunes purchases so I'm invested n iTunes. Sent from the iMore App

Spotify. Sent from the iMore App

I Think Apple Music Would be the better chose if you have other apple products like as all the music can be played on all your apple products also, you don't have to download a app like you would with spotify

I subscribe to both services. Best of both worlds!

I use play music because my sister put me on her plan. I love it :3 Sent from the iMore App

It's between the two apps really. Spotify looks and works great, it feels modern and sleek. Music is just ugly and keeps getting worse (iOS 9 and iOS 10). Whoever designed it should be ***** slapped. Spotify sounds better too, higher quality and an equalizer! (serioulsy Apple, still no equalizer in 2016???)
There is no contest really.

Spotify is for me! :) Sent from the iMore App

Apple Music, for me as it's gotten better with the updates. I tried Spotify and didn't like it as much and Apple Music has a bigger selection, Apple Music being integrated into iOS is a big plus. Sent from the iMore App

I personally love a combination of the two. Especially since Apple has now added a student discount to Apple Music. I was paying $9.99/month for Apple Music, but now I can pay that between two services and get the best of both worlds. I prefer Apple Music simply for the fact that they allow me to store my music on be cloud and make it available to me wherever I am, on any of my apple devices. I love the interface and even the playlists are fantastic. I prefer Spotify for discovering music. I am sure it will come to the point where I can eliminate Spotify again, but for now I am okay with paying for and using both. Apple is fairly new to the game when it comes to a dedicated music streaming service. Spotify has a few years in Apple, so I get that Apple Music is not going to fill in all wants and needs - yet. I know eventually they will because apple is great at catching up! Sent from the iMore App

Spotify buy a mile I have had such awesome good all-around music and as far as the other countries who does that many countries I don't for availability !!

Good read http://www.seattletimes.com/business/you-might-be-overpaying-for-streami... this is getting lots of attentions for the whole pricing stuff. Im sure Apple doesn't like it. Apple has already come under fire about not allowing links to outside stores. It lost an e-books price-fixing case in 2013. Apple has appealed to the U.S. Supreme Court, saying the case "presents issues of surpassing importance to the United States economy."

A lot of people here have mentioned that Apple Music has a leg up over Spotify because it lets you add your own music. Maybe I'm missing something, but Spotify has let you import your iTunes Music Library for as long as I can remember. Sure it's not perfect. You do need to sync to your computer over Wifi, but you're by no means locked into only Spotify's catalog, which is still pretty darn good on it's own.

Why spotify wins for me. Its a stand alone service that is not confusing. There is no iTunes Match service, No Apple music. When I did have Apple Music I tried to like it and I would go find music to listen to then it wouldnt let me play it saying it wasn't part of my library and I had to add it. Spotify I just play the music. The way spotify wins for me. I get it on all my devices. Huge win cause of the web interface. Even works on my PS4, my linux box, just about everywhere I want it to be. Apple music is lower quality right but it would take longer to start playing tracks. Spotify instantly plays more often than not. I like the Speaker feature when kinda like air play but its spotifys service so any device you have spotify on you can stream music and control from another. They really have a great product but the one pain point for me NO APPLE WATCH APP but sure they have carplay. Carplay on spotify is great too.

The elephant in the room is iTunes. I say that because it's literally an elephant and particularly on Windows. The interface has clearly been grown organically from something a great deal simpler, and for novices - people who've never used the program before - it's borderline impenetrable. It's also slow on older hardware and particularly on my dad's 2010 iMac. On my Windows desktop it chews into more handles and consumes more virtual memory than any other application I run. Added to which it's also not that reliable, and I lament the fact I have to keep something so large and unwieldy running in the background simply to listen to music. Spotify by comparison is lightweight and virtually unbreakable. No surprises which gets this user's money.

everyone is missing one key feature and that's the web player and you're able to log in from any web browser and use its web player to log in have access to all your playlist the whole spotify library.

I have both and they both end at the end of the month. I have Android motto g play 4 and to me Spotify app is more fluid and the sound is better. I'm getting an iPhone and will see how it works. I'm probably sticking with Spotify.
Thank you for signing up to iMore. You will receive a verification email shortly.
There was a problem. Please refresh the page and try again.