Should you upgrade your iPhone SE for double the storage?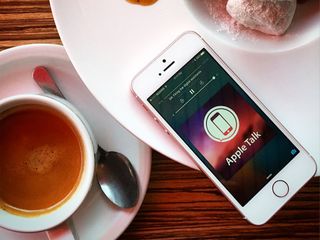 (Image credit: iMore)
Apple has updated the iPhone SE with double the storage capacity from 16 or 64GB to 32 or 128GB. If you've been using the four-inch model since its release one year ago, you might be thinking of upgrading (opens in new tab). The question is, should you?
What's the difference?
After almost exactly one year, Apple has made a minor change to the iPhone SE that is actually quite huge. Its now double the capacity of the original model. The 16 and 64GB iPhone SE are now 32 and 128GB models.
That's the only difference. The iPhone SE still has the same A9 and M9 processor chip, the same 12 mp camera, and comes in the same four colors — Silver, Gold, Space Gray, and Rose Gold. The good news is that it still has a 3.5mm headphone jack.
Should I upgrade or not?
That all depends on your needs. If you purchased the 16GB iPhone SE, chances are you are bursting at the seams as far as storage capacity is concerned. I'm on the 64 GB model and I've got about 18GB of storage space left, so even the larger capacity model feels a bit tight.
If you're constantly running into full capacity issues on the regular, you should definitely think about bumping to one of the larger capacity models.
If you still have a lot of wiggle room for adding apps, music, movies, and other content, you should probably stick with what you've got. The iPhone SE didn't get any other spec upgrade, so you'd be buying a larger capacity version of the exact same thing. Not worth it if you don't need the room.
If you're not paying off your iPhone SE in installments with your carrier, you can take advantage of the resale market. The iPhone SE is only a year old, and there are definitely going to be a lot of people looking for a 16 or 64GB model. You'll be able to get a pretty penny for your current iPhone, which you can put toward your upgrade.
Which one should I get?
Whether your current iPhone SE is 16 GB or 64 GB, you should definitely think about bumping up to the 128 GB model. You may not think you need the extra storage, but you'd be surprised at how fast you fill up your device. With more capacity, you have the ability to download plenty of music, movies, podcasts, apps, and games on your device without worrying about whether you're going to run out of room. For only $100 more than the base model, you're getting a lot. Plus, it's the same price as the 64 GB model was a year ago.
If money is a concern, the 32GB model is still a decent bump from the 16GB model. So, if you're currently holding the lowest storage capacity iPhone SE, and you don't have that extra $100 to jump up to the 128GB model, you're still going to be happy with the upgrade.
Still thinking about it?
If you're still on the fence about whether to upgrade your current model iPhone SE to a larger capacity model, you can check in with the iMore community on our iPhone SE discussion forums to talk about your questions and concerns.
What do you think about Apples double capacity update for the iPhone SE? Let's talk about it in the comments below.
Get the best of iMore in in your inbox, every day!
Lory is a renaissance woman, writing news, reviews, and how-to guides for iMore. She also fancies herself a bit of a rock star in her town and spends too much time reading comic books. If she's not typing away at her keyboard, you can probably find her at Disneyland or watching Star Wars (or both).
Thanks for this Lory! I have had a 16gb SE for almost a year now, and I'm on the fence. I'm not sure how much storage I have left but I haven't felt like I was struggling with it at all. I have a rose gold SE that is so pretty but occasionally I have wished that I could change the color to silver because that appears more like a blank canvas to me, and it appears to go with more cases. Upgrading would be a great out but I do have Applecare+ and I hope that I wouldn't have to buy it again. I'm not sure if changing color is worth it enough to convince myself to upgrade.

If you decide to go for the upgrade, you should consider using the iPhone Upgrade Program iPhone Trade-in Program.

Sorry, I posted this below but should've posted it here: "The iPhone Upgrade Program only applies to their flagship, which is the 7 and 7 Plus right now. I'm not finding anywhere showing that has changed. Please correct me if I'm wrong as I'd love to be able to get the SE on the Upgrade Program..."

I stand corrected. The iPhone SE is currently not available as part of the iPhone Upgrade Program, though it can be replaced through Apple's Trade-in Program. Thanks for asking me to clear that up.

Thanks for responding and clearing it up!

I used that program to get my original SE. I like the idea that I get some off and also get rid of the old iPhone all in one step.

The 32gb is the same price as the 16gb but i think the larger storage option has increased in price in the move from 64gb to 128 gb. Last week 64gb was £429 and now 128 gb is £479. As the storage costs apple very little this may well increase margins for them.

I would not. Will wait to see if they will release an updated version this year (camera, processor). This little thing with the iPhone 7 Plus camera will be a total beast! :)

As much as I hope this would happen, I doubt it'll be any time soon. It seems like Apple is making the SE model to simply retain customers who aren't willing to move to a larger device.

I agree. Actually, I'd guess it was a bit of a 'save face' move, as they realized they messed up by dropping the 4" altogether, so killed two birds with one stone in bringing out a 4" 'budget' model.

Only in Apple-land can a $400 phone be considered a "budget" model.

No doubt. And, a heck of a lot more here in Canada. I think I paid over $700 for my SE. (though better than over $1k for a 7, especially since I didn't want a phone that big anyway)

Yeah it's just too bad they didn't update the processor and camera too.

Drat, I could have saved $100 USD if I'd have waited a bit longer. (32 GB would have been fine, but I went with 64) Since I'll probably have to be sending it back, though (WiFi is flaky and the camera sometimes doesn't work), I wonder which model I'll get back?

Probably a refurbished 64GB version. ;)

Probably right... and probably safer than getting a new 128GB (given my experience with new vs refurb)

I have found that manufacturer refurbished devices are just as reliable as new; even more so because they go through extra testing. (not so for other refurbs, cough, groupon)

Yes, that has been my experience as well, though it is fairly limited to Apple. I've had ZERO issues with Apple refurbs, but have had a couple of issues with brand new Apple products.
(Note: That's over the last decade or so. I seldom (never personally) had an issue with a new Apple product up until then, and I've been a customer for about 30 years now, and have bought a LOT of stuff... personal, business, and for teams of people.)

I've had standard experiences with basically every manufacturer I've purchased devices from. So far, Apple soured my taste to their tech support and policies about Apple Care. Dell has them beat, with refurb quality, and support for them.

Apple's support has slipped a lot in the last decade or so. It used to be over-and-above.... now it's just pretty good (in comparison to many other retailers). I'll keep that in mind (re: Dell) if I decide to switch platforms.

I'd probably upgrade to a 128GB SE if they didn't cost $829 AUD ($635 USD).

I have a 64GB model right now, which is more than enough for me for now. I have about 22GB free. Maybe my next upgrade, whenever that will be, will be a 128GB model.

Had to buy a new phone just after this announcement. Still prefer the small form factor of the 5S / SE. 16 and 32 GB not enough but 64 GB sufficient so managed to get a 64 GB for a decent price while stocks last rather than the extra £ 50 that a 128 GB would have cost. I'm hoping this spec bump means Apple sees a long term future in smaller sized phones with decent specs and that we might see a brand new model in September or next year.

The 64GB version here costs ZAR8500 (US$676) so it might help the SE people if the 128GB comes in at the same price. Sent from the iMore App
Thank you for signing up to iMore. You will receive a verification email shortly.
There was a problem. Please refresh the page and try again.