Apple TV ad features Nikolaj Coster-Waldau, Alison Brie, and... Siri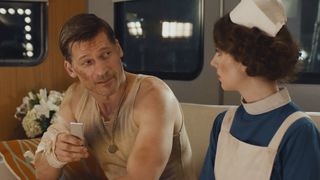 Apple has released a new commercial for the Apple TV, this time showing off the power of Siri with a little assistance from Game of Thrones' Nikolaj Coster-Waldau and Community's Alison Brie. The ad, which is titled "The Kiss," shows Siri assisting Coster-Waldau and Brie by skipping back in a movie, finding a TV show and even opening Apple Music before things get a little awkward.
Apple has been on a roll with humorous ads for its products lately, with its last commercial featuring an impatient Cookie Monster getting a little help from Siri as well. Be sure to give the new spot a watch and tell us what you think in the comments below.
Get the best of iMore in in your inbox, every day!
Thank you for signing up to iMore. You will receive a verification email shortly.
There was a problem. Please refresh the page and try again.