Sky bolsters its NOW TV offering on Apple TV with movies and entertainment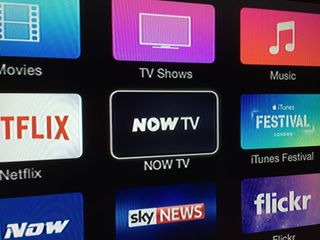 Sky has today announced that Apple TV owners in the UK will be able to enjoy more live and on demand content from the broadcaster through the Sky NOW TV app. Two new passes are available: NOW TV Entertainment and Sky Movies. The former will set owners back by £4.99 a month (rising to £6.99 on October 16), while the latter goes for £8.99 a month (again, rising on October 16 to £9.99).
Previously, only Sky Sports was available, which sells for £6.99 a month. It's a smart move by Sky to take full advantage of just how popular Apple is (just take a look at the recent iPhone 6 launch) and have its full offering available on Apple TV. Check the press release for more details.
From today, Apple TV users in the UK will be able to enjoy all NOW TV has to offer, live and on demand, with the arrival of the NOW TV Entertainment Month Pass and Sky Movies Month Pass.
The NOW TV Entertainment Month Pass offers instant access to this autumn's must-see shows like Boardwalk Empire, and 13 of the best pay TV channels, available with no contract. The Sky Movies Month Pass brings the best Hollywood action straight into the living room, like box office blockbusters American Hustle and Gravity.
NOW TV is now the most comprehensive linear pay TV service on Apple TV with the addition of entertainment and movie channels. Sky Sports channels have been available since December.
Gidon Katz, Director of NOW TV, said: "Great news for Apple TV users today as we bring our range of NOW TV passes to the service. There's never been a better time to get stuck into gripping box sets like The Walking Dead or The West Wing, right from the very first episode, plus get unlimited access to hundreds of the latest award-winning movies like American Hustle – straight to your main TV screen."
New shows currently streaming on the NOW TV Entertainment Month Pass (£4.99*) include the final series of Boardwalk Empire (Sky Atlantic), Legends (Sky 1) and The Leftovers (Sky Atlantic). Plus, instantly watch every season of some of the best box sets ever, including Lost, The West Wing, Mad Men and Hannibal.
With the Sky Movies Month Pass, movie fans can enjoy over 800 movies from big Hollywood blockbusters to cult classics and top independent films (£9.99 a month after a 30-day free trial). Customers get unlimited access to the latest films including Anchorman 2: The Legend Continues, Saving Mr Banks, Philomena and Turbo with Jack Ryan: Shadow Recruit and Oldboy joining this week.
Sports fans can continue to keep up with the biggest matches and events with a Sky Sports Day Pass. Watch live action from all seven Sky Sports channels for just £6.99 for 24 hours, the pass gives you more of the games that matter from the Barclays Premier League and action from The Ryder Cup, Sky Bet Football League UEFA Champions League, European Qualifiers, La Liga and Eredivisie, as well as Formula 1.
The Sky Movies Month Pass, Entertainment Month Pass and Sky Sports Day Pass activate immediately upon purchase and are billed directly to customers' iTunes accounts. NOW TV is available on over 50 devices including the NOW TV Box, Apple TV, iPad and iPhone.
It was always odd how only the sports part of Now TV was on the Apple TV, as every other platform got the full Now TV service from day one. That said, the Apple TV's UK app line-up remains comically underdeveloped. Not having BBC iPlayer or Amazon Instant Video is akin to not having Netflix in America. It also lacks every other UK catch up service, and the real deal breaker for me - no MUBI app. I'm still using my old PS3 for streaming as it has the broadest selection of apps in the UK. Hopefully it will keep trucking for a while longer, as nothing else comes close.

Great I can finally get rid of my NOWTV Box! But why put the prices up?? Sent from the iMore App

At £4.99 the monthly Entertainment Pass was perfectly priced. I hope they add more channels to it to justify the increase... Sent from the iMore App
Thank you for signing up to iMore. You will receive a verification email shortly.
There was a problem. Please refresh the page and try again.