SkyDrive vs. Dropbox vs. Google Drive: iPhone cloud storage app showdown!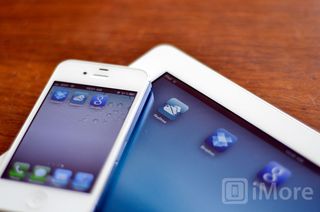 Microsoft SkyDrive, Dropbox, and the newly introduced Google Drive) all focus on storing your data in "the cloud" (i.e. in massive data centers) instead of on a physical hard drive in your home or office. That means not only can you free up some valuable internal storage space, but enjoy the piece of mind that comes with solid off-site backup, and the convenience of accessing your files from all your computers, many of the your devices, and almost any web browser. While Dropbox, Skydrive, and Google Drive will all get the job done, which one is the best choice for most iPhone and iPad users?
SkyDrive vs. Dropbox vs. Google Drive: Interface and Experience
While you can access Dropbox, Skydrive, and Google Drive via the web, that's not usually not the best option for iPhone and iPad users. Apple severely limits what web browsers can do in iOS, so while web sites are great to view supported files, they're not much good for anything else. That means the first thing most iPhone and iPad owners will do when choosing a cloud storage service is to look at their native app offerings.
SkyDrive is a universal app for iPhone and iPad users. The overall interface is incredibly straight forward and easy to use. Upon signing into SkyDrive, you'll be presented with your files and folders. You can choose to view them as a list or a grid. Tapping into a folder allows you to view the contents and open any documents inside that folder. You can also upload pictures to SkyDrive or create more folders.
If you need to edit a document, you can open it in a supported app by tapping the export button. Unfortunately you won't be able to sync changes back or save back to SkyDrive unless the individual app supports saving to SkyDrive. This is both a limitation of iOS and a product of SkyDrive's popularity relative to DropBox.
Dropbox functions in a very simliar way to SkyDrive and is also available for both iPhone and iPad. That's not surprising -- there are only so many ways to make a file browser. In the Dropbox app you can navigate through folders and mark things as favorites. Doing that stores a file locally for quick viewing later, even if offline. You can also pop into settings and set Dropbox to cache a certain storage amount locally for even quicker access to files you view regularly.
You can upload pictures and videos to Dropbox from within the app, but nothing else. (Again, that's an iOS restriction.) You will, however, be able to view many common files types from your iPhone or iPad such as Word, Excel, PDFs, and many image file types. You can also send supported files to other apps for editing or viewing.
Google Drive doesn't have a native iPhone or iPad app yet. (Google says they're working on it.) You can access your Google Drive files via mobile Safari though. It's not the most intuitive or functional solution and it has to make you wonder what exactly Google was thinking when they released Drive without an iOS companion app. (It's not like they lacked the time or resources to get it done for launch day.)
As a work around, you can use the Google Search app which provides access to Google Apps. It's not a full solution but it works. You could also add a homescreen bookmark to Google Drive for quicker access.
Until the iOS app arrives, iPhone and iPad users will probably shy away from Google Drive. Dropbox is easy to use but could definitely make do with an update. Right now, SkyDrive has the best design and interface.
SkyDrive vs. Dropbox vs. Google Drive: Features
While SkyDrive, Dropbox, and Google Drive are all cloud storage and sync services, they all work differently and offer a different set of features. Before you decide which one is for you, you need to figure out exactly which features you need most.
SkyDrive boasts online file collaboration, public file sharing, and version tracking. You'll be able to edit files online via the Microsoft Office web apps, or from your computer via the traditional Microsoft Office suite, and have them all on your iPhone or iPad when you need them.
If your main purpose is to use a file storing service to free up space on your iPhone or iPad, SkyDrive can help you do that with built-in media streaming, which means you can upload music and video to SkyDrive and stream it into the app on your iPhone or iPad.
Dropbox also offers built-in media streaming in their iPhone and iPad app. You'll also be able to share files and folders online, create share folders publicly, and track document versions. However, Dropbox doesn't include the ability to edit documents via web-based apps, nor do they have their own desktop suite. You need to open any documents stored in Dropbox in a local editor on your desktop or mobile device.
In addition to lacking an iOS app, Google Drive doesn't currently support media streaming. So, if you were hoping to unload some music and videos to Google Drive, that's not an option yet. You will, of course, be able to access everything on your iPhone or iPad via mobile Safari but that isn't an ideal solution. Google Drive does enjoy Google Docs support, however, but unlike SkyDrive it doesn't offer a native desktop document editing suite.
Google's lack of an iOS app hurts it again here. When it comes to features, Dropbox and SkyDrive are extremely comparable but Dropbox's inability to let users edit files on the web gives SkyDrive a slight edge.
Skydrive vs. Dropbox vs. Google Drive: Workflow and syncing
While mobile document creation has come a long way, most iPhone and iPad users will most likely still spend most of their time creating documents on their Windows or Mac PC, and will definitely need to access them there. So, a seamless workflow between desktop and mobile apps is a must.
SkyDrive, Dropbox, and Google Drive all offer both a native app for Mac and Windows as well as a free web portal. When it comes to the native Mac and Windows apps, all three apps have almost identical interfaces and functionality. They seamlessly integrate with your file system. You'll just notice a new folder in your main tree of files. They'll also all add a system tray icon to your Mac or Windows PC for quick access.
To use these services from your Windows or Mac PC, you simply drag and drop, or copy and paste your files into the folder, and then work them the same way you did previously. You won't notice any difference, but the files and folders are syncing your data constantly with each respective cloud service.
When you return to your iPhone or iPad to pull up a document, it'll just be there. And if you ever need to access your documents from someone's else's Windows or Mac PC, you can do so easily by accessing the web based version of SkyDrive, Dropbox, or Google Drive.
Google has the better desktop clients but their lack of an iOS app kills the overall workflow model. Dropbox has great apps but once again doesn't have online editors like Microsoft or Google. That makes SkyDrive the winner.
SkyDrive vs. Dropbox vs. Google Drive: 3rd party app compatibility
Many iPhone and iPad apps integrate support for cloud storage. If you're looking to use text editors frequently, for example, it will matter a great deal which services are supported.
While SkyDrive and Google Drive are fully functional cloud services in their own right, neither enjoys anywhere near the support of Dropbox. Dropbox has simply been around a long time an many developers have chosen to embrace it. In fact, for many apps, you won't find support for many cloud services outside of Dropbox (and Apple's iCloud, which is not exactly the same).
Dropbox by far has the best support from other app developers.
SkyDrive vs. Dropbox vs. Google Drive: Storage space and pricing
Using SkyDrive, Dropbox, or Google Drive means you get online storage that can free up local drive space, you get online backup that can keep you files safe, and you get remote access that lets you get to your files no matter where you are. All of them offer some amount of free storage, and the ability to buy more to suit your needs.
SkyDrive gives you a generous 7GB for free. If you'd like to add more storage on top of that, this is what you'll pay:
20GB - $10 per year
50GB - $25 per year
100GB - $50 per year
Dropbox gives users the smallest amount of free storage, coming in at only 2GB for a free account. They do offer a referral program that'll allow you to rack up an additional 250MB for each individual you refer up to 8GB total. Otherwise, to buy additional storage, here's what you're looking at:
50GB - $9.99 a month or $99 per year
100GB - $20 a month or $199 per year
1TB+ team accounts - $795 per year for the first 5 users
Google Drive gives you 5GB of free storage from the start. After that, here's what you can expect to pay -
25GB - $2.49 a month
100GB - $4.99 a month
200GB - $9.99 a month
There are sometimes special promotions or cross promotions where you can get additional storage bonuses for free, sometimes for a limited time. It's hard to predict when these will happen or for whom they'll apply, but it's worth doing a web search before paying just to see if there are any special offers available.
Otherwise, Dropbox makes for the most expensive service by far and gives the least amount of free storage to new users. Conversely, SkyDrive offers both the highest amount of free storage and the cheapest price for additional storage. However, Google Drive is extremely competitive, so if you're already a Google user, there's no compelling difference.
SkyDrive vs. Dropbox vs. Google Drive: Conclusion
If you take each individual category and weigh them equally, it looks like SkyDrive is the winner here. But not all categories should be weighed equally. A lot of free storage is great. Cheap additional storage is great. Arguably better desktop apps and inarguably better online document editors are great. But none of that matters if you need your cloud service to be supported by your iOS apps and that support simply isn't there.
Until Google Drive gets a proper iOS app with streaming media support, it's impossible to recommend it as anything other than a secondary or tertiary backup service to drop extra copies of your files for extra safe keeping. If you're already a heavy Google user, especially a Google Docs user, the free service is there for the taking.
If you're brand new to cloud storage and all you want to do is offload some media and documents to free up space on your iPhone and iPad, SkyDrive's combination of free storage and low additional storage costs make it the best option.
If you need to have your docs and data available in your iOS apps, then even though it's more expensive and doesn't have an online editor built in, Dropbox is still the only way to go.
Everyone's individual needs and priorities will be different, but for right now, for most users, most of the time, especially if you don't need anything more than the free storage they offer, Dropbox remains the best cloud storage solution for iOS users. iPhones and iPads are app-centric devices, and that's still where Dropbox shines.
SkyDrive - Free - Download Now
Dropbox - Free - Download Now
Google Search - Free - Download Now
Additional resources:
Master your iPhone in minutes
iMore offers spot-on advice and guidance from our team of experts, with decades of Apple device experience to lean on. Learn more with iMore!
iMore senior editor from 2011 to 2015.