SmugMug: Everything you need to know!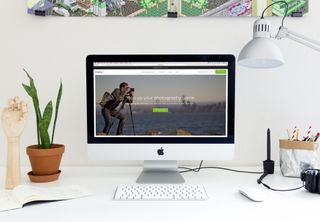 Okay, so you heard SmugMug has acquired Flickr. (Remember Flickr? The Yahoo!-powered photo site that almost everyone abandoned back in 2013-ish?) However, you're not sure what SmugMug is, what it does, or how it measures up to other photo sharing sites. Should you jump on the SmugMug bandwagon? This FAQ may help you decide.
What's new with SmugMug?
Check back here for the latest updates in SmugMug news.
April 20, 2018 - Flickr has been purchased by photo-sharing service SmugMug
According to a new report from USA Today, Flickr has been purchased by photo-sharing service SmugMug. The company says it plans to "[breathe] new life" into Flickr by pouring in the necessary resources and focus.
For what it's worth, SmugMug CEO Don MacAskill sure seems bullish about the service:
It's unclear just how much money SmugMug spent on this 14-year-old piece of the entire fabric of the internet, but it has already launched a landing page for SmugMug + Flickr.
SmugMug, which has been around longer than Flickr, says the two platforms represent "the world's most influential photographer-centric community." It seems the company plans to stand out from services like Google Photos, Facebook, and Twitter by focusing on its community of photographers both amateur and professional as well as its ongoing commitment to privacy.
Here's what MacAskill told USA Today:
Hello, Facebook, Google, Twitter, etc. — you've just been called out.
MacAskill says he's not entirely sure about the company's long-term plans for Flickr but SmugMug users can rest easy. The company says its products aren't going anywhere.
What is SmugMug?
SmugMug is a paid image sharing, image hosting, and online video service used predominantly by amateur and professional photographers (so it's very shutterbug-focused). It was first launched in 2002 by father-son team Chris and Don McAskill, who never accepted any venture capital funding and ran the business out of their home for a time before moving into real offices in California. Initially, it was created to give families a place to "share their own Kodak moments online," but since its genesis it has grown into a place for photographers — both hobbyists and pros — to display and store their work. SmugMug isn't a company to brag about its user count, but back in 2015 Don McAskill assured an inquisitive individual that the site had "millions of passionate customers."
How does it work? What all can you do with SmugMug?
As I mentioned above, SmugMug is a paid site, so in order to use it, you do have to purchase a subscription. You can choose one of four different account levels, each with its own set of features. The more you pay, the more control you'll have over how your page looks and functions. However, even at the most simple levels, you can create a pretty slick photography website for all your work. Here's an overview of the four plans:
A Basic account costs $3.99 per month if you pay annually, and $5.99 per month if you pay monthly (so an annual fee is definitely a better deal if you feel like you're going to be using the site heavily). With a Basic account, you get:
A customizable website, in which you can select themes, custom fonts, image layouts, and a logo
Unlimited photo and video uploads
A responsive design that works well on desktops, tablets, and smartphones
An ad-free experience
A max photo file size of 150 MB
A max video file size of 3 GB
1080p video quality
A 20-minute video clip length
Embedding capabilities
Lightroom sync
Detailed stats and analytics
SEO tools including metatags and XML sitemaps
24/7 real human support (so no shouting at pesky robots)
Video tutorials
Access to SmugMug's community forums
Backup using Amazon Web Services
Cloud storage (which allows you access to your content from anywhere)
Copyright to all your work
Size limits to protect your original content
Optional password protection of individual galleries, pages, folders, or your entire site
Search engine opt-out
Anonymous gallery creation
Tons of fun sharing capabilities like social media integration, community galleries, comment moderation, and geotagging
Print ordering capabilities
A Power account costs $5.99 per month if you pay annually, and $8.99 per month if you pay monthly. With a Power account, you get all the features included in a Basic account, plus the following:
The ability to set a custom right-click message for your images, just in case you want to warn anybody who tries to get sneaky and steal your stuff
The ability to limit access to your folders, galleries, pages, and site to specific people you choose (so, for instance, if you only want to share a gallery with your family, you totally can)
Increased control over your photography site, complete with 21+ pre-made design templates, custom theme and template creation, and customization via HTML and CSS
The ability to use your own domain name
A Portfolio account costs $14.99 per month if you pay annually, and $23.99 per month if you pay monthly. With a Portfolio account, you get the features of the Power account, the features of the Basic account, plus it unlocks an entire section of commerce options for when you're ready to start selling your work. If you decide to go Portfolio with it, you'll get:
Tools allowing you to add custom watermarks to protect your images
Order fulfillment with top photo labs
The ability to create custom pricing, and sell from a selection of 1,000+ prints and products at a profit
The option to allow customers to add frames, mats, mountings, and more
The capacity to accept global currencies on orders (USD, CAD, GBP, EUR, AUD, JPY, CHF, NZD, SEK, HKD)
The ability to sell digital image and video downloads
Use of electronic transfer methods
Custom backprinting for your prints
Custom printmarking for your products
The Business account plan is SmugMug's top tier option, and is meant for individuals who have a full-on photography business and need more robust commerce and client tools. It's priced at $29.99 per month if you pay annually, and $41.99 per month if you pay monthly, and includes everything from all the other tiers. In addition, you can also:
Allow assistants to access your site with a unique password
Create custom pricelists for individual galleries and images to accommodate every client
Create custom coupons for promotions
Create custom single- and multi-image packages
Let customers choose favorite images
Use SmugMug's event marketing tools
Insert branded thank-you cards and custom logo stickers in shipped orders
Offer gift-wrapped boutique packaging
Opt for Personal Delivery and have orders shipped directly to you
What devices can I use to access SmugMug?
SmugMug's website can be accessed via any computer. If you like, you can also download the SmugMug app on your mobile device so you can use it on the go.
What's the difference between SmugMug and Flickr?
As of right now, SmugMug and Flickr are remaining separate sites, though they're both focused on photo hosting and sharing. However, based on SmugMug's dedicated SmugMug + Flickr page, that will likely change in the future — we just aren't sure how yet. The biggest difference between the two platforms outside of aesthetics is that a basic Flickr account is free.
I'm sold. How do I sign up?
If you'd like to try SmugMug for yourself, you can actually sign up for a 14-day free trial before you commit to making any purchases. Just go to SmugMug's sign-up page, enter your information, and tell them whether or not you plan to sell your photos online. After that, you're in! If you decide you don't dig it, no harm, no foul. However, if you enjoy it and would like to sign up for a paid account, you can do so after your trial ends.
Questions?
Still have some burning SmugMug questions you desperately need answered? Share them with us in the comments below and we'll do our best to help you out!
Master your iPhone in minutes
iMore offers spot-on advice and guidance from our team of experts, with decades of Apple device experience to lean on. Learn more with iMore!
Tory Foulk is a writer at Mobile Nations. She lives at the intersection of technology and sorcery and enjoys radio, bees, and houses in small towns. When she isn't working on articles, you'll likely find her listening to her favorite podcasts in a carefully curated blanket nest. You can follow her on Twitter at @tsfoulk.