Some Apple Card invitees are running into issues with their Apple ID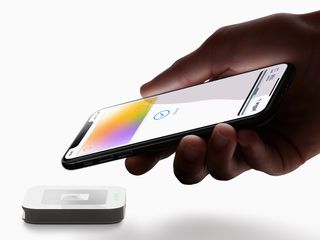 (Image credit: Apple)
What you need to know
Some Apple Card invitees are running into issues with their Apple ID.
Some say their Apple doesn't recognize the Apple ID they've been using for years.
Others say they accidentally typed in the email for their Apple ID and now they have to wait a few extra days to get the invitation again.
More and more people are getting their invitations to apply for the Apple Card, Apple's latest must-have product, but some are running into issues with their Apple ID. Multiple users are reporting that when they receive their invite for the Apple Card, they are being asked by Apple for proper email associated with the Apple ID even though they already provided it.
Reddit user Johnjamesjacoby relayed his issues in a post saying he applied to get an invitation for the Apple Card but when the invite came, the email he provided didn't match an Apple ID. However, he says he has used that Apple ID (with the same email) for nearly 10 years.
Other users have also reported getting a similar email, including one of iMore's writers, Christine Romero-Chan.
There seems to be two reasons for this: technical issues and user errors. Concerning Reddit user Johnjamesjacoby, that seems to be a technical issue on Apple's side. Apparently Apple can't locate the Apple ID connected with his email. He just chalks up the issue to Apple "still working out the kinks," which could be a result of thousands of people applying for the Apple Card. Some are bound to encounter issues with their Apple ID.
For Christine's part, it was just a mistake on her part. She apparently filled in the wrong email in her invite application, so when she got her invite (which we've included above), Apple asked for the proper Apple ID. It was a honest mistake.
Here's what Christine had to say on the issue:
Apple does make it super easy to give them the proper email associated with the Apple ID, though it will delay your Apple Card invite by a couple of days.
We should note that some users who did enter the proper Apple ID have been asked to provide it again via the same email response. If you receive one of these emails from Apple, just provide your Apple ID again. It's an issue many users have reported and Apple is aware of. It should not preclude you from getting an Apple Card.
If you did sign up for the Apple Card invitation, make sure you provided the proper Apple ID. If not, you could delay the process by a few days.
Get the best of iMore in in your inbox, every day!
My situation is a little different. When I first created my I'd I used my *** email address which I no longer have. I associated my iCloud I'd with that Apple ID a long time ago but I'm having difficulty getting my Apple ID to be my iCloud account. I got the message asking for my real iCloud account but if they send an email to that *** account I will never get it.

I've had my ID ever since it was a .mac address, then they changed it to .icloud then to .me (I may have the order wrong, they have changed it so many times). I now have many, many 'Apple email' accounts and aliases, and many variations of my Apple ID that work and are valid with Apple to log in. I have no idea which ID they really want/need/expect now for the Apple card. Apparently it is NOT the one I use to log into icloud though.
Thank you for signing up to iMore. You will receive a verification email shortly.
There was a problem. Please refresh the page and try again.