SoundCloud: Everything you need to know!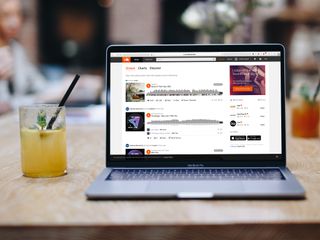 (Image credit: Soundcloud)
SoundCloud is a popular music and audio platform that lets you upload and store audio content, discover new music and podcasts, connect with fans and artists, and — with SoundCloud Go+ — stream music. Whether you're just diving in to SoundCloud or you've been a long-time listener, first-time ponderer, this article aims to keep you up to date and in the loop with everything SoundCloud, so be sure to check back regularly for updates!
What's new with SoundCloud?
We'll keep this section updated with the latest, greatest SoundCloud news. Next time you've got SoundCloud on your mind, check this page — and this very section — to see what's going on with the platform!
May 31, 2017 - SoundCloud comes to Xbox One
SoundCloud has revealed a new app built specifically for Xbox One.
The Xbox One app provides a streaming music service that you can use while you're playing your favorite Xbox One games. Whether you're taking out zombies, fighting wars, crawling through creepy dungeons, or racing super cars, you'll be able to back your actions with SoundCloud tracks.
The Xbox One app, available in the Xbox App Store, is free. You can snag it here!
What is SoundCloud?
SoundCloud is an online platform for music and audio — in fact, it claims to be "the world's largest music and audio platform" since its launch in 2008. SoundCloud serves different purposes for different people. For some, it's a storage box for music and audio; for others, it's a place to upload and serve podcasts; and for others still, it's a place for artists to connect directly with fans and get feedback on their content.
SoundCloud prides itself on its open platform. Where some music streaming and audio storage services can have incredibly complex usage agreements and put many layers of separation between you and your content, SoundCloud aims to make music and audio sharing and streaming easy and transparent.
SoundCloud is a little like YouTube (without video, of course), in that anyone can upload content that — when made public — is discoverable by anyone who visits the site. Up and coming artists publish their tracks on SoundCloud, podcasters share their shows on SoundCloud, audio engineers upload their projects and experiments — the list goes on. SoundCloud is a searchable, streamable bucket of audio content of all kinds.
What platforms is it available on?
You can find SoundCloud on several platforms:
How do I listen?
It's easy! Even before you've logged in or created an account, you can simply search for a track, an artist, a podcast, etc. SoundCloud'll give you a list of results and you can tap or click on one to start listening. If you're not sure what you want to listen to, you can check out the SoundCloud Top 50 for the most popular music on the platform.
Signing up for SoundCloud is easy, too. You can use a Facebook account, Google account, or email address to sign up for an account. Once you've gone through the process, you'll have access to more of SoundCloud, including the ability to follow artists and discover new music based on what you've listened to — and liked — in the past.
Does SoundCloud cost?
That depends! SoundCloud starts as a free service for both listeners and content creators. Anyone can listen to and upload tracks for free, but premium features cost extra.
Potential costs for listeners
Swipe to scroll horizontally
| | SoundCloud Free | SoundCloud Go | SoundCloud Go+ |
| --- | --- | --- | --- |
| Library | 120M+ | 120M+ | 150M+ |
| Offline listening | No | Yes | Yes |
| Ad-free | No | Yes | Yes |
| Preview-lock | No | Yes | No |
| Cost (per month) | Free | $4.99 | $9.99 |
Potential costs for creators
Swipe to scroll horizontally
| | Partner | Pro | Pro Unlimited |
| --- | --- | --- | --- |
| Upload quota | 3 hours | 6 hours | Unlimited |
| Plays count | Yes | Yes | Yes |
| Likes count | Yes | Yes | Yes |
| Reposts count | Yes | Yes | Yes |
| Comments | Yes | Yes | Yes |
| Downloads count | Yes | Yes | Yes |
| Plays by country | No | Yes | Yes |
| Plays by city | No | No | Yes |
| Plays by SoundCloud page | No | No | Yes |
| Plays by app | No | No | Yes |
| Plays by website | No | No | Yes |
| Toggle comments | No | Yes | Yes |
| Toggle public stats | No | Yes | Yes |
| Pin tracks & playlists | No | Yes | Yes |
| Update source files | No | Yes | Yes |
| Cost (per month/per year) | Free/Free | $7/$63 | $15/$135 |
What is SoundCloud Go?
SoundCloud Go and Go+ are music streaming services. Like Spotify or Apple Music, you can stream music and audio content in the SoundCloud app and on the web.SoundCloud already lets you do much of this for free, but paying allows you to download tracks for offline listening and removes ads from your listening experience.
You can check out the chart above, the video below, or SoundCloud's Go and Go+ page for more info.
What is SoundCloud Pro?
SoundCloud Pro and SoundCloud Pro Unlimited are subscription services for creators. SoundCloud says 175 million people listen on its platform each month. Content creators can subscribe to upload more content and get more listening stats. If you want to publish a weekly podcast or share the psychic chicken death metal album you just created, you might consider a SoundCloud Pro subscription.
You can check out the chart above or visit SoundCloud's Pro page for more info.
Any questions?
Have questions about SoundCloud that we've yet to answer? Give us a shout in the comments and we'll get it answered!
Master your iPhone in minutes
iMore offers spot-on advice and guidance from our team of experts, with decades of Apple device experience to lean on. Learn more with iMore!
Mikah Sargent is Senior Editor at Mobile Nations. When he's not bothering his chihuahuas, Mikah spends entirely too much time and money on HomeKit products. You can follow him on Twitter at @mikahsargent if you're so inclined.