Quick App: South Park Mobile for iPhone Jailbreak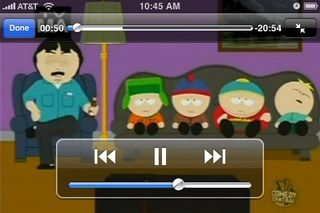 You really have to love Matt Stone and Trey Parker, the creators of South Park:
<
blockquote>"We're always in favor of people downloading. It's how a lot of people see the show. And it's never hurt us. We've done nothing but be successful with the show. How could you ever get mad about somebody who wants to see your stuff?"
Well Apple drops the ball yet again with the official South Park app in the App store... and yet again a 3rd party picks up the slack. South Park Mobile is available via Cydia and if you are not jailbroken, check out www.southparkmobile.net on your iPhone. What this app allows you to do is stream full episodes of South Park for your viewing pleasure right on your iPhone. Every single episode, from every single season is available for you to stream. Keep in mind this is not something official from Mr. Stone and Mr. Parker but it's the best we currently have available to us.
*You must be on firmware 2.2+ in order for this Jailbreak App to work.
[Thanks to Jaun for the tip!]
Get the best of iMore in your inbox, every day!
Your source for all things Apple
The site seems to work without any fiddling on the iPhone simulator. Watching the World of Warcraft episode now.

This site has changed to chronictv. It works I swear. Chronictv.org

Damn I really wanted this app. Anyone know why my phone gets really slow when it's jailbroken?

Nextflix streaming next? Pretty please?

I can't see this on Cydia ? Is it a specific source ?

Cool:d. There is btw also an family guy one
Http://ifamilyguy.net

Hello everyone! I couldn't help but notice the unique visitor's South Park Mobile is receiving from the iPhone Blog! So I thought I'd drop by and see why! Well, I thank whoever wrote this excellent article. I love the support not only SP Mobile's getting, the it's application available via Cydia.
Thanks again!

@Evan, we here at TiPb are big South Park fans, so your app is much appreciated.

I'm totally going nuts! EVERY SINGLE EPISODE OF SOUTH PARK OR FAMILY GUY. ANYWHERE I GO. Geekgasm!!! :D :D :D :D

@Jeremy, well, I'm ecstatic that everyone appreciates the work I put into getting this site out there. The stats are incredible! 4,000 unique views in 20 minutes?! The sites growing tremendously!

@Evan, well I personally know where at least 5 of those came from. ;)

Thank Jesus for you guys. Seriously.

great article, thanks for sharing

@ kr4sh, your phone probably goes slow when you jailbreak because you install too many memory-heavy applications. Try to refrain from installing everything, just what you need. For example I personally wanted backgrounder but NEEDED winterboard etc therefore compromised. Now my phones speed is just like it hadn't been jailbroken

Thank you. Thank you thank you thank you thank you thank you
I screamed when I saw the news!!!!!!

I can't view on the mobile app. I'm jailbroken. Won't work thoughe

guys im having trouble runing the app, goes to the screen where all the episodes are ( no seasons) than takes me to bigboss but it wont start the episode it says the site will load in 15 seconds and never does if i click skip this site it tells me that the url cannot be found.... help also if i try to run off safary it says that it cannot download this file what is going onnnn lol i had it on the 2.2.1 jail break and it worked fine but after the 3.0 update it seemed to stop working any ideas???

The family guy servers down...?

It's over. No more South Park Mobile.

Everyone go to www.xepisodes.com it sounds like a pornographic website but its a full featured every south park episode for mobile!!!

Thanks soo much for the site. This is what the web is for!

whenever I try to open this app it says please connect to an internet connection first but i am connected to wi-fi and my safari app is working can any1 help
thanx

are u jailbroken? if so get the iSouthPark app... first one when u search south park mobile

Can anyone give me the ipa file, cause my cydia is fcked up and I have no pc here

Can anyone give me the ipa file, cause my cydia is fcked up and I have no pc here. Pleeeeeeeeease

Hey can someone give me an ipa file cuz my cydia isnt workin

If u dont wanna jqilbreak you could just go to chronictv.org

Hate this website come on allsp it's got all the southpark in hd

Its a cartoon lol, not a new movie that we want to see in HD.