Spotify Connect is like AirPlay, but for Spotify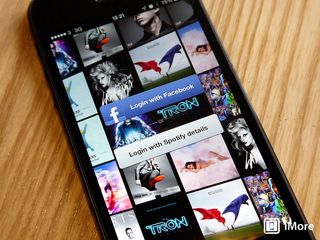 AirPlay is a great way of wirelessly streaming music from your iPhone, iPad or iPod touch, and now Spotify wants a piece of that pie with the announcement of Connect. It boasts a seamless way to move between your smartphone or tablet and your home audio equipment, with the added promise of no extra battery drain and the ability to continue to make phone calls without interrupting the audio.
As with AirPlay, support for Connect will need to be present in the audio equipment for everything to play nice together. But, there's already a good selection of manufacturers on board including Denon, Bang and Olufsen, Marantz, Pioneer and many others. Since Spotify is cross-platform and boasts a huge number of subscribers around the world, there's a good chance of a wide range of compatible systems in the future.
Spotify Connect will be rolling out to premium subscribers on iOS in the coming months along with the first batch of audio equipment, with Android and desktop apps to follow. Since I get almost all of my music from Spotify these days, I'm pretty excited for this. Since it's essentially cloud streaming there's no reason to think it won't take off. How about you guys though? Or is AirPlay all you need?
Source: Spotify
I don't use spotify, and AirPlay works for me, but it's nice to have options other than Bluetooth and physical connections. May get spotify just to use it if my next little speaker system is compatible, but I won't by speaker system based around it either. Sent from the iMore App

So this is like Chromecast, in that the speakers will stream the music directly from the Spotify cloud rather than from a local device? That would indeed free up local devices to do other things like calls and gaming, which you can't do with AirPlay. The nice thing about AirPlay is that you can buy a £99 Apple TV to enable it on any existing hardware; I wonder if Spotify will release something similar (i.e. their version of a Chromecast but with audio I/O rather than USB).

Judging from the lack of information about SC i'm guessing that it's going to be nothing more than an outlier format. Does it synchronize audio across multiple speakers like Sonos? Does it handle video and metadata like Airplay? If it doesn't offer anything special it's just another sticker on the box that few people (relatively) will use.

Sounds expensive and we really don't need another format. I like Airplay but have more than Apple devices. The Bose Soundlink Mini is an amazing speaker that does everything I want it to do via bluetooth.
Get the best of iMore in in your inbox, every day!
Thank you for signing up to iMore. You will receive a verification email shortly.
There was a problem. Please refresh the page and try again.