Spotify finally gets on board with Apple CarPlay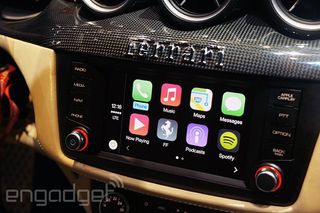 Alongside todays news that Apple CarPlay units are finally hitting the road, Spotify has updated its app for iOS to include support for it. It joins other apps such as Stitcher, iHeartRadio and Apple's own Beats Music in supporting the automotive version of iOS and we're happy to see it.
Spotify is one of the biggest streaming music services on the planet so it's certainly one plenty of prospective CarPlay owners will be happy to see. Since CarPlay relies heavily on Siri voice activation, we'd hope that Spotify, too, takes advantage of this to get you listening to your music without taking your hands off the wheel.
Besides CarPlay, Spotify can now speak Swedish and Quebecois on iOS 8 and has had a bunch of bugs fixed for Apple's latest mobile OS. The update is live now in the App Store to grab at your leisure.
Image courtesy of Engadget
Get the best of iMore in in your inbox, every day!
Now all we need is auto manufacturers to actually offer CarPlay. Sent from the iMore App

Agreed. It's still very vague to me how I can get a CarPlay compatible system installed in my car (2012 Chevy Sonic), or if it is even possible... Right now, Siri "sorta" works in it. I have to hit my voice activation button on my steering wheel and say "Voice". That triggers Siri. For some reason, dictation is much worse than if I just trigger Siri on my phone itself. The new "Hey Siri" feature has helped tremendously in that regard, though. But now with Spotify added, I would love to have the total integration with CarPlay.

Looking forward to more integration with cars. Siri works in my 2013 Lexus CT, but not that well. The 'hey siri' feature helped, but once activated the system pauses for a few seconds before its ready to receive commands. Disappointing... A nice step forward though and if Spotify can start taking advantage of siri, it would be a good fix in the meantime until car play is more widespread! Sent from the iMore App

Actually I would love to see CarPlay integrated with external boxes like Garmin or TomTom…! I'm really not going to exchange my internal car stereo for an ugly Pioneer or costly Alpine solution and there's still so many car manufacturers who won't be jumping on the Apple train any time soon -- so just adding it to an external GPS solution would seem perfect…
Thank you for signing up to iMore. You will receive a verification email shortly.
There was a problem. Please refresh the page and try again.