The evolution of Alto's Odyssey: A Q&A with Team Alto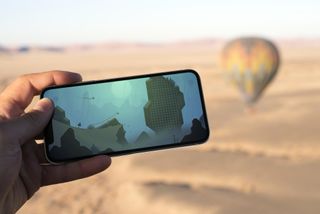 (Image credit: iMore)
Three years ago Monday, a little endless runner called Alto's Adventure slid into the App Store — and almost immediately snowboarded its way into the hearts, minds, and iOS devices of people around the globe. The game's quirky characters, scenic art, charming music, and challenging algorithmic landscapes were hard not to love: We spent hours in the game perfecting our triple backflip and listening to llamas stampede down mountainsides; others drew fan art, bought Alto felt animals, and even dressed up as their favorite characters.
Now, the folks behind Team Alto — a collaboration between indie game company Snowman and artist and developer Harry Nesbitt — have done it again: Alto's Odyssey is coming on Thursday. Alto (and his assortment of snowboarding friends) are journeying far from their snow-covered mountain home indeed. They're trading their snowboards for sandboards, getting to know wildlife both pesky and beautiful, and exploring a whole new universe of tricks and beauty.
We'll have a full review and game guide out soon, but in the meantime, we caught up with Team Alto to chat about the original Adventure, the inspiration behind Odyssey, weird bugs, and why they disavow the word "sequel."
On the success of Alto's Adventure
Team Alto never expected Alto's Adventure to take off quite the way it did. "As we were working on the game, we felt pretty confident that we'd made something special," Ryan Cash, Snowman's founder told us via email. But the development team didn't know how well their snow-covered endless runner would do in the world of the App Store. The last two games to really make a splash in that arena were Andreas Ilger's Tiny Wings and Last Chance Media's Canabalt; both had unique styles and addicting gameplay, but Alto took the genre a step further: Not only did the geometrically-infused artwork feature ever-changing landscapes throughout the day, but the game added weather patterns, multiple characters, a beautiful soundtrack, and a simplistic scoring system for tricks — along with a few hundred goals.
Shortly before Alto launched, Snowman founder Ryan Cash took to Team Alto's blog to talk a bit about the team's goals with the app:
Team Alto's gut instinct paid off. "Looking back, the only real way to summarize the launch of Alto's Adventure is to say that it was an absolute whirlwind," Cash told iMore. "The first sign that something special was happening was waking up on our planned launch day and seeing over 500 tweets about the game — before even formally announcing that we'd released it on the App Store! In fact, we almost forgot to make the official announcement in the midst of all the chaos!"
Within 24 hours, the buzz around Alto rocketed the game to the top of the paid App Store charts; the game went on to peak at that top paid spot in almost every App Store country in the word. Fans wrote stories, drew their favorite characters and scenes, and even made game-inspired nail art. "Looking back with the benefit of time," Cash wrote, "I don't think we had a sense of the lasting impact the game would have until about 6 months later. By then, we were still receiving social posts and emails and in some cases physical mail from fans! They would reach out to show us their fan art of the game's characters, or tell us about the ways Alto's Adventure helped them cope with stress or illness."
Eli Cymet, lead producer for Team Alto, agreed with Cash's sentiment. "At risk of coming across as sappy, I think we were really affected by the way our players came to see Alto's Adventure as a place they could go for a little bit of time each day.
"On the artistic side, Harry [Nesbitt, Team Alto's lead artist and developer] put a great deal of effort into little flourishes like ambiguous geometry that hinted at a rich history for the architecture of the world, and characters that felt like people with personalities and lives. To see fans react so strongly — sending us fan art, adding nuance and depth to the characters we didn't even envision at first — had our imaginations stirring about what might be next for Alto and his friends!"
That next step? A voyage that would take Team Alto three years to complete.
Writing an Odyssey
The critical and financial success of Alto's Adventure may have taken Snowman and Nesbitt by surprise, but like their cast of snowboarding characters, Team Alto had no intention of simply waiting around. They set to work on improving the game almost immediately: The team fixed bugs and brought new perks to players by adding more llamas (a secret joy of the game); incorporating a scoreless "Zen" mode for endless plays and photographic screenshots; and upgrading the game with 3D Touch actions, iMessage stickers, and haptic feedback.
And all the while, Team Alto dreamed of the next step for their fictional snowboard rebels. As Harry Nesbitt, Team Alto's lead artist and programmer told us: "We don't see Alto's Odyssey as a sequel. None of the way we've thought about making the game was approaching it as a sequel. We're not seeking to one-up the first game, but rather we're trying to create another game set in the same world that taps into a different set of emotions."
Cymet agreed. "As with the first game, it was very important with this follow-up to capture a specific feeling. We spent a lot of time talking together and thinking about what emotions we might want to stir in players before really committing to development. We didn't want to treat another Alto game like a foregone conclusion because of the success of the first title."
And a foregone conclusion it wasn't. After all, the team had other responsibilities beyond the stewardship of Alto's world: The folks at Snowman had begun two other game partnerships, with Australian indie group Slingshot & Satchel on DISTANT and LA's The Game Band on the interactive puzzle story Where Cards Fall. (Later, Snowman would also partner with Norwegian development team Agens to work on Skate City.) If the team wanted to build a new game in the Alto universe, it would have to earn its place.
"I think we certainly felt a responsibility to be the best possible stewards for this world that people cared a great deal about," Cymet told us. "As a partnership, Team Alto prides itself on caring about the little details that players might not notice right away but which delight them as they're discovered. I think we felt compelled to double down on this when we saw the way players connected with these details in Adventure."
One of the big breaks in the new game's theming came from the lives of Team Alto's members themselves. "Things really clicked when we reflected as a group on how much our lives had changed since the release of Alto's Adventure," wrote Cymet. "The team had grown, some of us had moved away from the homes we knew to live in other places, and we had all experienced big personal upheaval in different ways.
"What we arrived at was a desire to capture the feeling of going outside your comfort zone, exploring the unfamiliar, and accepting that the concept of 'home' is related to the people close to you, not any one place. In many ways, this is what led us to the grandeur of Alto's Odyssey's setting. This idea of a fantastical place far from what you know as home, where you learn to see the beauty in embracing the unknown."
In its gameplay, Odyssey carries over the same basic format as the Alto games: A cast of offbeat characters explore a terrain-heavy endless runner while attempting an array of board-based tricks across a beautiful, ever-changing landscape.
But while the game may feel artistically-similar, its title reflects its more expansive nature (all while doubling down on the core mechanics). Alto and his friends have swapped snowboards for sandboards on this journey, eschewing the "boring" job of llama collection — Felipe, Alto's llama pal, is the only large quadriped to be found in Odyssey's desert landscape — and instead exploring a staggering number of new ways to grind, backflip, bounce, jump, and glide your way to a fancy trick score. And while you perform down the sand slopes and grind on desert walls, the endless runner seamlessly switches between three different desert landscapes, each with their own special array of tricks.
"I think the feelings we're exploring this time around and the places they led us in design make this an experience that will absolutely feel fresh and exciting for returning players," wrote Cymet. "The presence of biomes — these diverse natural spaces that transition seamlessly into one another — makes the game much larger in scope than Alto's Adventure.
"They bring a host of core new mechanics like wall riding, moving grind rails, multi-tiered grinds that snap and sway, tornados, and rushing water. All of these features lend themselves to a greater sense of exhilaration, and allow players to get up and into the air to pull off big combos. We've gone to great lengths to make sure none of them add any new control inputs, though, making the core plays experience as accessible as ever."
Also new to Alto's world: music and audio artist Todd Baker, who created the soundtrack for Monument Valley II. It's the only arena where pitting the original Alto next to its sequel shows the former's age: Baker brings a level of beauty, depth, and seamless audio and music interactions that make the game feel more immersive than ever before. (Odyssey's Zen mode was written by film composer Torin Borrowdale, who worked on the original Alto.)
As for the name: Funny enough, the word "odyssey" appeared in the original marketing copy for Alto's Adventure as early as February 2015. As the concept developed, the word became the natural choice to describe the evolving journey of Team Alto's characters. "Something I always found amusing during development was the insistence that we got the game's name from Nintendo's Super Mario Odyssey," Cymet told us. "It's a comparison I'm flattered to hear, as we're all massive Nintendo fans, and a few of us have gotten just about every collectible moon there is to find in that game. In this case, though, we announced Alto's Odyssey a few months before Nintendo revealed the name for that game."
The challenges of building an Odyssey
Odyssey's special touches unfortunately came at the expense of delaying the game, which originally had been set to premiere in Summer 2017. According to Cash, "As we approached our initial Summer 2017 release date, we knew as a group that we had more to give to the game to make it the experience we envisioned, that players deserved. We're firm believers that it takes longer to build things right, and so we made the tough decision to extend development. We're so proud of the game we're releasing this month, and think the extra time has given us the chance to bring players a world that feels even more alive and responsive.
"I think we've learned a lot about game development and the ever-changing timelines that come with the territory. When you're making something artful with a really small team, it's incredibly hard to understand exactly how long something is going to take. At the end of the day, it's always tough announcing delays, but we'd rather make something great than make something on time… It's been a lot of late nights and less-than-ideal food, but we've been laughing a lot too."
Snowman's other game collaborations have faced similar challenges; of the company's four in-production games, Odyssey will be the first to escape the development process. But Snowman's concurrent game development has its advantages, Cash told iMore.
"While most of us here in the Snowman office are pretty focused on the impending launch at the moment, a couple of our team members are able to stay focused on our other projects," Cash wrote. "A few weeks ago we had Slingshot & Satchel out here in Toronto (the team we're working on DISTANT with), so they were actually around in our office as we've been approaching the homestretch of the Alto's Odyssey launch. It proved to be quite helpful, as we were able to get some extra hands testing the game and some interesting first impressions from other people in the industry."
Even with those extra hands, Team Alto ran into their fair share of bugs during the development process — some of which were too funny not to share. "There was a time when switching characters on the title screen would result in any new character you chose becoming badly deformed, with some even losing their full lower halves," designer and programmer Joe Grainger told us.
"Our wildlife also took a long time to tame. For much of the early part of development, the fish [that] players will see swimming in water pools would aggressively float around in the sky. Meanwhile, the lemurs that dot the landscape would often go fully prone without warning, and move along the ground rigidly as if they were frozen."
Even with bugs and delays, Team Alto found ways to keep the stress from getting to them. "On a tiny team like ours, self-care and empathy for the people you're creating the game with is paramount, and I'm always blown away by how much we've been there for one another amid last-minute hiccups and bug fixes," wrote Cymet. "By the time we were shipping our final build to the App Store, we had ostensibly developed our own language in Slack based entirely around ridiculous custom emoji. Somewhere along the way, everybody's face received the iconic "Bob Ross Haircut" treatment, and there are whole reply threads comprised only of ridiculous emoji replies."
The journey begins… Thursday
Team Alto's journey to bring Odyssey to life is almost over, but the game awaits. Alto's Odyssey is now available from the App Store. We'll have a full review on iMore soon, so keep an eye out — if you're not too busy grinding off the walls, that is.
Master your iPhone in minutes
iMore offers spot-on advice and guidance from our team of experts, with decades of Apple device experience to lean on. Learn more with iMore!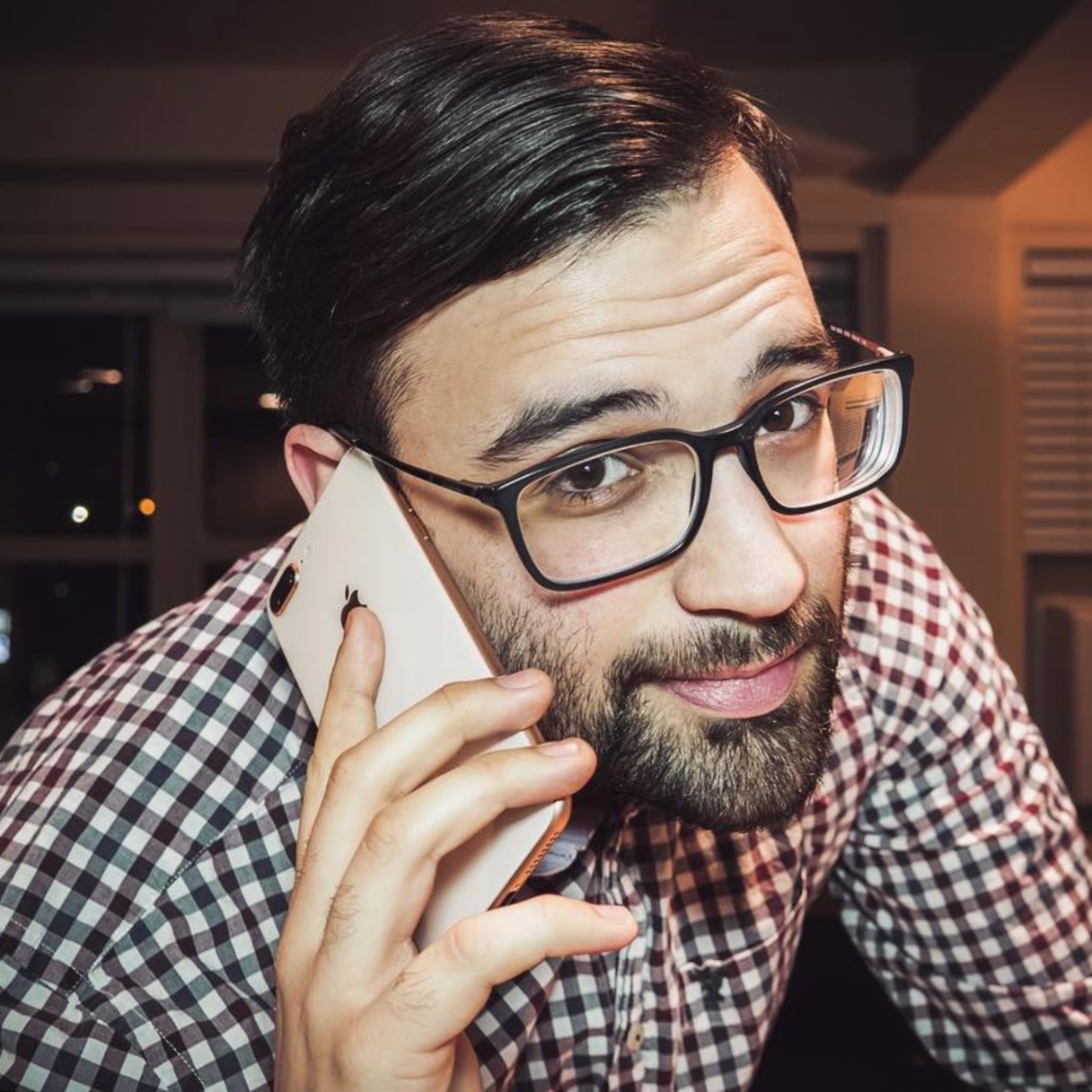 Luke Filipowicz has been a writer at iMore, covering Apple for nearly a decade now. He writes a lot about Apple Watch and iPad but covers the iPhone and Mac as well. He often describes himself as an "Apple user on a budget" and firmly believes that great technology can be affordable if you know where to look. Luke also heads up the iMore Show — a weekly podcast focusing on Apple news, rumors, and products but likes to have some fun along the way.
Luke knows he spends more time on Twitter than he probably should, so feel free to follow him or give him a shout on social media @LukeFilipowicz.