Tinder wants to help you find new friends and head out in a group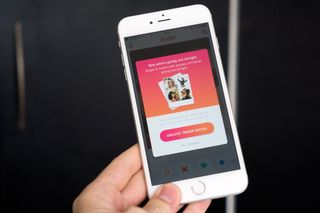 Have you grown tired of using Tinder to find your one true love? If so, the app's latest feature may be right up your alley. Tinder Social will help you find new friends to meet up and head out in a group. Whether you're planning to head to a concert, catch that Pikachu down at the local supermarket or hit the clubs for a night out, Tinder's new feature will let you create a new group and hang out with others who join.
After a group with a few friends has been formed, it's then possible to swipe either left or right on other groups. Matching with another set of people will then bring up the usual chat experience for planning an event or meet up. As highlighted in Engadget's report, the new social group feature is available in the U.S., UK and other select countries.
Ready to try out the new group feature? Download Tinder from the App Store and let us know in the comments how you get on!
Sounds like Orgy Mode to me.
Thank you for signing up to iMore. You will receive a verification email shortly.
There was a problem. Please refresh the page and try again.